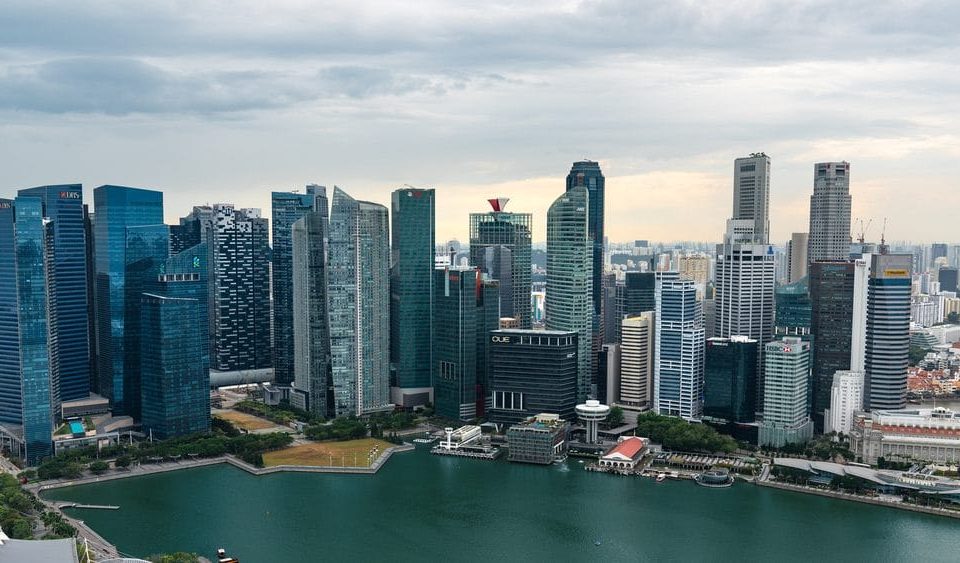 Marina Bay is an Urban paradise located in downtown Singapore. Luxurious resorts, exciting tourist attractions, and amazing views over the water. What more could you ask for? You'll definitely want to take some photos to remember this impressive place, and here are the best 4 places to head for your travel snaps.
Sands SkyPark
Where better to take a photo from than all the way up? Head up to the 57th floor of the Marina Bay Sands resort (don't worry, there's an elevator!) and to their panoramic observation deck. From up here, there are incredible views over the bay and of the Singapore skyline. The perfect place for a serene landscape shot or perhaps a selfie or two. You can even stop up there for a drink or a meal in their bar and restaurant.
Tickets for the SkyPark cost $23 for adults. It's open from 9.30am – 11pm at weekends, and until 10pm Monday-Thursday.
Merlion Park
What do you get when you cross a lion with a fish? According to Singaporeans, it's a Merlion. This mascot of Singapore represents their roots as a fishing village combined with the origins of the name Singapore, which came from Singapura, meaning Lion City.
Head to the One Fullerton area to see the interesting Merlion statue and water feature, spraying water into Marina Bay. It's practically obligatory for all tourists to get a selfie with the Merlion. The statue also has some nice surroundings to take photos of, including the impressive One Fullerton hotel, which looks especially inviting when lit up at night.
Waterfront Promenade
The Waterfront Promenade is a nice, relaxing walk around the Bay, stretching 3.5 km. There are lots of great vantage points along the promenade to get scenic photos of Marina Bay from different angles. You can see and access multiple attractions from along this walkway, making it easy to get around Marina Bay.
You can access Helix Bridge, so-called due to its design resembling the double-helix structure of DNA. Photos both of the bridge and from it are always a favourite among tourists and keen photographers. You can also reach the Olympic Youth Park and the incredible ArtScience Museum, which is designed to look like a lotus.
Gardens by the Bay
If you've had enough of all the massive skyscrapers and grand hotels, you can retreat to nature in Gardens by the Bay. These man-made gardens cover a massive 101 hectares around Marina Bay, providing a welcome change from Singapore's urban jungle. Each part of the garden has different types of flora on display, and there's an incredible 30-metre high waterfall inside the Cloud Forest area.
Take stunning photos of the tropical plants, stone pathways, wooden arches, and the mammoth Supertrees – tall metal structures with vines climbing up them and that light up after dark. For the best shots of the Gardens and out over Marina Bay, head up to the OCBC Skywalk, an aerial suspension bridge between the Supertrees.
You'll have reels of amazing photos with which to remember and show off your trip to Marina Bay, Singapore. Just make sure you can easily share them with access to reliable Wi-Fi on your trip.