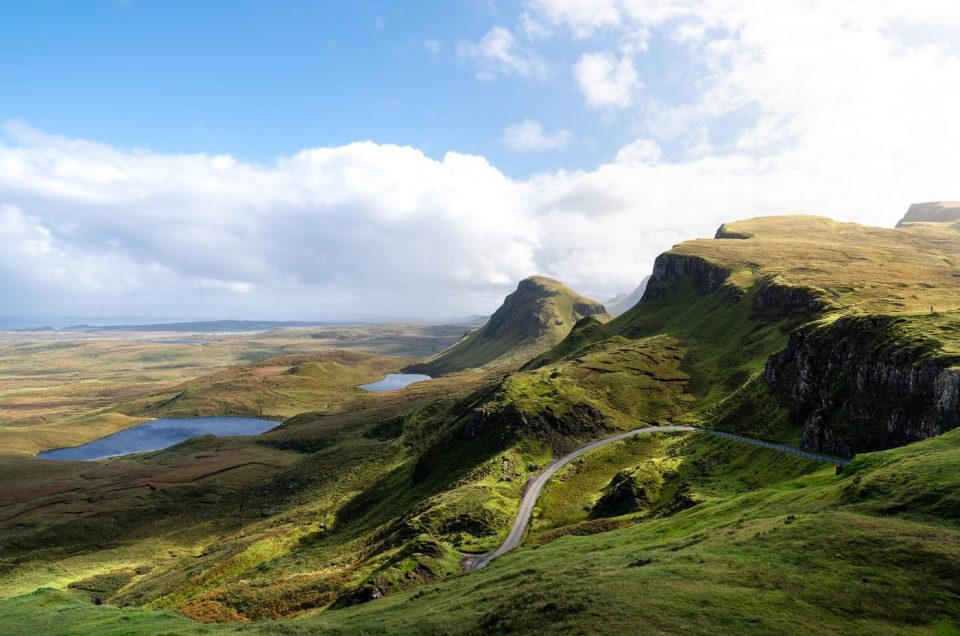 Scotland might not be top of the list for a sunny getaway, but what it does have plenty of is stunning and dramatic landscapes. Whether you want to take in the impressive scenery or snap some travel photos to be proud of, the Isle of Skye is a place you can't miss during a stay in Scotland.
If you're planning a trip to the Isle of Skye, UK, then here are some of our favourite views to check out while you're there.
The Quiraing
There are plenty of amazing sights along the Trotternish Ridge, most notably the Quiraing. This still-changing rock formation was formed by landslides that occurred hundreds of years ago. The result is an incredible landscape that you'll enjoy photographing and walking along if you're feeling adventurous. There's a nice 4-mile hike up and across this rocky terrain.
If you're not visiting Skye for its hikes, you can still take in the remarkable scenery from the easily accessible parking area. A short walk from here will give you some great views of the green and rocky terrain. Whether the skies are blue and sunny or cloudy and grey, the rocks will look striking against this backdrop.
Neist Point
Neist Point juts out of the west coast of the Isle of Skye, and it's certainly worth the drive out there. There's parking just before the Point, and you can take some stunning photographs from there before walking out along the cliffs towards the Neist Point Lighthouse. From anywhere you stand, you'll see amazing sights of the cliffs and the sea, and you can get great shots of the lighthouse from near the parking area.
Take in views of Waterstein Head and Moonen Bay as well as general landscapes of the Isle. There are lots of great places to watch the sunrise or sunset from on the Isle of Skye, but this has to be one of the best. At the right times of year, you could even see some exciting marine life, like porpoises and bottlenose dolphins. So, keep your cameras at the ready so you don't miss your chance to capture that.
Fairy Pools
The waterfalls are a highlight of the Isle of Skye, like the 200 ft Mealt Falls or the smaller Lealt falls. But arguably the most beautiful place for waterfalls is the Fairy Pools. These pools, both small and large, contain stunningly blue and turquoise water that you'd expect to see on a tropical island, not the far reaches of Scotland. If you visit during warm weather (or if you're very brave in cooler weather!), you could even enjoy a dip in one of these pools.
Walking around the Fairy Pools will give lots of photo opportunities of these pools and waterfalls of different sizes. Plus, the hills and mountains in the background provide a dramatic backdrop to shoot against. This area offers a pretty gentle walk, so its ideal for those that aren't up to arduous hikes.
Get your photography gear ready before your trip to the Isle of Skye, because these are all landscapes you'll want to remember forever. And since its not the best place for accessing fast internet connections, travel with a TravelWifi device to so you don't have to rely on local Wi-Fi spots.