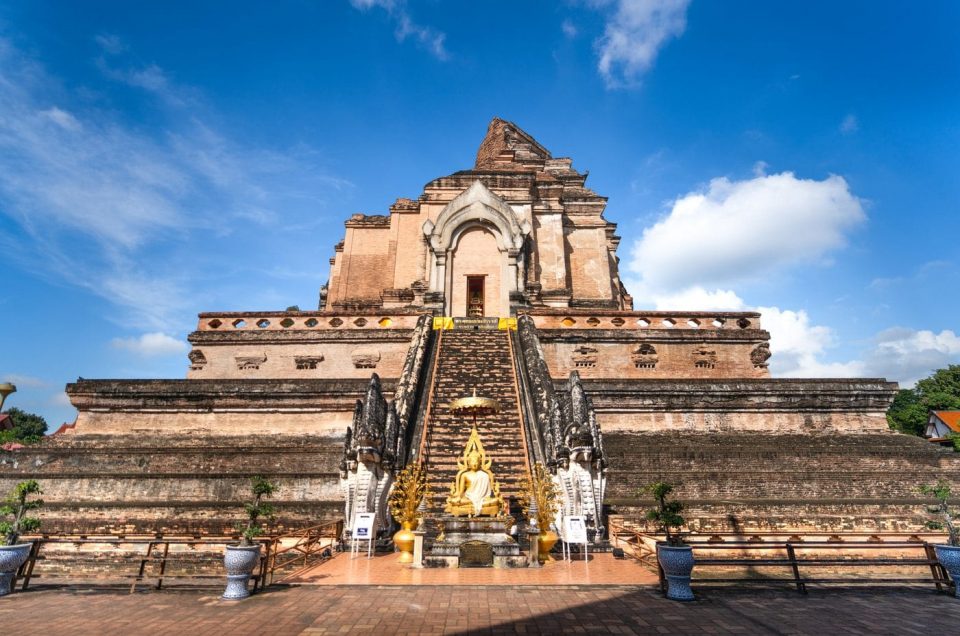 Chiang Mai has become one of Asia's hottest spots among expats and digital nomads. This gem in Northern Thailand is a city you must fit in if you're travelling around Asia. If you're visiting Chiang Mai, Thailand for the first time, then here are 5 locations you should explore.
Chiang Mai Old City
The Old City of Chiang Mai is the perfect place to start your trip. It's a place with plenty of choice for accommodation, shops, cafés, restaurants, and bars. The Old City is a lively area, bustling with locals and lots of backpackers, making it easy to meet fellow travellers and make friends on your trip. You can also get plenty of sightseeing done here. The Old City is surrounded by impressive fortress walls and a moat, and is home to numerous galleries, museums, and temples, including Wat Chedi Luang.
Chiang Mai Night Bazaar
Just outside of the Old City is a far-reaching market that runs every evening from around 6pm to midnight. The Chiang Mai Night Bazaar and nearby markets offer a range of goods, from authentic street food to clothing, jewellery, and other accessories, plus plenty of chances to pick up some interesting souvenirs and gifts. These night markets are great places to hunt for some eclectic bargains.
Wiang Kum Kam
This ancient city along the Ping River is home to lots of fascinating sights. You'll find ancient ruins of temples and other structures as well as artefacts from pottery to stone tablets. It's also where you'll find Wat Chedi Liam, an ancient Buddhist temple that's definitely worth a visit. Be warned that there are a few places with similar names to Wiang Kum Kam in and around Chiang Mai, so make sure you end up in the right place. Taking a tuk-tuk or renting a scooter out this way is recommended.
Doi Suthep-Pui National Park
The Doi Suthep-Pui National Park is a sprawling natural landscape with lots to discover inside it. Firstly, there's a stunning, colourfully adorned temple named Wat Doi Suthep. Look up to the hills from Chiang Mai at night and you'll be able to see it beautifully lit up. And when you reach the temple, you'll have equally amazing views looking down over Chiang Mai and around at the surrounding forest. Along another path in the national park is the Mon Tha Than waterfall for more incredible natural landscapes and a great place to cool off.
Nimmanda Haeminda
If you're a digital nomad in Chiang Mai, then you might have to take some days off exploring to actually do some work. Nimmanda Haeminda is one of the most popular places in Chiang Mai for digital nomads looking for interesting cafés with free Wi-Fi to work from. And after you clock out, it's also home to some nice cocktail bars. It's also an area worth exploring in its own right with interesting scenery and an exciting street art scene.
There are so many great things to see in Chiang Mai that many people end up extending their stay to fit it all in, but this blog should give you a good idea of where to get started. And don't forget to pack your TravelWifi hotspot on any international trip.