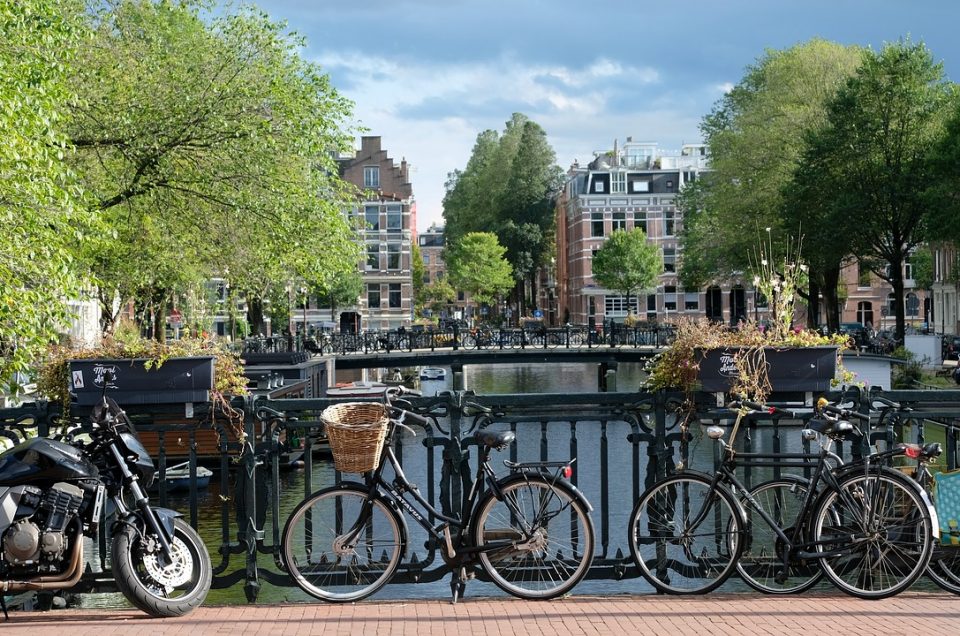 Amsterdam is a beautiful historic city, rich in history and culture from Europe's Golden Age. But like many major European cities food, drink and accommodation can be expensive. To make your budget go further check out our list of the many types of free attractions you can visit to get to know Amsterdam without spending a dime!
Stroll the canals and bridges
It's easy and free to enjoy the features that Amsterdam is best known for, its canals and the bridges that cross them. A UNESCO World Heritage site, these waterways are surrounded by some of the city's most interesting architecture. If you want to get as many in as possible in one go, visit the Bridge of 15 Bridges at the crossing of the Reguliersgracht with the Herengracht (just don't forget to count the one you're stood on when you add them up!)
Visit the markets
Amsterdam has a number of different markets around the city, each of which are a very different experience. The famous flower market is a vibrant display of color with wonderful smells. One of the most unique features of the flower market in Amsterdam is the fact that it is floating on the Singel Canal.
The Albert Cuypmarkt is the most famous and largest street market in The Netherlands. This daily market has existed for over a century and the many vendors (there are over 300 stalls) sell a huge variety of wares; cheese, fresh seafood, meat, fruit but also jewelry, clothes and flowers for example.
Probably the best market to visit in terms of free entertainment is the Waterlooplein flea market – where you'll find everything from antiques to vintage items and clothes. Somewhere to pick up a unique and unusual souvenir of your time in Amsterdam!
Concerts
Amsterdam has a vibrant music scene. The famed Concertgebouw classical hall's free lunchtime shows are a great start (often they are rehearsals for musicians playing later that evening). Concerts take place from 12:30pm to 1pm on Wednesdays, from mid-September through to June.
Performers from the opera and Dutch Philharmonic also stage free lunchtime gigs at the Muziektheater venue from 12:30pm to 1pm on Tuesdays, from September through May.
For something a little different in the evening, the Bimhuis – the epicenter of Amsterdam's influential jazz scene – hosts a jam session with a great vibe every Tuesday at 10pm from September to June. Join the band, or just listen in.
Take a day tour
There are lots of day tours you can do around the city to learn more about an array of different subjects.
Guys will especially appreciate Brouwerij 't IJ, a small brewery (not as famous as Heineken) but with tasty beer, which is well worth a visit. Every Friday, Saturday and Sunday at 3.30 pm they give you a free tour (in English) as well. There is a tasting room where the beers, all brewed organically on the spot and can be sampled. They also have the largest collection of beer bottles in Europe!
Ladies who love their bling will prefer the Amsterdam diamond company Gassan Diamonds, where you can watch diamond cutters turning rough stones into polished gems. They are based in a former steam-driven diamond factory, Amsterdam has a long association with the diamond trade stretching back centuries. Guided tours are free.
One intriguing trip you can do is to take the free ferry behind Centraal Station which takes 15 mins to cross to the former NDSM wharf, a derelict shipyard turned avant-garde arts community. Check out the recycled-junk sculptures and graffiti artists roaming the streets. There are always new events and experiences so this a somewhere you can revisit multiple times.
Gardens
Amsterdam has some beautiful gardens open to the public. Two we recommend are the Zuidas botanical garden at Vrije University where more than 6,000 species of plants can be found.
Or the garden at the RijksMuseum. The museum itself has a fairly hefty entrance fee but the garden is accessible for free with statues, fountains, ponds, statues and a children's garden with playground. You can even challenge a local to game of open air chess!
Galleries & Exhibits
There are a treasure trove of small galleries and exhibitions around Amsterdam which you can visit without charge. These include the permanent exhibition in the basement of the EYE Filmmuseum, the Fo Guang Shan He Hua Buddhist temple in Chinatown or, to experience the origins of Amsterdam's famously liberal attitudes the Cannabis College located within the red light district.
To help your money go even further on a visit to Amsterdam but to still stay connected to home or friends why not try using a Tep portable wifi device. The device is only $8.95 per day for unlimited data usage, plus, you and your friends or family can all share one device (up to 5 gadgets can connect at a time). TravelWifi's portable device is amazingly travel-friendly too, it will slip into a handbag, pocket or rucksack.