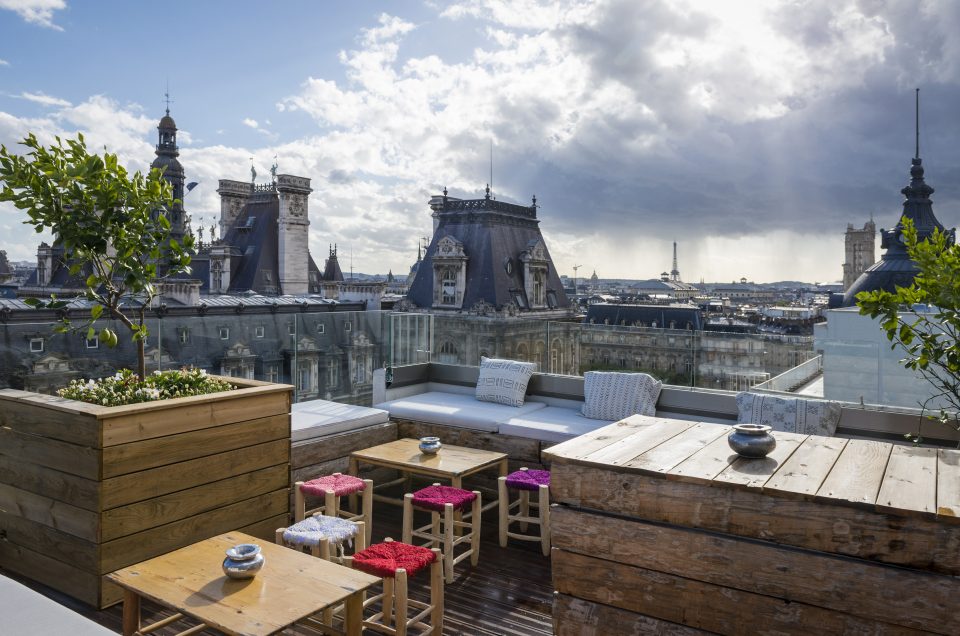 LE BHV MARAIS, the Parisians' favorite department store, is well placed in the trendy area, Le Marais. Creative, inspiring and casual, it is the only lifestyle store in Paris with such a diversity of items under one roof. Besides 2000 fashion and homeware brands, discover its 5 nationally exclusive luxury boutiques Bang & Olufsen, Moncler, Givenchy, Gucci and Royal Quartz.
55 rue de la Verrerie – 75004 PARIS
LE BHV MARAIS
THE PARISIANS' FAVORITE DEPARTMENT STORE
Ideally located in the heart of the Marais, LE BHV MARAIS proudly stands among some of the capital's most iconic destinations such as the Louvre, Notre-Dame or le Centre Pompidou to name a few.
An area entirely unique in the world, the Marais is a hub of trends uniting an iconic history, an exciting nightlife and a unique Parisian shopping experience.
Founded in 1856, LE BHV MARAIS has kept its unique Parisian feel through the years, today housing over 2,000 brands catering to all your needs, from fashion to DIY to beauty to food. Exclusive brands such as Anthropologie, Urban Outfitters, Culture Vintage are bound to provide you with inspiration during your store visit.
A stone's throw away, step into the world of LE BHV MARAIS L'HOMME and its 5 floors entirely devoted to men's fashion. In the interior patio, you will find the POD, the Parisian Omnivore District, first Parisian food court with various kiosks. Further down on the rue des Archives, the department store has opened 4 luxury boutiques, offering a new range of high-end items. Come discover the spacious stores of Bang & Olufsen, Givenchy, Gucci and Moncler.
Salon Marais
A hub of activity and creativity, LE BHV MARAIS houses throughout the year pop-ups and collaborations, providing new designers and brands a chance to be in the spotlight. Exclusive international previews, a cutting edge press area and passionate sales experts are forever on hand to make your experience truly one of a kind.
Everyone knows a successful shopping experience includes a tasty break and LE BHV MARAIS has got you covered! Marcolini chocolates will satisfy all your sweet cravings while Café Marlette will offer healthy and organic options. If you are still hungry, Big Fernand's home-made burgers or L'Artisan de la Truffe's tasty meals are bound to do the trick. You can also reboot with delicious coffee at the in-store Starbucks on the 5th floor.
Le Perchoir Marais
To end your BHV MARAIS experience perfectly, come discover one of the best views in Paris on its rooftop bar Le Perchoir Marais and enjoy a tasty refreshment surrounded by an unforgettable and unique panorama of the city.
LE BHV MARAIS x Travel Wifi
For an even better shopping experience at BHV MARAIS,  enjoy an exclusive 15% discount* for Travel Wifi clients !
Bring the BHV MARAIS card you will get inside your Travel Wifi package and present it during checkout.
*Offer valid non-European Union residents and E.U. residents living outside France upon presentation of a valid passport. Discount does not apply to red dot items, multimedia, book department, food, gift cards, travel, wedding registry or services. Offer cannot be combined with any other offer or promotion advantage. See specific terms and conditions in store
 LE BHV MARAIS
52 RUE DE RIVOLI 75004
Tel: 00 (33) 9 77 40 14 00
Open Monday through Saturday 9:30am – 8pm
Sunday 11am – 7:30pm