With the UK Bank Holiday weekend coming up, short getaways can really take the stress off!  With Europe being a melting pot of endless culture to discover, a departure on Friday after your 9-5 (or earlier if you have a flexible boss) with a return on Monday evening can be a convenient opportunity to take advantage of.  A short, humorous history of the Long Weekend's immersion into work culture can be found on one of Travel and Leisure's blog posts.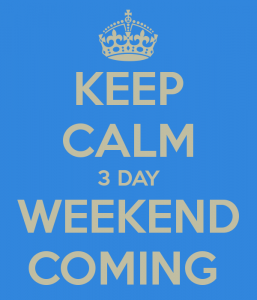 Although a 3 day vacation is relatively short, one must attempt to keep costs down as low as possible! It is never a good feeling to know that you splurged a couple thousand in 3 days, when your savings could have been allocated to other things—furthermore, exchange rates can be deceiving and charges can add up quickly.  Costs can sneak up when you least expect it—especially when going out to buy that casual cup of coffee and sandwich at some franchise on the main street of wherever you are traveling (sorry Costa).
With Tep Wireless, a sizeable portion of your costs can be decreased by using our Pocket Wifi to avoid costly data plans that make no sense for a short 3 day vacation.  You can conveniently plan your Mifi rental by the number of days you will be travelling on our website here.
As a new intern here at Tep hailing all the way from the US, I'm looking forward to spending my long weekend exploring Camden, which I've heard contains a massive hub of cultures from all over the globe.
Where are you guys going for the long weekend? We'd love to hear!