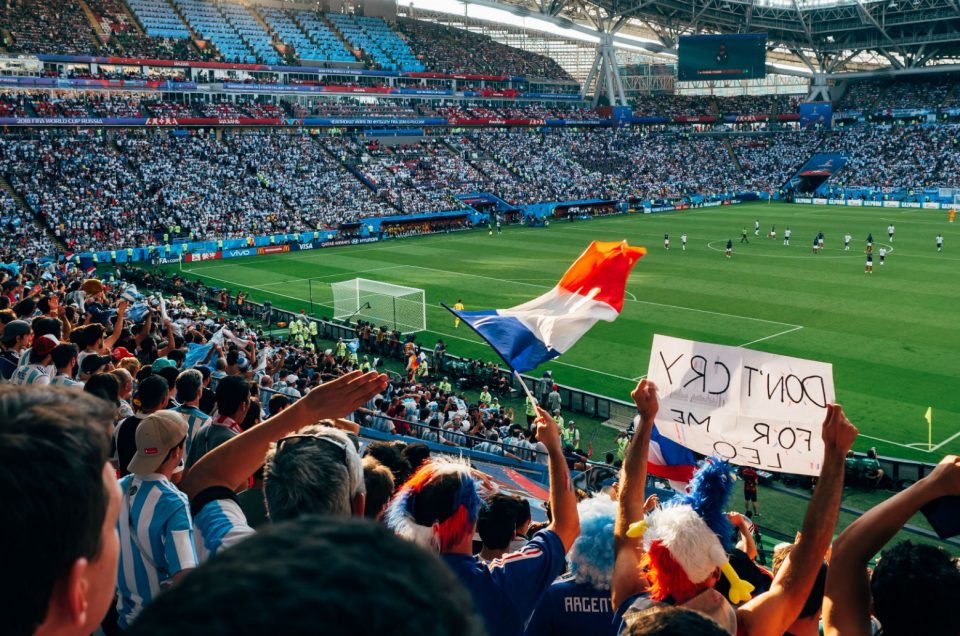 The 2018 football World Cup finals take place in Russia beginning on 14th June. This celebration of our most global game brings together teams from 32 nations to find the world champions who will lift the World Cup in Moscow on 15th July.
So, whether you know the game as soccer or football and whether you love it or hate it, for the next month you will not be able to ignore or get far away from it, no matter where you are.
The World Cup traditionally allows the host country to showcase itself to a huge number of foreign visitors who flock to this feast of football and there is no doubt that will be the case again in Russia despite a few challenges. For one thing, the distances involved in travel between venues mean most fans won't be taking in too many games in different locations. Fans of Sweden, for example face a daunting trip of over 2000 kms between Yekaterinburg and Sochi for two of their group games. If you were hoping to see Croatia vs. Nigeria in Kaliningrad and then get to Yekaterinburg for France vs Peru, the journey is over 3000 kms. Here's a guide to what to expect from all the host cities.
Sadly, for soccer fans in the US, their team won't be on show (sorry we mentioned it) and for England fans, frosty relations between their government and the Kremlin may mean less people make the trip than would otherwise.
But what if you're travelling over the next month while the World Cup is on? If you're not a hardcore fan of your home nation it can be great fun to adopt the team of the country you're visiting and join in the celebrations with the locals. Let's take a look at how you might do that for a few of the finalists.
Iceland
Iceland is the smallest nation to qualify for the 2018 World Cup so if you happen to be in Reykjavik when the tournament is on, you'll probably find someone who knows someone related to one of their players fairly easily! The locals will undoubtedly deploy their signature celebration, the awesome "Viking Clap" which was a highlight of their appearance at the European Championships two years ago. It's pretty easy to join in with so you'll be able to fit right in!
Egypt
Egypt is qualified for the World Cup for the first time in 28 years and they did it in dramatic fashion with a late goal in their final qualifying match. Showing your support for Egypt at the World Cup is simple, just name drop their star player and hero Mohammed Salah of Liverpool. He was injured in the Champions League final a few weeks ago but should be fit for the tournament and the mere mention of his name will bring a joyous smile to the face of any Egyptian supporter.
Australia
Australia have a tough group at the World Cup, containing one of the favorites, France, as well as Denmark and South American dark horses, Peru who qualified ahead of a talented Chile team. There's been a little bit of controversy over plans to charge fans to watch the World Cup in a public space in Sydney. So if you don't want to part with your cash for just 3 games (harsh but likely true) then the local pub should have the game on!
Nigeria
We all know team colors are important to each nation, but some more so than others. If you want to show solidarity with the Nigerian team at this World Cup, it's all about the shirt. When it was launched in London the social media reaction nearly broke the internet and orders flooded in. If you can find one you're guaranteed to be a big hit in Lagos!
England
Despite England fans expecting inevitable disappointment for their team ("we can win it" being a national joke) the English are of course football-mad and more players from the Premier League are at the World Cup than any other. Most pubs across the country will be heaving with fans for all England games (and many others). This is especially the case in the capital city, so here's a list of some of the best places in London to catch the World Cup action.
Brazil
Brazil is the home of beautiful football as well as being the host of the last World Cup in 2014. To Brazilians, football is more of a religion than a sport so you might find people finding it more stressful than enjoyable to watch, so high is expectation for success from the country who have won the World Cup more times than any other. But to enjoy it in true Samba style head to a beach, where giant screens will show the games involving Neymar and co in the environment most Brazilians love to play, on sand!
Germany
There's an old joke about football which goes like this. "Football is a game played by 11 players on each team for 2 halves of 45 minutes each. And at the end, the Germans win". And they probably will. They are reigning World Cup champions, destroying Brazil 7-1 on home soil en route to glory last time (watch it again just to remind yourself it did actually happen). With confidence high Berlin is hosting an International Fan Fest for the duration of the World Cup at the city's famous Brandenburg Gate which should be an incredible experience.
Yes, they even manage to win at watching the World Cup. Typical.
We know you won't want to miss a moment of the 2018 World Cup wherever you are in the world and you can get highlights of every game on FIFA's YouTube channel. You can stay connected to the action by using a Tep portable wifi device. The device is only $8.95 per day for unlimited data usage, plus, you and your friends or family can all share one device (up to 5 gadgets can connect at a time). Tep's portable device is amazingly travel-friendly too, it will slip into a handbag, pocket or rucksack.