1. Who has not tried the Spanish "tortilla"?

It is one of the most symbolic dishes of Spanish cuisine, no doubt.
It can be tasted anywhere in the country. The Spanish omelet or potato omelette, is one of the most popular dishes, consumed in every spanish home and is the most requested tapa in every bar or restaurant.

It cannot be absent at any party or family reunion, on outings, on the beach, the mountain… Its simple recipe composed of eggs, potatoes, salt and olive oil, creates a delicacy for the mouth, affordable and can be made to consumers taste; with onion, with chorizo, with zucchini…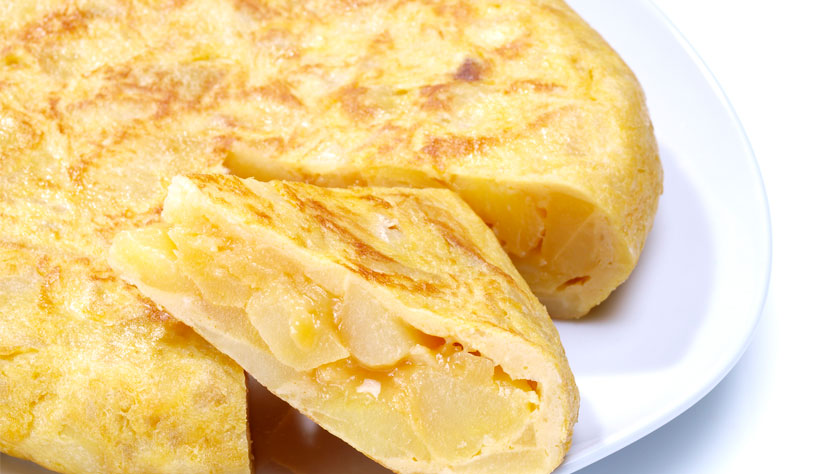 2. The Andalusian gazpacho

Gazpacho is one of the most typical dishes of Andalusian cuisine. It can be described as a cold soup of vegetables, it is unimaginable to spend a hot summer in the south of Spain without tasting a good cold gazpacho, although you can taste it at any time of the year. Gazpacho provides an endless number of vitamins, it is a very complete dish that fully describes the so-called Mediterranean diet.

3. The famous paella

Possibly paella is the most famous Spanish dish in the whole world, of course it is the most traditional dish of the Spanish gastronomy.
Everyone who visits Spain wants to try the typical Spanish paella, and why?
Because it is delicious, and, despite its many variations, there is an ingredient that is always present; rice.
It has its origin in Valencia and in this spectacular city is where you can best taste it.

4. Serrano ham, the jewel of Spanish cuisine


Spain's gastronomy is very tasty and more when it comes to its ham. Its brand is the Iberian, exclusive and first class. Its quality and its flavor have made the Iberian ham a very appreciated product beyond the borders, however, nothing like tasting it in its own homeland: Spain.

5. The best for a winter day: cocido madrileño

One of the most complete dishes of Mediterranean cuisine is the cocido madrileño.
It has its origin in the capital, Madrid. This stew, whose main ingredient is chickpeas but in which bacon, meat and vegetables play an important role too, has become one of the indispensable dishes to be tried by tourists and travelers who visit the city.

Share your experience trying these delicious dishes with Wifivox, to stay connected at maximum speed with unlimited data wherever you are in Spain!