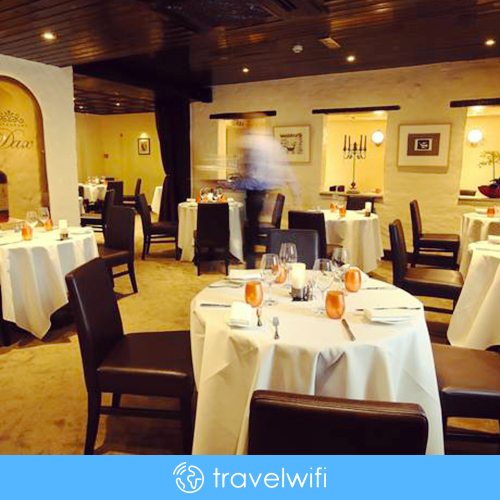 Spending some time in Europe this vacation period? You don't need to travel in France to master the French cuisine. We chose the places that will take you to the Frenchland and introduce our quintessence dishes.
L'Escargot – London
L'Escargot founded in 1927, is the oldest French restaurant in the British capital. Elegant, chic and right around the corner from Piccadilly Circus, this fine dinning restaurant is a promising opportunity to dine around the artworks by Miró, Andy Warhol and Picasso.
This gem has been tested & approved by Mick Jagger, Elton John and even by the late Princess Diana, so give it a try next time in London. Their specialties include Coq au Vin and Lobster Bisque accompanied and rumor has it they have an excellent selection of fine wines.
48 Greek St, Soho, London W1D 4EF, UK
Mon – Sat: 8am – 12 am
Sunday: 11am – 6pm
Reserve your table here.
Vinkeles – Amsterdam
Vinkeles invites you to a fancy dining experience in a former 1700s bakery. At their romantic atmosphere you will not only taste the contemporary French dishes but also get to enjoy the stunning view from the canal. Their menu is made of traditional French cuisine elements mixed with modernism. As Vinkeles gives you two options you can either choose from the a la carte or their tasting menu.
The tasting menu is being served as small portions of 6 or 8 courses with wine pairings. When ordering, your waiter will ask if there is something particular that you don't fancy or if you have any allergies. After that, all you have to do is to sit back and wait for the feast.
Keizersgracht 384, 1016 GB Amsterdam, Netherlands
Tue – Sat: 7pm – 10 pm
Reserve your table here.
Dax Restaurant – Dublin
Similar to Vinkeles, Dax Restaurant offers fine dining experience but this time with a fresh Irish touch. Guests can pick their meals from the a la carte menu or decide to go on board with tasting menu with wine pairings.
If you don't have enough reasons to visit this place, Dax Restaurant has ben awarded Restaurant of the Year 2018 by Georgina Campell's Ireland Guide making it also the best French Restaurant in Dublin!
23 Pembroke Street Upper, Dublin, D02 AK20
Tue – Thu: 12:30pm – 2pm, 6pm – 9:30pm
Friday: 12:30pm – 2pm, 6pm – 10pm
Saturday: 6pm – 10pm
Reserve your table here.
L'Escale Bistrot – Barcelona
Gastronomy blends with tradition in L'Escale. The restaurant is authentically decorated with mirrors and antique objects, creating a warm welcoming atmosphere. This lovely place, owned by a French lady, stresses on two main aspects; using only seasonal fresh ingredients and making guests feel at home.
L'Escale is also the most budget friendly restaurant on our list. On weekdays you could eat a two course meal for €13, €15 for three and have dinner for around €35 in the evenings as well as the weekends.
Passage de Lluis Pellicer 12, 08036 Barcelona, Spain
Tue – Sat: 1pm – 3:30pm, 8:30pm – 11pm
Reserve your table here.
Bistrot du Boeuf Rouge – Geneva
Mmmm who would want to savor the best Lyonnais dishes in a friendly atmosphere? Some of the specialties of the house are boudin noir, boudin blanc and andouillette sauce moutarde. Likewise, its menu presents good range of desserts with generous options.
Stop by the Bistrot du Boeuf Roughe next time you are in Geneva to have a great gourmet time.
17 rue Dr. Alfred-Vincent
Mon – Fri: 12pm – 2pm, 7pm – 10pm
Reserve your table directly by calling +41 22 732 75 37
Paralelo 45 – Lisbon
Just a few steps from Marques Pombal square, Paralelo 45 invites its guests to a fine dining experience with fresh Portuguese ingredients. The restaurant proposes a 3-course executive menu for €14 which makes it ideal for travellers who would like to enjoy a nice meal without having to pay much. 
Paralelo 45 clients describe the restaurant as ''an excellent choice'', ''amazing'', ''fantastic!'' and most of them promise to come back.
Rua Castilho 27B, Lisbon 1250-067, Portugal
Mon: 12:30pm – 2:30pm
Tue – Fri: 12:30pm – 2:30pm, 7 – 10:30pm
Reserve your table here.
Don't forget to stay connected while you travel in France with your Travelwifi device.