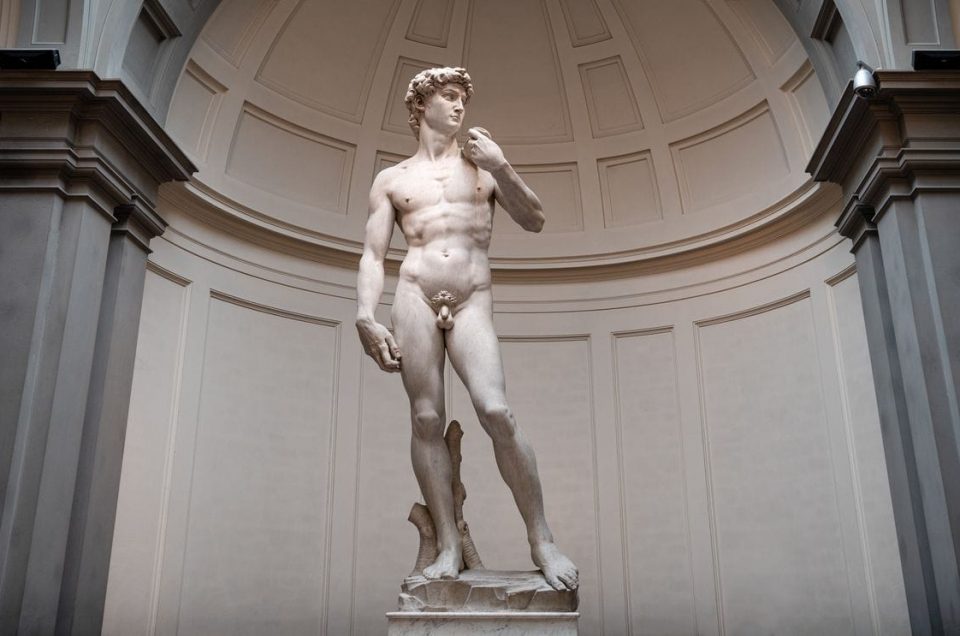 Florence is a city that's filled with culture and beauty. Where better to take this in than an art gallery? Packed with the most impressive pieces from artists and sculptors from a variety of different eras and art styles.
If you're planning a trip to Florence, Italy, then here are the most popular art galleries in the city that you should add to your itinerary.
Gallerie dell'Accademia
No trip to Florence is complete without a view of Michelangelo's statue of David. There's a replica of this statue in the Piazza della Signoria, but you'll find the real deal inside the Gallerie dell'Accademia. The gallery houses iconic pieces from a host of Venetian artists from between the 14th and 19th centuries. This includes sculptures by Michelangelo (some unfinished!) in addition to the incredible Statue of David.
The Gallerie dell'Academia is open every day from 8.15am, closing early on Mondays at 2pm and until 7.15pm every other day. Adult tickets cost €12, but 18-25-year olds pay just €2 and children under 18 are completely free. As such a popular attraction, I'd recommend getting there early to beat the queues.
Uffizi Gallery
Along with the Gallerie dell'Academia, the Gallerie degli Uffizi is one of the most popular places to view art in the city of Florence. This gallery also houses work by Michelangelo as well as Leonardo da Vinci, Botticelli, Raffaello, and lots of other great Italian artists. The majority of the museum's art comes from the Renaissance period, although there are some earlier pieces, too.
The Gallerie degli Uffizi has been open to the public since 1769. You can visit every day between 8.15am and 6.50pm, except Mondays when the gallery is closed. Full-price tickets cost €12 in the low season and €20 in the high season of March to October. EU citizens aged 18-25 pay just €2 entry all year round, while children and those with disabilities get free entry.
Bargello Museum
The Bargello Museum was Italy's first national museum, opened in 1865. Even its surroundings are incredible, housed within the fortress Palazzo del Bargello. Inside, you'll see an impressive collection of art and artefacts all the way from ancient Roman times and with a big focus on Renaissance art. It houses a great diversity of art pieces, from paintings and sculptures to furniture, tapestries, and coats of arms.
Like others, the museum is closed on Monday and open Tuesday to Sunday from 8.15am. It closes later at 6.20pm on Friday and Saturday, and 4.20pm on the remaining days. Reduced tickets for young people cost €2 and full-priced adult tickets cost just €8.
Palazzo Vecchio
The Palazzo Vecchio is the perfect combination of art and history. It doubles up as Florence's City Hall and a popular tourist attraction. Housed inside a breath-taking Medieval fortress, you'll find a plethora of Renaissance artwork as well as the ancient Roman ruins that the fortress was built on. I recommend going to the top of the tower for an amazing view of Florence looking over the Piazza della Signoria.
Palazzo Vecchio is open from 9am-7pm every day, except Thursday when it closes at 2pm. These hours may be extended during the peak season. Prices vary depending on what you want to see, with extras for the tower, battlements, and archeological site.
You can fill a weekend trip to Florence with art galleries alone, so make sure you have a plan so you don't miss out on the best bits. Traveling with a portable hotspot from TravelWifi ensures you always have access to reliable Wi-Fi so you can check availability, buy your tickets online, and read information about the art and artists on display.