Enjoy 4G pocket wifi everywhere in Bangladesh, just for 6,95 € per day. Connect up to 5 devices and avoid roaming fees. Easy delivery and return!

Wifivox it's a pocket-sized device that provides wireless Internet access wherever you go in Bangladesh. You can even share your connection with your family and friends since you can connect up to 5 devices simultaneously. In Bangladesh you will enjoy 1 GB per day at maximum speed for just 6,95 € per day. Once you reach the limit, speed will be reduced until the next day when you will be able to surf at maximum speed again. We also have available in Bangladesh a a 2 Gb/day data plan for 8.95 € per day or a 5 Gb/day data plan for 10.95 € per day.

Avoid surprises with our flat fee of 6,95€ per day! You can order your Wifivox now for your trip to Bangladesh in https://blog.travelwifi.com/bangladesh/

Enjoy Bangladesh to the fullest visiting its main attractions!

A safari in the Sundarbans region is essential in any trip to Bangladesh, with a bit of luck you'll be able to spot the exotic Bengal tiger.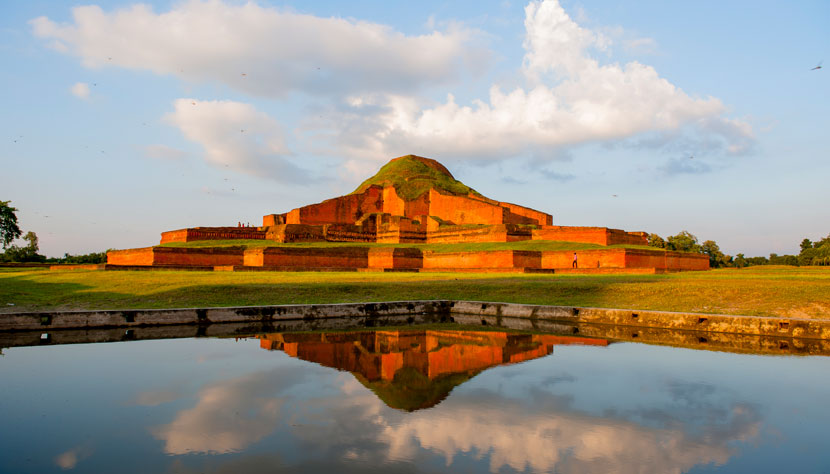 Visit the architectural treasures of Bagerhat, the "city-mosque" declared a World Heritage Site, this is one of the most visited places in Bangladesh.
Do not miss the impressive Buddhist ruins of Somapura Mahvira in Paharpur and soak up the spiritual environment that surrounds them.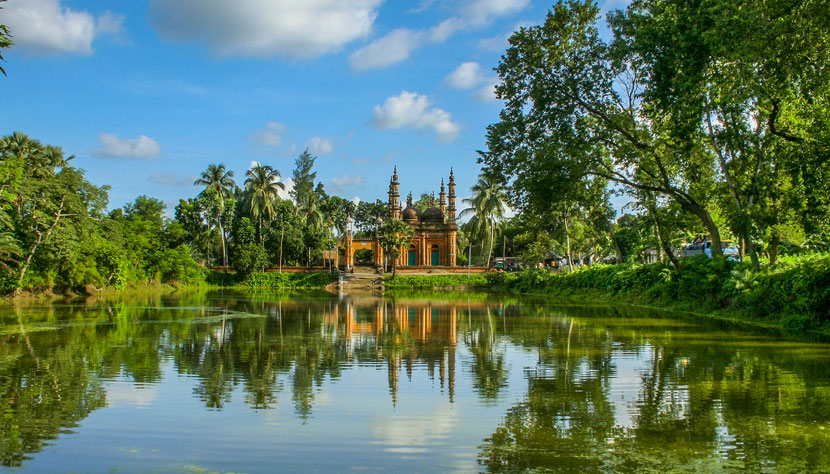 Bangladesh has some spectacular beaches, such as Inani, an extremely long paradisiacal beach, perfect for relaxing and sunbathing or practicing water sports.
Visit the city of Dhaka, tour its historic center and discover its imposing Lalbagh Fort and its beautiful mosques. If you like shopping, visit one of its most famous bazaars, Shankharia, Banga or Chadni Chowd among others.

Bangladesh is home to the largest mangrove forests in the world, home to thousands of species of wild animals. If you're adventurous and daring enough dive into the wild nature, an experience that will probably change your life.

Visit all these amazing places with Wifivox to stay connected at all times wherever you are!

Check out the following useful facts before visiting Bangladesh:

Average temperature and rainfall: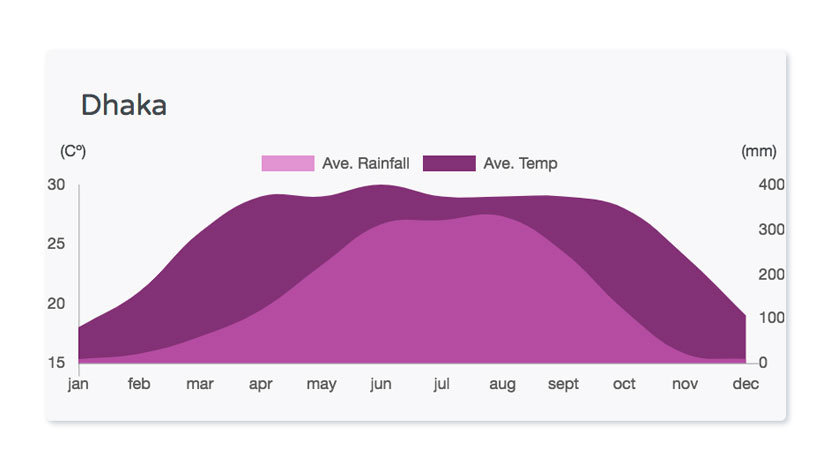 Tipping etiquette:
Tipping in Bangladesh is becoming more common as tourism increases. The average tip in most service establishments is around 5-10% if not already included in the bill. Most tour guides will expect a 5-10% tip or a round up and while tipping taxi drivers is not mandatory, a round up will be appreciated.

Currency: Bangladeshi Taka

TOP 3 Places to see in Bangladesh:
1. Sundarbans
2. Ahsan Manzil
3. Lalbagh Fort Dhaka

Voltage: 220 V

Languages:
Bangla
English

Health:
Zika outbreaks have been reported. It may cause birth defects so pregnant women should avoid visiting the country.