Enjoy 4G pocket wifi everywhere in Cambodia, just for 6,95 € per day. Connect up to 5 devices and avoid roaming fees. Easy delivery and return!

Wifivox it's a pocket-sized device that provides wireless Internet access wherever you go in Cambodia. You can even share your connection with your family and friends since you can connect up to 5 devices simultaneously. In Cambodia you will enjoy 1 GB per day at maximum speed for just 6.95 € per day. Once you reach the limit, speed will be reduced until the next day when you will be able to surf at maximum speed again. We also have available in Cambodia a 2 Gb/day data plan for 8.95 € per day or a 5 Gb/day data plan for 10.95 € per day.

Avoid surprises with our flat fee of 6,95€ per day! You can order your Wifivox now for your trip to Cambodia in https://blog.travelwifi.com/cambodia/

Enjoy Cambodia to the fullest visiting its main attractions!

Cambodia is full of history, ancient temples and beautiful landscapes, it is also a very cheap destination, transport, accommodation and food are really affordable.

The capital of Cambodia, Phnom Penh, is a bustling city, full of tuk-tuk drivers and street food stalls that invite you to try their typical cuisine. Stroll through the city and discover its historic buildings, numerous pagodas and colonial houses.
On the outskirts of Phnom Penh we find the famous Death Fields, where more than one million Cambodians were executed during the Khmer Rouge regime. Visit also the Tuol Sleng Genocide Museum to learn about the sad history of this country.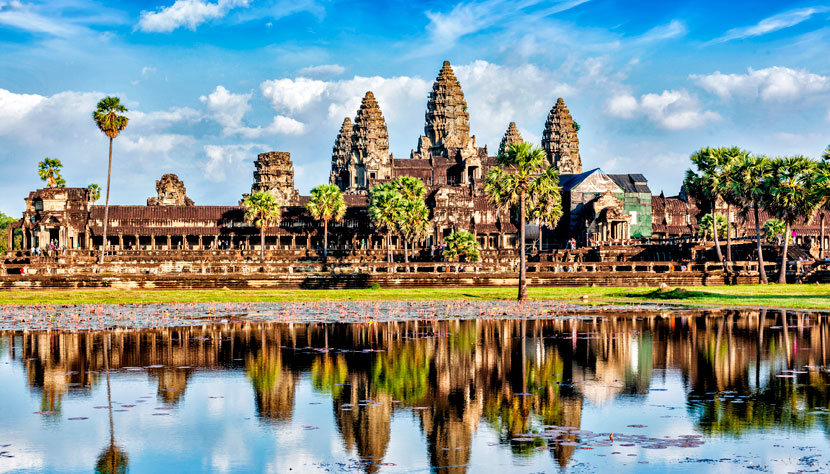 The Angkor Archaeological Park, declared a World Heritage Site by UNESCO, is the biggest tourist attraction in Cambodia. Visit the magnificent ruins of the capital of the Khmer Empire; If you arrive before the sun comes up you can enjoy the beautiful sunrise that happens behind its most famous temple, the Angkor Wat.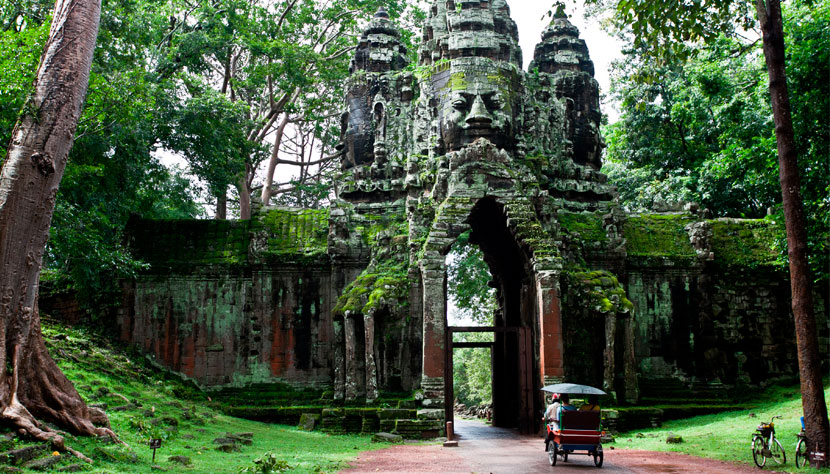 Sihanoukville, or "Snooky", is a must-see on any trip to Cambodia, with six fabulous fine white sand beaches. A strong point is that they're not as busy as those of their neighbor Thailand.
Do not miss Kampot, stroll through its streets and markets or relax and enjoy the scenery of this beautiful city located next to a beautiful river.

Visit all these amazing places with Wifivox to stay connected at all times wherever you are!

Check out the following useful facts before visiting Cambodia:

Average temperature and rainfall: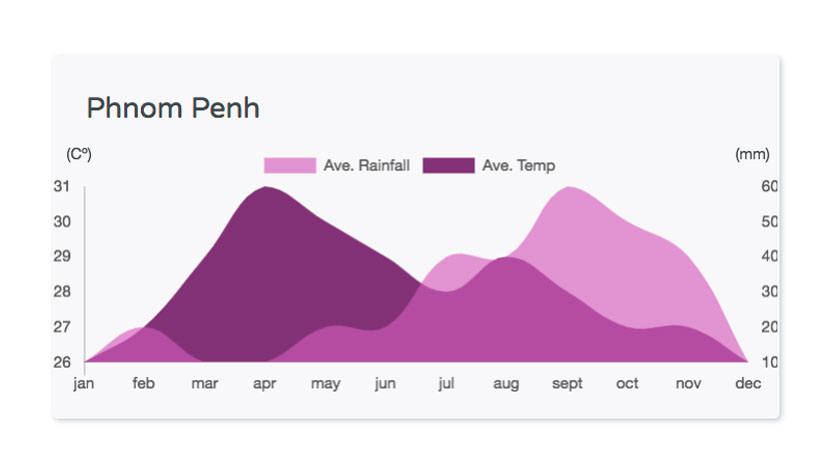 Tipping etiquette:
Tipping in Cambodia isn't very common since a 5-10% service charge is generally included in the bill of most service establishments, however one may leave an additional tip if the service was exceptional. Most tour guides and taxis will expect a 10% tip or round up.

Currency: Cambodian riel

TOP 3 Places to see in Cambodia:
1. Angkor Archeological Park
2. Phnom Penh Royal Palace
3. Sihanoukville Beach

Voltage: 230 V

Languages:
Khmer
English
French

Health:
Zika virus is endemic in Cambodia. It may cause birth defects in babies so pregnant women should avoid visiting the country.