Enjoy 4G pocket wifi everywhere in Mauritius, just for 7,95 € per day. Connect up to 5 devices and avoid roaming fees. Easy delivery and return!

Wifivox it's a pocket-sized device that provides wireless Internet access wherever you go in Mauritius. You can even share your connection with your family and friends since you can connect up to 5 devices simultaneously. In Mauritius you will enjoy 1 GB per day at maximum speed for just 7.95 € per day. Once you reach the limit, speed will be reduced until the next day when you will be able to surf at maximum speed again. We also have available in Mauritius a 2 Gb/day data plan for 10.95 € per day or a 3 Gb/day data plan for 11.95 € per day.

Avoid surprises with our flat fee of 7,95 € per day! You can order your Wifivox now for your trip to Mauritius in https://blog.travelwifi.com/mauritius/

Enjoy Mauritius to the fullest visiting its main attractions!

If you travel to Mauritius, the Isla de los Ciervos is one of the first places to visit, white sand beaches, coconut trees and crystal clear waters. Perfect for practicing all kinds of water or aerial activities.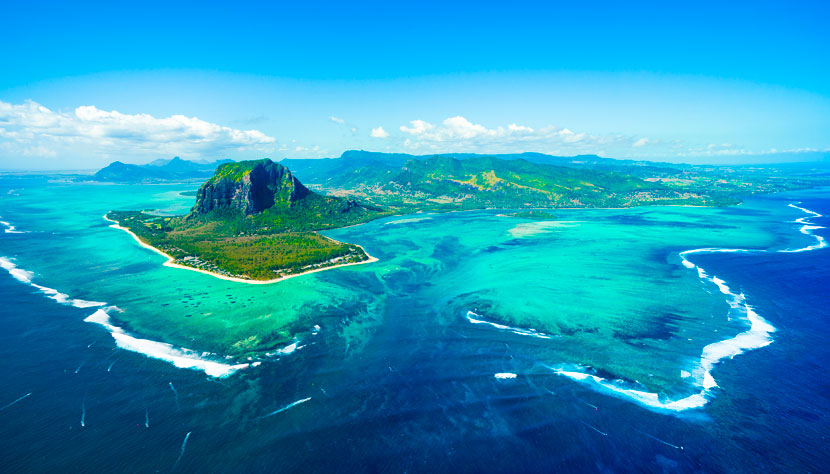 Le Morne Bravant, this is the mountain that usually appears in all the promotional photos of Mauritius, the Mauritians consider it a symbol of its history. Dare to climb this huge mountain and enjoy the breathtaking views.
Visit the "Trou aux Cerfs", a spectacular and immense crater full of vegetation that will leave you amazed.
The Hindu temple "Grand Bassin" is another must see, this temple is built on a volcanic crater covered by water. For Hindus, it is the most sacred place in all of Mauritius.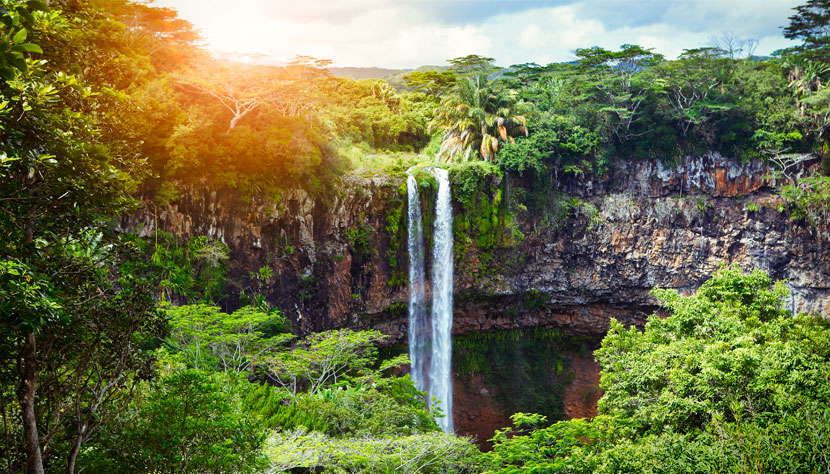 Observe the impressive Chamarel waterfall from its viewpoint. Do not miss the Land of the seven colors, it is very close to Chamarel, this is an extension of volcanic earth in which the vegetation does not grow.
Port Louis, the capital of Mauritius, is worth a visit. Walk through the Central Market, you will find innumerable stalls with exotic fruits, souvenirs, spices, fish…

Another must in this beautiful country are the Seven Waterfalls, as its name suggests, seven impressive waterfalls in the middle of the jungle.

Visit all these amazing places with Wifivox to stay connected at all times wherever you are!

Check out the following useful facts before visiting Mauritius:

Average temperature and rainfall: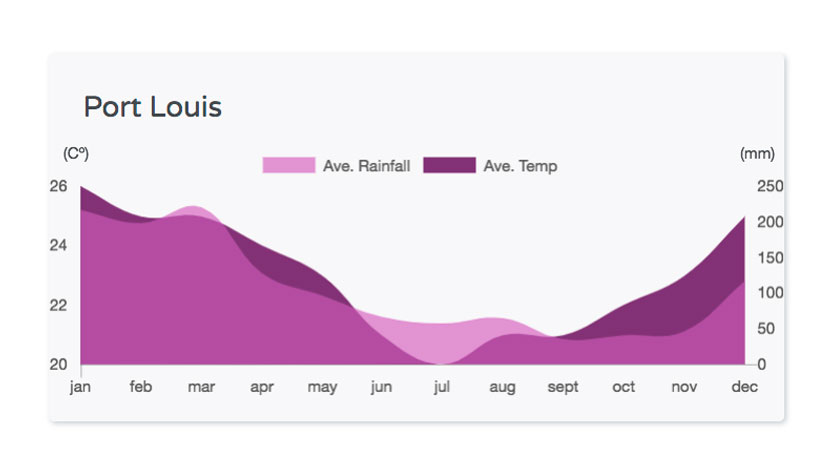 Tipping etiquette:
Tipping in Mauritius is quite common, but not mandatory. The average tip in most service establishments and hotels is around 10-15% if not already included in the bill. Most tourist guides and taxi drivers will also expect a 10% tip or round up.

Currency: Mauritian rupee

TOP 3 Places to see in Mauritius:
1. île aux Cerfs
2. Le Morne Brabant
3. Seven Colored Earths

Voltage: 230 V

Languages:
French
Mauritian Creole
English

Health:
You may need the Hepatitis A and Typhoid vaccines if your plan on visiting rural areas.