Enjoy 4G pocket wifi everywhere in New Zealand, just for 7,95 € per day. Connect up to 5 devices and avoid roaming fees. Easy delivery and return!

Wifivox it's a pocket-sized device that provides wireless Internet access wherever you go in New Zealand. You can even share your connection with your family and friends since you can connect up to 5 devices simultaneously. In New Zealand you will enjoy 1 GB per day at maximum speed for just 7.95 € per day. Once you reach the limit, speed will be reduced until the next day when you will be able to surf at maximum speed again. We also have available in New Zealand a 2 Gb/day data plan for 10.95 € per day or a 3 Gb/day data plan for 11.95 € per day.

Avoid surprises with our flat fee of 7,95 € per day! You can order your Wifivox now for your New Zealand trip in https://blog.travelwifi.com/new-zealand/

Enjoy New Zealand to the fullest visiting its main attractions!

New Zealand, country of endemic fauna and flora, impressive landscapes and warm and welcoming people.
If there is something that has helped position New Zealand as one of the most popular tourist destinations, is the fact that the trilogy of The Lord of the Rings was filmed in this country.
One of the most emblematic locations of the saga is Hobbiton, a town of small houses carved into the green hills of a mountain.
Tongariro National Park offers an extraordinary and unique landscape with turquoise lakes, hot springs and snowy peaks volcanoes. It has been declared a World Heritage Site by Unesco not only for its landscapes of exceptional beauty but also for the Maori cultural elements it treasures.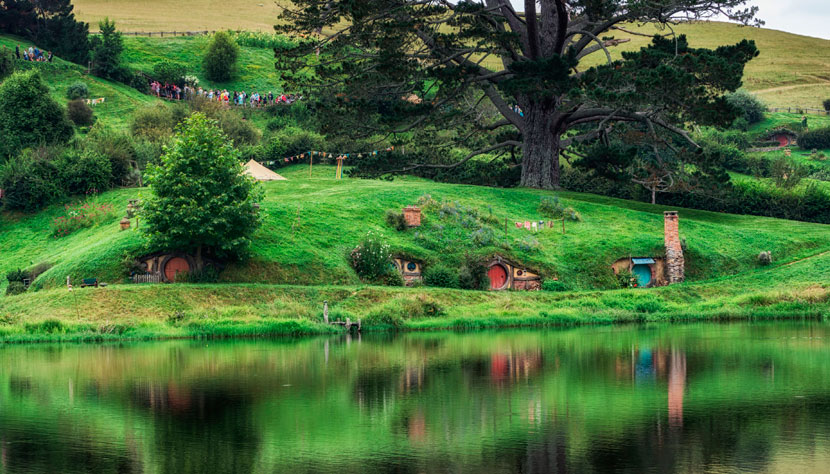 The Waitomo caves are not like a conventional cave… these caves have a very spectacular peculiarity, they are luminescent!
Well, not really, it is not that the caves themselves are luminous, this luminosity is owed to the luminous Arachnocampa, or "the glowworm" of New Zealand. It is a small species of mosquito that emits a small glow.
Wellington is the capital of New Zealand and an essential stop on your trip across this country. It is a young, multicultural city with a lot of life.
Do not miss the Te Papa National Museum, possibly one of the most interesting in the world, no excuses because the admission to this museum is free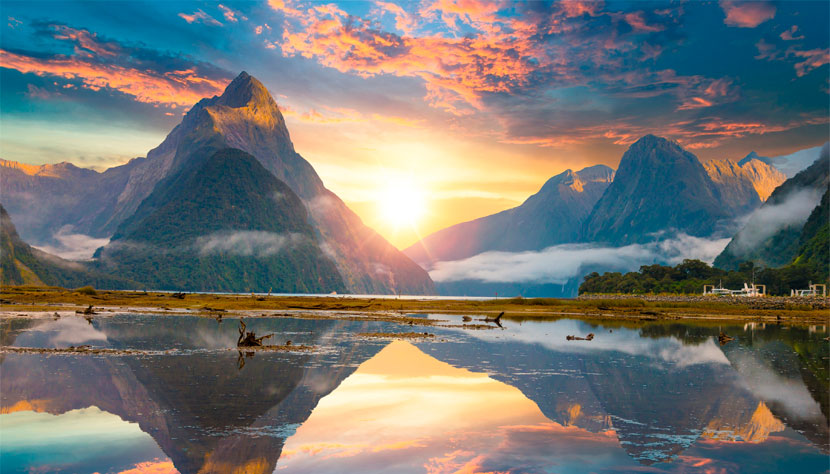 Milford Sound, also known as Piopiotahi is a fjord located in the southwest of the South Island and its beauty is indescribable, in fact, many consider it the eighth wonder of the world.
The Kahurangi National Park is the second largest in New Zealand, but not only its extension is striking as it is a place with superb nature. You'll be able to do sport activities such as climbing, rafting, canyon descents or hiking.

Visit all these amazing places with Wifivox to stay connected at all times wherever you are!

Check out the following useful facts before visiting New Zealand:

Average temperature and rainfall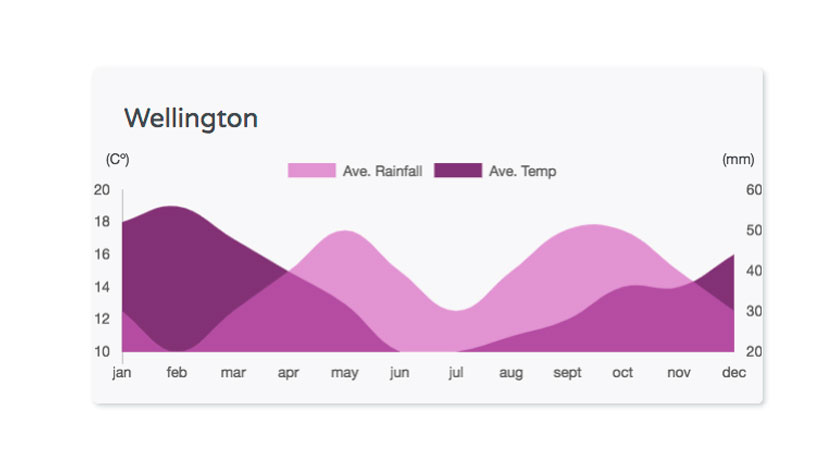 New Zealand Tipping etiquette:
Tipping in New Zealand isn't mandatory. The staff in the hospitality sector enjoys good wages and thus, they won't expect extra tips unless the service was exceptional or the establishment in question is luxurious. Tipping tour guides and taxi drivers isn't mandatory either but a round up will be appreciated.

Currency: NZ dollar

TOP 3 Places to see in New Zealand:

1. Wanaka Lake
2. Milford Sound
3. War Memorial

Voltage: 230 V

Languages:
English
Maori

Health:
There is no especial vaccine required to travel to New Zealand as long as you are up-to-date on routine vaccines.