Enjoy 4G pocket wifi everywhere in Qatar, just for 6,95 € per day. Connect up to 5 devices and avoid roaming fees. Easy delivery and return!

Wifivox it's a pocket-sized device that provides wireless Internet access wherever you go in Qatar. You can even share your connection with your family and friends since you can connect up to 5 devices simultaneously. In Qatar you will enjoy 1 GB per day at maximum speed for just 7.95 € per day. Once you reach the limit, speed will be reduced until the next day when you will be able to surf at maximum speed again. We also have available in Qatar a 2 Gb/day data plan for 10.95 € per day or a 3 Gb/day data plan for 11.95 € per day.

Avoid surprises with our flat fee of 6,95 € per day! You can order your Wifivox now for your trip to Qatar in https://blog.travelwifi.com/qatar/

Enjoy Qatar to the fullest visiting its main attractions!

Doha, the capital, is the most visited city in Qatar, since it houses the most emblematic attractions of the country. The Museum of Islamic Art, is the most beautiful museum in Doha. Its architecture will leave you speechless, its entrance is free and very worth visiting. From the museum you'll be able to enjoy some impressive views of the Doha skyline.
Souq Waqif is the traditional area of ​​Doha, its souk. Walk around and discover the contrast between ancient and modern trade. You'll find multiple stalls with traditional clothes, crafts and souvenirs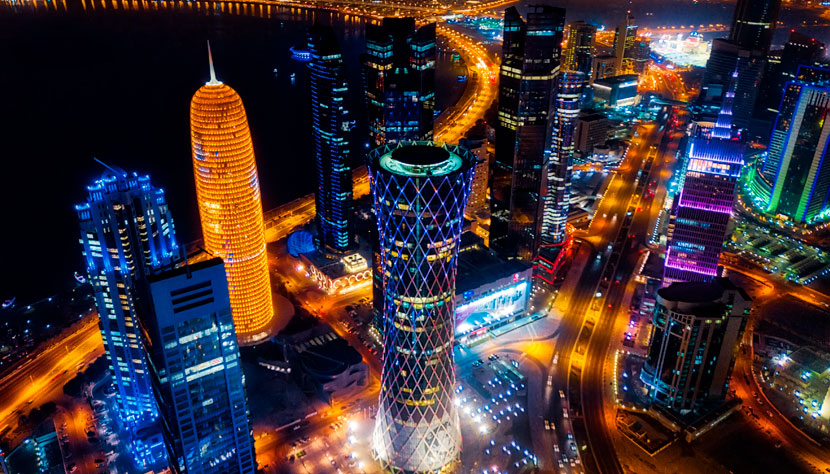 Walk along the Doha Corniche, the city's seafront. It starts at the Museum of Islamic Art and ends at the imposing and luxurious Sheraton Hotel.
Pay a visit to the Villaggio Shopping Mall, probably one of the most beautiful in the world. This Shopping Mall is a representation of Venice, its canals and its architecture. You can go on a gondola ride!
The Pearl Qatar is an artificial island where the most luxurious hotels in the city are concentrated, in addition to its marina.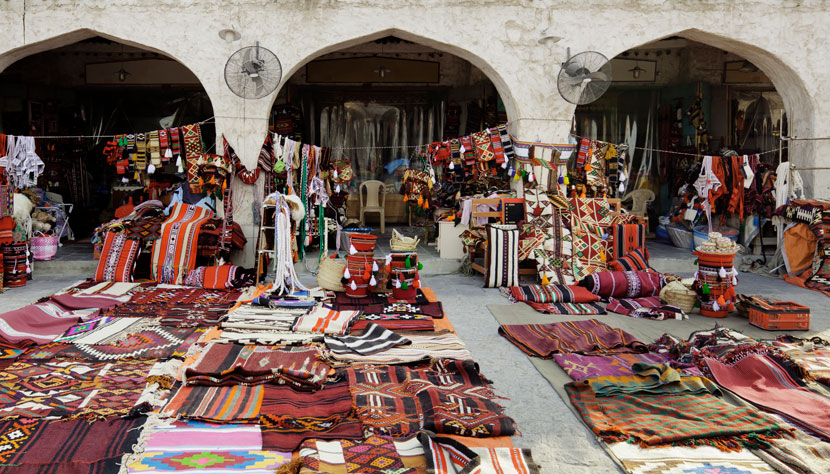 Al Khor is a small fishing town and a must-see in Qatar. Its most representative monument is its Archaeological Tower, from which you can appreciate some impressive views of the sea, although its mosques and antique museums are also very interesting.
Madinat Ash Shamal, this city is home to one of the main attractions of the country: the fort Al Zubara. This monument will take you back to the historical past of Qatar, it was used to protect fishermen and city dwellers.

Visit all these amazing places with Wifivox to stay connected at all times wherever you are!

Check out the following useful facts before visiting Qatar:

Average temperature and rainfall: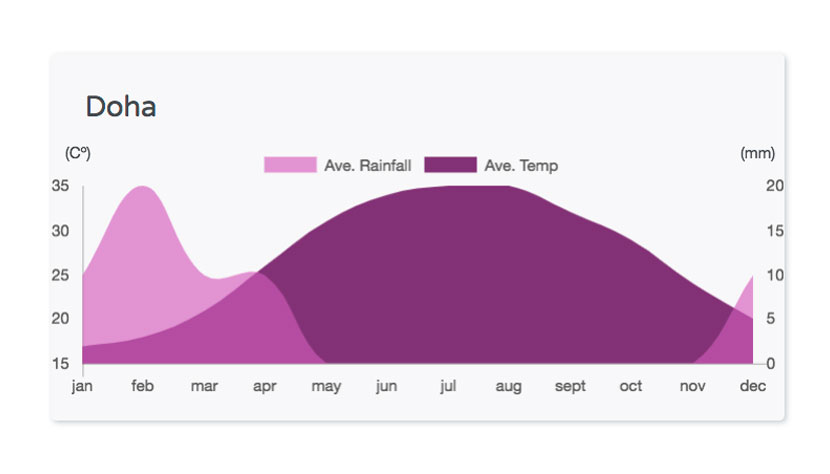 Tipping etiquette:
Tipping in Qatar is quite common. The average tip in most service establishments is around 10-15% if not already included in the bill. Most tourist guides and taxi drivers will expect a 10% tip or round up.

Currency: Qatari Riyal

TOP 3 Places to see in Qatar:
1. Museum of Islamic Art
2. Souq Waqif
3. Barzan Towers

Voltage: 240 V

Languages:
Arabic
English
Urdu

Health:
You may need the Hepatitis A and Typhoid vaccines if your plan on visiting rural areas.