Enjoy 4G pocket wifi everywhere in Saudi Arabia, just for 6,95 € per day. Connect up to 5 devices and avoid roaming fees. Easy delivery and return!

Wifivox it's a pocket-sized device that provides wireless Internet access wherever you go in Saudi Arabia. You can even share your connection with your family and friends since you can connect up to 5 devices simultaneously. In Saudi Arabia you will enjoy 1 GB per day at maximum speed for just 7.95 € per day. Once you reach the limit, speed will be reduced until the next day when you will be able to surf at maximum speed again. We also have available in Saudi Arabia a 2 Gb/day data plan for 10.95 € per day or a 3 Gb/day data plan for 11.95 € per day.

Avoid surprises with our flat fee of 6,95€ per day! You can order your Wifivox now for your trip to Saudi Arabia in https://blog.travelwifi.com/saudiarabia/

Enjoy Saudi Arabia to the fullest visiting its main attractions!

The capital of the country is Riyadh, where you must visit the great Masmak Fortress, with a long history behind it, as it has survived many historical events of great relevance, nowadays it can be visited as a museum.


In the city of Diriyah you'll find spectacular palaces, large mosques and an imposing protective wall. The Kingdom Center building is one of the most popular skyscrapers in the city, it houses offices, restaurants, shops and a luxury hotel.
The Great Mosque, Masjid al-Haram, is the most important in Mecca. This sanctuary houses the Black Stone, the Muslim religion dictates that it was given to Adam and Eve as a symbol of God's forgiveness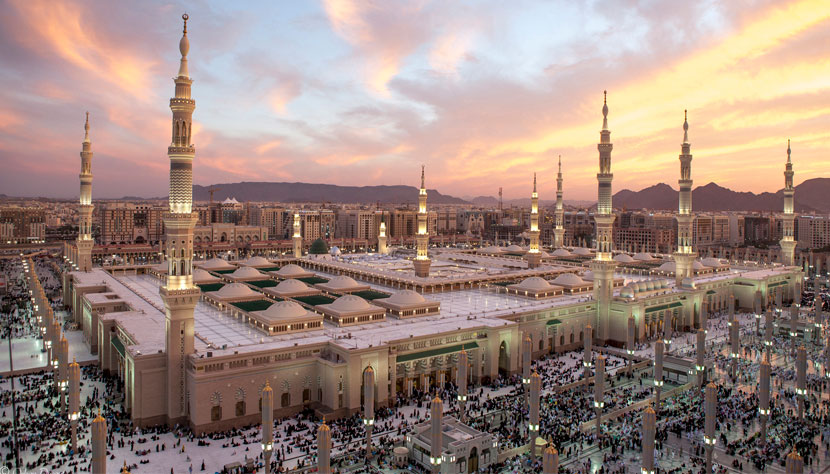 Medina is the most popular destination among tourists and pilgrims. The Mosque of Quba is the jewel of the crown and one of the oldest in the world, it is said that Muhammad placed the first rocks of the mosque, this is why it's also known as the Mosque of the Prophet. After the Great Mosque, this is the most important religious sanctuary.

Do not miss their traditional food, the most consumed meat is lamb, which is present in almost every dish. Try the typical burgul, the shikamba or the world famous faláfel.

Visit all these amazing places with Wifivox to stay connected at all times wherever you are!

Check out the following useful facts before visiting Saudi Arabia:

Average temperature and rainfall: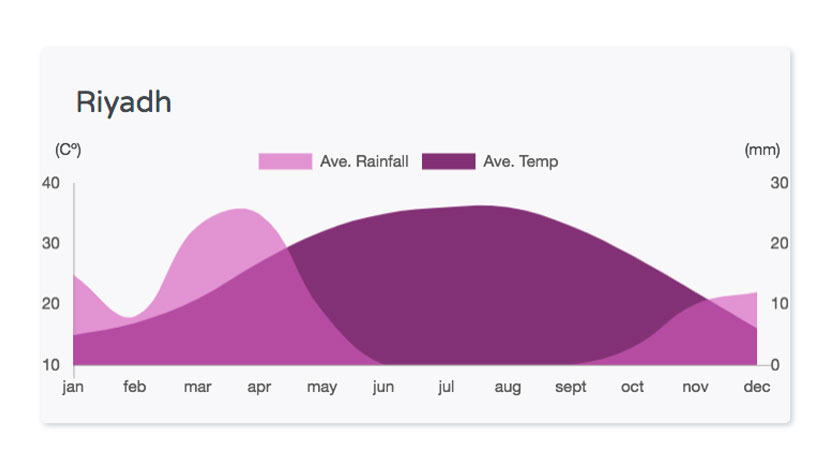 Tipping etiquette:
Tipping in Saudi Arabia is quite common. The average tip in most service establishments is around 10-15% if not already included in the bill. Most tourist guides and taxi drivers will expect a 10% tip or round up.

Currency: Saudi Riyal

TOP 3 Places to see in Saudi Arabia:
1. Al-Masjid an-Nabawi
2. Mada'in Saleh
3. Ghar Hira

Voltage: 220 V

Languages:
Arabic
English
Chinese

Health:
You may need the Hepatitis A and Typhoid vaccines if your plan on visiting rural areas.