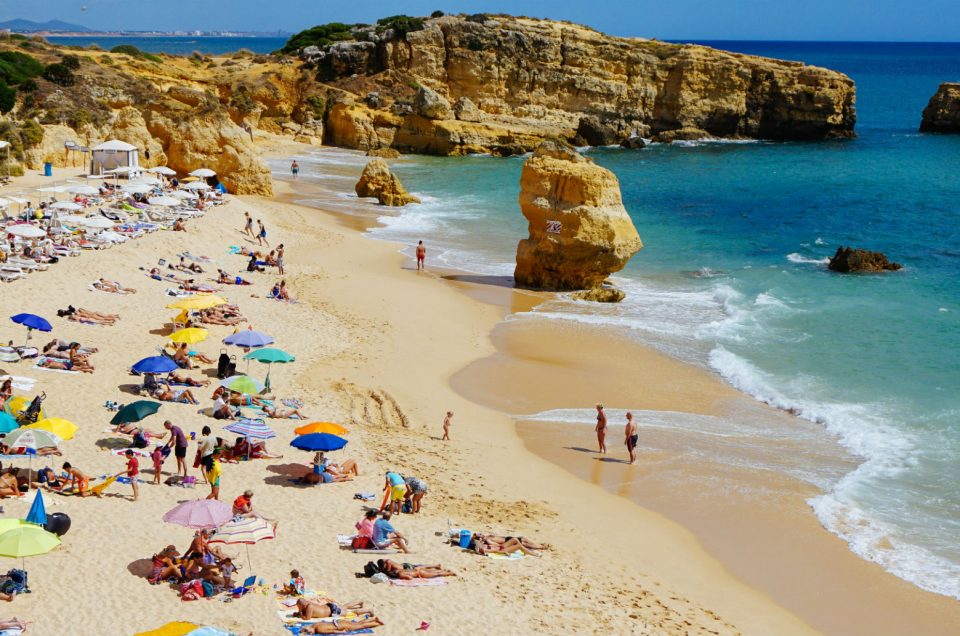 The summer holiday season in Europe offers a huge amount of destination choice for travellers. As a northern hemisphere continent, the climate is pleasant throughout the summer months so it's the best time to explore, whether you want to head to a briefly unfrozen north or bask on the beaches of the Mediterranean Sea. We've all got our own idea of what makes the perfect summer vacation, a road trip through glorious scenery, a cultural city break or just complete relaxation in a coastal resort. To give you a flavour of the different types of trip you could consider in some of the most exciting locations check out our top 10 European summer trip ideas split into four different categories.
City breaks
1. Lisbon, Portugal
Some major European capital cities can be a bit overwhelming in high summer, in terms of temperature, pollutions or just sheer volume of visitors. That's why we've looked elsewhere than the typical names of Paris, Rome or Barcelona. Lisbon is literally a breath of fresh air, with it's Atlantic coast location meaning you never feel stifled. And it's a joy to explore on foot or by public transport, from the tiny streets of Alfama to the glorious open spaces of Belem.
2. London, United Kingdom
London comes to life in the summer, you can sense the mood of the city change as the sun comes out and even the often-reserved British embrace a greater sense of fun. There's just so much to do in London, attractions and famous sights galore and other areas of southern England easily reachable within an hour or two if you want to make it an extended stay. The UK is a place known for its often eccentric occasions and sense of humor and the summer is definitely the time to experience it!
3. Istanbul, Turkey
West meets East in the capital of Turkey where the Bosphorus strait connects the Black Sea with the Aegean and Mediterranean seas to the south. Istanbul straddles this significant waterway with all the diversity and exotic confluence of cultures you would expect. It does get very hot in Istanbul during the later part of the summer so this may be a trip to take in June, but unlike a lot of cities, it's also a relatively quiet time as many locals head to their regional family hometowns or to the coast. But Istanbul itself is a genuine beach location with some especially stunning beaches along its Black Sea coast so you can combine exploration with relaxation very easily.
Scenery
4. Iceland
You have to be pretty tough to visit Iceland in the winter and brave the extreme cold and almost permanent darkness. But by high summer this spectacular island has thawed and the long days give you ample time to explore one of the most remarkable landscapes anywhere on Earth. Iceland's scenery is forged by fire, from its many volcanoes, and you'll be amazed everywhere you look from black sand beaches to awe-inspiring canyons to waterfalls that seem to belong to another planet!
5. Kotor, Montenegro
The tiny country of Montenegro has only existed since 2006, but don't be fooled by its compact size, it has much to experience. Although word is quickly spreading of its breathtaking views via visitors on the many cruise ships which stop in the Bay of Kotor, Montenegro still has some real charm that comes from a lack of massive tourist development. It's a rugged place retaining its medieval feel and worthy of its UNESCO World Heritage status.
6. Scottish Highlands, Scotland
The highlands of Scotland are at their most magnificent as the sun breaks through the clouds to bathe this ancient landscape in golden light. It's said you'll often experience four seasons in one day, even in summer, but there is always a castle or a whisky distillery to visit if rain arrives. But Scotland remains a gloriously wild place, full of history as well as scenery, and one that is very accessible. A brilliant place for a road trip.
Beaches
7. Sardinia, Italy
The choice of beach locations in Europe is enormous, with 11 countries bordering the Mediterranean Sea along with hundreds of islands dotted throughout. One of the loveliest is also the second-largest, Sardinia. It's an autonomous region of Italy and therefore shares its language and food culture. The 2000km coastline is more rugged to the east with gentler dune-backed beaches to the west. Whichever you prefer Sardinia's beaches regular feature in worldwide "best of" lists.
8. The French Riviera, France
The French Riviera (also known locally as the Côte d'Azur) lies on France's south-east coast roughly from Toulon to the border with Italy. As you travel west along it, you find one world-famous name after other, Saint-Tropez, Cannes, Antibes, Nice until you reach the impossibly glamourous tiny state of Monaco. So whether you want to sail, swim or just be seen among the beautiful people of the Riviera in summer, you'll be in the best possible company!
9. Cyprus
At the far eastern end of the Mediterranean lies the island of Cyprus. An independent but partitioned state, the northern and southern halves have a very different feel. The south is geared more to western travellers with the famous resorts of Ayia Napa and Paphos. The north is less-developed and feels more akin with Turkey. But whether you visit north, south or both you'll love the amazing beaches, glorious weather and reasonable prices. One for the true sun worshippers!
Culture
10. Bavaria, Germany
Bavaria lies in the south-east corner of Germany, with the Alps mountain range forming its southern border with Austria. It also borders the Czech Republic to the east. Bavaria encapsulates what we often imagine as stereotypical German culture, involving beer, sausages and men dressed in lederhosen! Whilst that's not untrue, there is a lot more to it, with the summer being a perfect time to explore the regional capital, Munich and then venture out to find castles, monasteries and small towns which still capture the last thousand years of European history perfectly. Our top tip is Kloster Andechs, a monastery which is an easy day trip by train from Munich. You won't want to drive, the beer is too good to just have one!
11. Tuscany, Italy
Tuscany has a legendary reputation for being the finest all-around cultural experience in the world and it's easy to see why. Its cities, such as Florence, Pisa and Siena are renowned for art, architecture and museums whilst the picturesque countryside, dotted with villages and crisscrossed by vineyards represent everything good about rustic Italian food and wine. It's also a coastal region, with pretty seaside towns alongside the Tyrrhenian Sea. A perfect summer destination to be enjoyed leisurely!
To be able to reliably share all the sights and sounds you discover in Europe with friends and family a pocket wifi device is an essential piece of travel kit. You can stay connected anywhere in Europe by using a TravelWifi portable wifi device. The device is only $8.95 per day for unlimited data usage, plus, you and your friends or family can all share one device (up to 5 gadgets can connect at a time). Tep's portable device is amazingly travel-friendly too, it will slip into a handbag, pocket or rucksack!