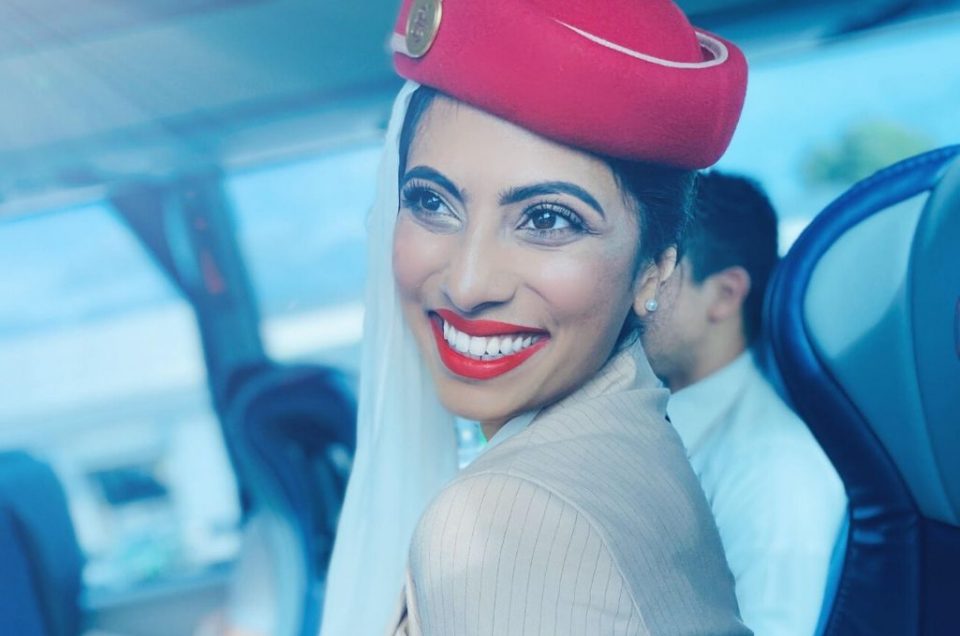 It's that time of the month! Welcome to our cabin crew series here at Travelwifi! We all think that being a flight attendant is all glitz and glamour but what is it really like? In this month's Life of a flight attendant interview series, we sat down with Priti Goundar to get a glimpse of her life of endless flying and traveling. If you want to be a cabin crew, you can learn from her, too!
Hi Priti! Welcome to the series! Can you please describe your life as a flight attendant? We'd love to know more about it!
To be honest it depends on how I feel. I go with the way my body is feeling and what it requires. Somedays I'll have long productive days and other days I won't leave my apartment lazing around in bed and watching TV (Sometimes I've even slept 17 hours straight.) A long productive day for me is being out all day. Starting off with yoga, doing errands, meeting up with friends for coffee, body pump class, then a night out. 
How long have you been a flight attendant?
I've been a flight attendant for five and a half years. I was recruited from Sydney, Australia. I applied online at Emirates then I received an email that I was shortlisted and I was invited to attend an open day at Raddison Hotel which went from 8am-7pm. There was about 150 candidates there, 11 of us were chosen to attend the final interview the next day and I was one of the lucky ones. If you are successful you get a call "golden call" from Emirates, I received the golden call six weeks after the interview. 
Tell us the top 5 things you can't live without as a flight attendant.
1. My iPhone 11pro because it takes the most amazing photos
2.
Travelwifi device
: my personal travel hotspot) so I can always stay connected to friends and family.
3. Paw Paw to keep my lips hydrated, also good for cuts n burns
4. Red lipstick: it's a must for Emirates cabin crew
5. Hand sanitizer: I have a couple of these in my cabin bag, suitcase and handbag.

What's your favorite part of being a flight attendant?
My favorite part of being a flight attendant is the travel benefits, I get to travel the world at discounted prices, we only pay 10% of the fare plus taxes. I also love my job because I get to travel and stay in fancy 5 star hotels and get paid for it.
What's the hardest part of being a flight attendant?
For me the hardest part is being away from home and family. I can't just go home on days off because Sydney is a 14 hour flight from Dubai. Its hard being away from friends, family and my dogs. Also missing out on special events, like weddings, birthdays, and Christmas. 
Where are you currently based and what are your future travel plans?
I'm based in Dubai, United Arab Emirates. All cabin crew that work for emirates are based in Dubai. We don't have a choice to live anywhere else, but to be honest I'm very happy living here in Dubai and wouldn't want to relocate anywhere else.
What are your tips for flight attendants if ever they are in a city without reliable WiFi?
My advice to all flight attendants are to have some sort of hotspot with you all the times as back up in case hotel Wi-Fi isn't working or you're stuck outside and you need google maps, Uber or a translator.
How does Travelwifi help you as a flight attendant?
Oh my god!! It's amazing! I love the fact the moment I get onto the crew bus doesn't matter where in the world I am. I'm connected straight away to friends, family and social media. Also when I'm out and about exploring cities and roaming around I always use tepy for google maps and to find nice restaurants. It's just helpful in so many ways