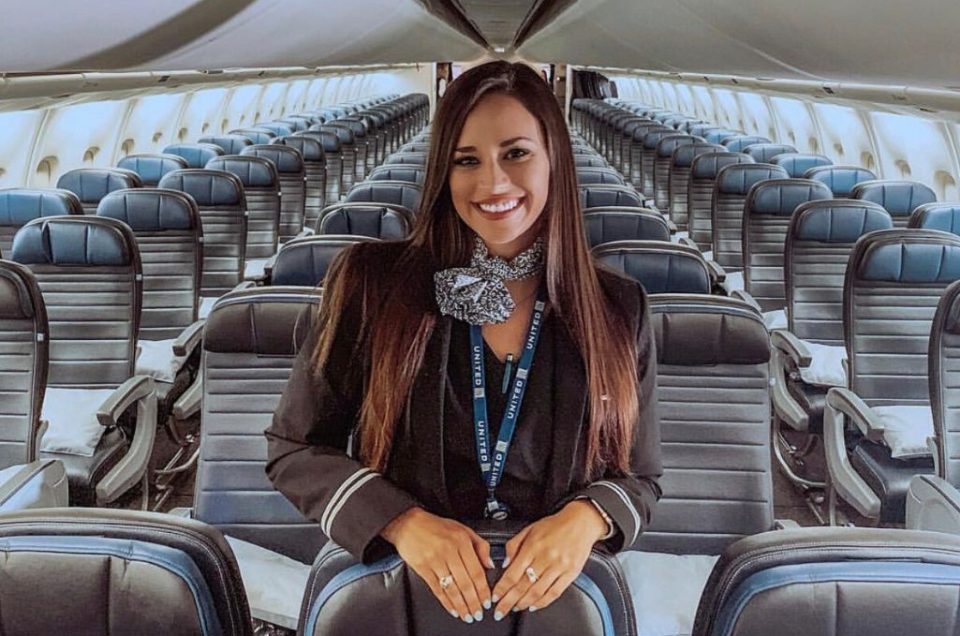 It's that time of the month! Welcome to our cabin crew series here at Travelwifi! We all think that being a flight attendant is all glitz and glamour but what is it really like? In this month's Life of a flight attendant interview series, we sat down with Andrea to get a glimpse of her life of endless flying and traveling. If you want to be a cabin crew, you can learn from her, too!
Hi Andrea! Welcome to the series! Can you please describe your life as a flight attendant? We'd love to hear it!
A day in the life: As a flight attendant I am on what's called "Reserve" and basically what this means is you're on call 24/7 until your days off. Being on call means they can call you whenever they want throughout the day to assign you to a trip that they need covered. So when I'm on call I'm not necessarily flying. There are days that I don't get called at all and I typically spend my time at home, at the gym, or running errands. We get a monthly guarantee so I could work 20 hours a month or 78 hours a month and I'd still get paid the same. Each month is different. I could work one trip or I could work four. You never know!


How long have you been doing this job?
I've been a flight attendant for a little over a year now and it's been the best career ever! I got hired in October of 2018. The interview process can be very stressful because thousands of people apply and only a certain amount are selected. First I submitted my application through my airlines website and from there I was selected to do a video interview. The video interview included 5-6 questions that were all timed and you couldn't redo your answers. From there, they review it and if selected you are asked to come in for a face-to-face interview. The face-to-face interview was the last step and I received my offer right on the spot. After receiving your offer you will have to attend a 6 1/2 week training in order to become qualified. The training process is very rigorous with exams and drills. You must pass them all to completely become a certified flight attendant.


 

 

View this post on Instagram

 
Tell us the top 5 things you can't live without as a flight attendant?
1. I always carry a good book with me for long sits at the airport or long flights
2. iPad – so I can watch Netflix or other shows in my hotel room
3. Hand sanitizer and lots on moisturizing products to keep my skin from drying up.
4. Arbonne energy fizz sticks to keep me awake throughout the day.
5. And my phone of course! I handle everything on it and I'd be lost without it!


What's your favorite part of being a flight attendant?
My favorite part of being a flight attendant is the benefits! I get to travel anywhere I want for free and there's so much flexibility that comes with the job. I can create my schedule to my liking each month and I love that everyday is different. You never know what you're going to get, which is the exciting part:)


 

 

View this post on Instagram

 
What's the hardest part of being a flight attendant?
The hardest part is being away from family and friends. Especially when an event is going on. Things come up last minute and you already have your schedule set for the month so you can't really change it. Of course if I wanted to get weekends off I could but sometimes friends have events during a week day and I never know if I'll be around or not. It's not a normal job where I can be home every night. Sometimes missing the little things can be hard.


Where are you currently based and what are your future travel plans?
I'm currently based in Chicago. I'm from Houston but don't plan on transferring. I love this city and plan to stay long-term. My future travel plans for the year include Peru, Yosemite, Banff, Lake Tahoe, Zion National Park, and hopefully Bali. I'll probably take a few last minute unplanned/unknown trips as well!


 

 

View this post on Instagram

 
What are your tips for flight attendants if ever they are in a city without reliable WiFi?
Honestly I think it is very tricky getting around without service in a city you are unfamiliar with. You can always go old school and use a paper map but sometimes those can only get you so far before you start asking people where you are and where to go. I like to maximize my time while traveling and I find doing things that way will waste a lot of your time so I definitely recommend getting Tep. You can travel with WiFi wherever you go and it makes it easier to look up the top things to see and the best places to eat instead of aimlessly walking around and not finding anything good.


How does Travelwifi help you as a flight attendant?
Travelwifi helps me tremendously! My cellphone provider doesn't provide me with international service unless I pay for it and it's a ridiculous amount that adds up if you plan on traveling for a lot of days. With Travelwifi I can stay connected at a lower cost and I can get around without worry. I rely on it so much and it's made my travel experiences stress free!