At Tep, our mission is to keep you in touch with friends, family and colleagues wherever you are. A vital part of that is being able to call whoever you need to, wherever you are.
Call anyone, anywhere, without hesitation
The Tep+ Call & Messaging app is the best way to get in touch with anyone while abroad, thanks to rock-bottom international rates as well as best-in-class call quality & reliability.
You won't have to worry about carrying multiple SIM cards or phones, have any uncertainty about how much that call is costing you or what the quality of that call is going to be like.
It's designed to be great value for travellers
Our call and SMS rates are seriously cheap. You can check our rates for any country here. You can add credit instantly in-app, then pay-as-you-go or buy bundles. Transparent call & SMS rates put you in control of your costs.
Any text, voice and video chat with another Tep+ user is free. Just get your family or your travel buddies to download and use the app too and you can create group chats and share pictures, video, locations & recordings without it costing you a cent. The app is a free iOS or Android download, no registration or credit card required and it syncs with your phone's contacts immediately.
Why do I need this if I already have apps like Whatsapp, Skype or Viber?
There are a lot of times, when you are travelling, where the call you need to make can't be a free VOIP call using Wifi (to someone else who is also using Wifi and the same service). Here are some examples:
• Making a call to a local landline number to make a booking or reservation
• Receiving a call back from a local mobile or landline to confirm that booking
• Making a call to any emergency services
The Tep+ app (on top of the free App2App calls and texts) allows you to rent a local number so you can call local landline numbers and receive calls whilst abroad at no extra cost. This gives you a big saving over the per min and connection fee costs of other VOIP services which make the bulk of their money from you in this way.
We've invested in giving you great call quality
We know the foundation of a great experience is that it just works like you expect it to, without quality issues or other downsides. Tep+ is built upon a truly unique VoIP platform which uses 9x less data (and 8x less battery) than other mobile VoIP technologies available today.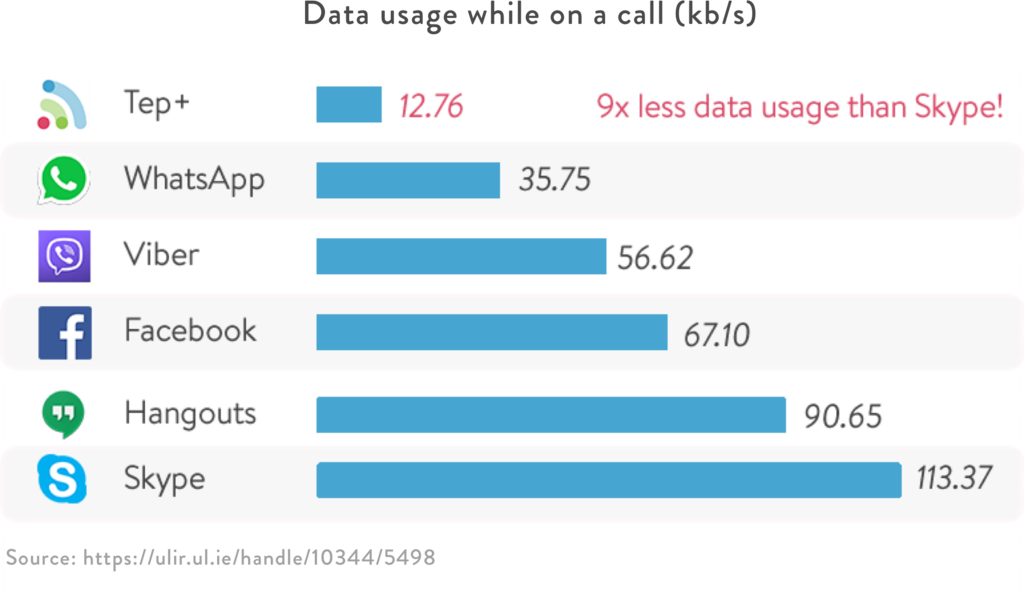 This translates into much better call quality, due to a lower network load, resulting in reliable calls even in areas with weaker coverage or slower network speeds. Perfect for travelers looking for reliable and high-quality calls, wherever the road takes them.
Access all our services from anywhere
The Tep+ app allows access to a range of incredibly useful services direct from your phone. You can get help from our local concierges in over 160 cities, help keep yourself safe using the Kitestring service or order your own Teppy personal wifi hotspot if you didn't have time to do so before you left home. You don't have to buy any of our additional services at the time of rental or miss out, they can be added on when you need them.
We believe we've created the ultimate travel companion, with the Teppy personal Wifi hotspot and the Tep+ international messaging app. However you want to communicate, wherever you are, we've got your covered.
The device is only $9.95 per day and don't forget you get unlimited data usage on each day you rent from us. Now you've got a great way to get even more use out of that!
Find out more about renting a device here.