Enjoy 4G pocket wifi everywhere in Guadeloupe, just for 7,95 € per day. Connect up to 5 devices and avoid roaming fees. Easy delivery and return!

Wifivox it's a pocket-sized device that provides wireless Internet access wherever you go in Guadeloupe. You can even share your connection with your family and friends since you can connect up to 5 devices simultaneously. In Guadeloupe you will enjoy 1 GB per day at maximum speed for just 7.95 € per day. Once you reach the limit, speed will be reduced until the next day when you will be able to surf at maximum speed again. We also have available in Guadeloupe a 2 Gb/day data plan for 10.95 € per day or a 3 Gb/day data plan for 11.95 € per day.

Avoid surprises with our flat fee of 7,95 € per day! You can order your Wifivox now for your trip to Guadeloupe in https://blog.travelwifi.com/guadeloupe/

Enjoy Guadeloupe to the fullest visiting its main attractions!

Do not miss the La Soufrière volcano, you can see it from almost anywhere as it is the highest peak on the island and without doubt one of the most beautiful places. The ascent to the top of the volcano can be done through a pleasant walk, from the top you'll be able to enjoy spectacular views of all of Guadeloupe.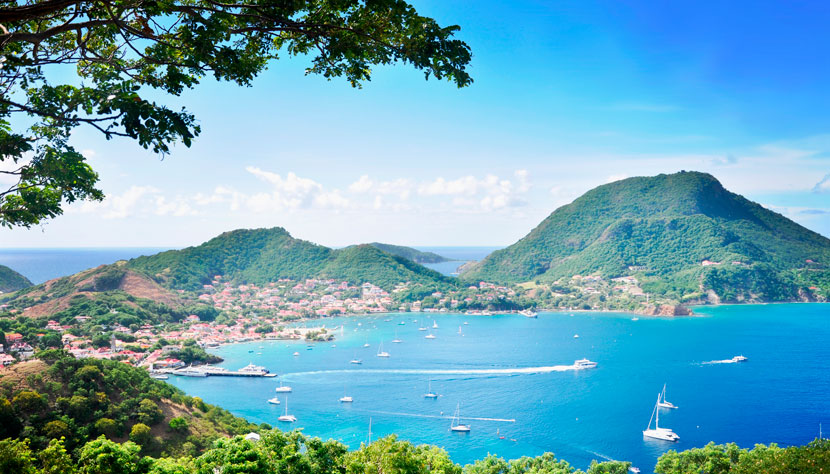 Cross the Route de la Travesée, a road that crosses the Guadeloupe National Park. Its panoramic views are spectacular, you'll see exuberant nature and beautiful natural landscapes.
Visit the l'Anse Caraïbe beach, with crystal clear waters and fine sand, nothing to envy to other famous Caribbean beaches.
Les Chutes du Carbet is one of the things that you can not miss in Guadeloupe, this waterfalls that exceed one hundred meters in height will for sure leave you speechless.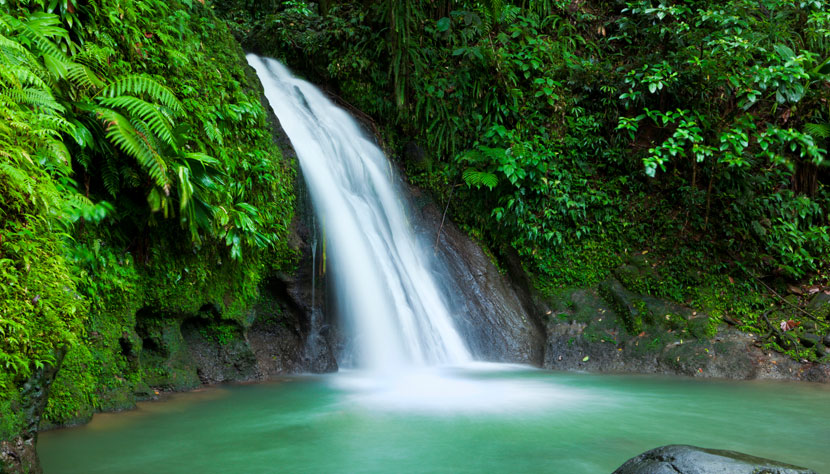 Pointe-à-Pitre is the capital of the island, stroll through its streets and discovers its colorful St-Pierre and St-Paul Cathedral, the main street of La Darse, or the famous ACTe Memorial, a huge Museum dedicated to the history of slavery.

Visit all these amazing places with Wifivox to stay connected at all times wherever you are!

Check out the following useful facts before visiting Guadeloupe:

Average temperature and rainfall: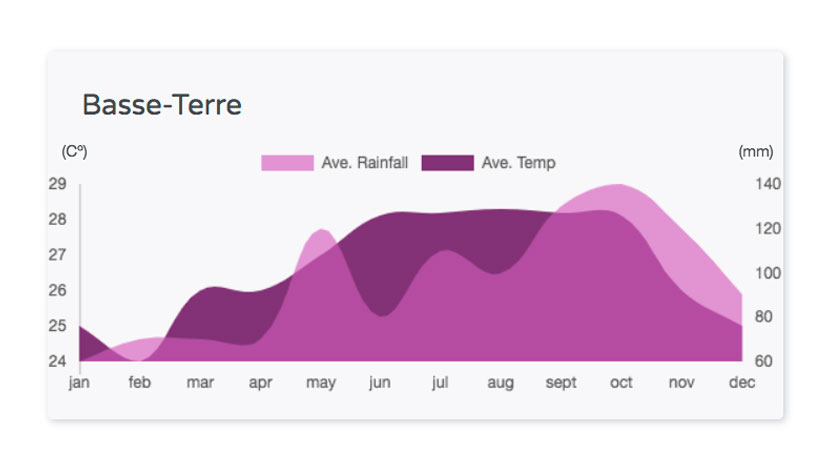 Tipping etiquette:
Tipping isn't very common in Guadeloupe, unlike in many other caribbean islands. A 10-15% service charge is generally included in the bill of most service establishments and additional tips aren't mandatory. Tipping the taxi drivers is not mandatory either but a round up will be appreciated.

Currency: Euro

TOP 3 Places to see in Guadeloupe:
1. La Soufrière
2. Terre de Bas island
3. La Pointe des Châteaux

Voltage: 230 V

Languages:
French
Créole

Health:
Zika outbreaks have been reported. It may cause birth defects so pregnant women should avoid visiting the country.