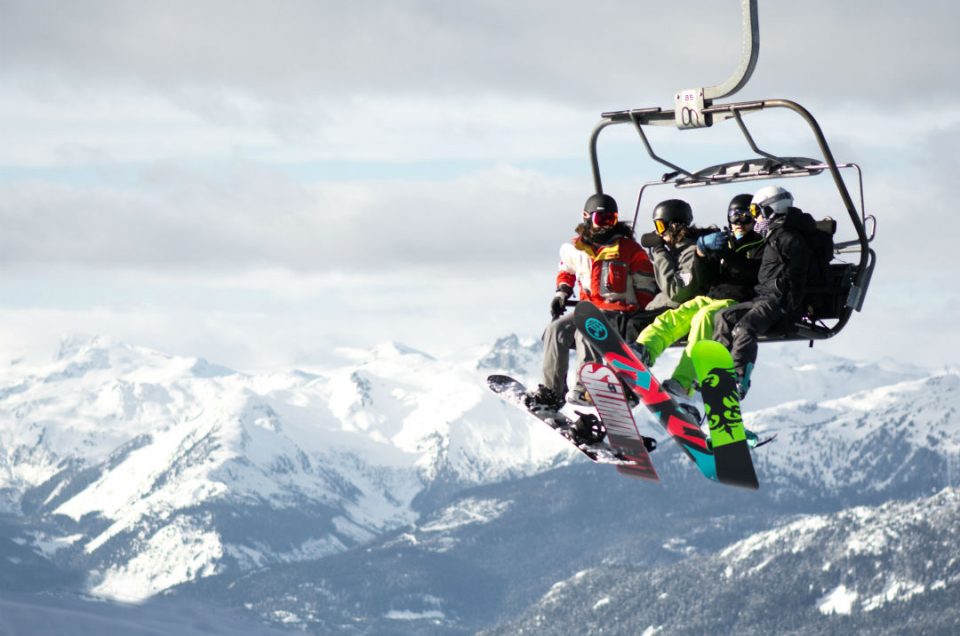 Many of us will be looking to travel to enjoy the skiing season in North America and Europe in early 2018. So, we've scoured the northern hemisphere to bring you some top tips on interesting ski destinations. Some you may know, others may be new to you but provide excellent value or a quieter experience from the mega-resorts, if that's your style. There are many ways of judging what makes a ski resort great, depending on whether you want the best challenge, a great après ski atmosphere or somewhere that's family-friendly and good for beginners. Hopefully, you'll find something useful in this list whatever your criteria.
Whistler Blackcomb, British Columbia, Canada
Whistler Blackcomb is well-known to most people with an interest in alpine sports having been the host ski venue of the 2010 Winter Olympics. It was a mecca for skiers long before that due to its unique coastal location and its sheer size, covering a huge area and a massive vertical drop of over 5000 feet. The Olympics brought investment in facilities but also made it massively popular so, combined with reliable snowfall and its proximity to Vancouver it's busy most of the season.
Sainte Foy, France
A world away from the mega-resort madness of Whistler is Sainte Foy in the French Alps. It's not far from the much better-known resort of Val d'Isere but Sainte Foy has a great reputation for being quiet, family-friendly but still offering some great off-piste challenges. It also has a sheltered location meaning when lifts are closed due to high winds at neighboring resorts it's still possible to ski at Sainte Foy.
Beaver Creek, Colorado, USA
Colorado has more choice of fantastic skiing destinations than any other state in the US, so picking just one for this list is difficult. People will certainly know of Aspen and Vail but 16km west of the latter lies the decidedly luxurious resort of Beaver Creek. Skiing here is a top-notch experience but comes with a commensurate price tag. The resort motto is "Not exactly roughing it" so you can be assured that you'll get a beautifully designed experience with every little detail taken care of. At the same time, it's more intimate and less haughty than Vail so you can just enjoy your skiing without any attitude.
Champoluc, Italy
The Monterosa ski area of the Italian Alps is home to three fantastic ski resorts. Alagna and Gressoney-la-Trinite each have their own unique characteristics but if you're an intermediate or beginner level skier then you might find the perfect destination at Champoluc in the Val d'Ayas. It's the largest of the resorts and caters for all, snowboarders will enjoy the free-riding across all three valleys and it's great for cross-country skiers too.
Smugglers' Notch, Vermont, USA
If you're looking for a ski destination on the east coast of the US, then Vermont and New Hampshire are the states to focus on. Smuggler's Notch in Vermont is great for families. It has a lot of variety, with some very good runs for beginners, but it's also home to "The Black Hole", the only triple black diamond trail in the East if you prefer a considerably harder challenge!
Sierra Nevada, Spain
It's not uncommon to get a confused reaction when you mention great skiing in southern Spain. Most people travel here for beach holidays, but between December and April, it's a premier European skiing destination. Sierra Nevada's secret is a combination of two factors, its southerly location which means a far greater number of sunny days combined with its height, (with a top station at 3300m it's one of the highest resorts in Europe) which means it's remarkably snowsure for its location. And it's not far to the beach if you want to mix it up!
Heavenly, California, USA
A ski resort called Heavenly has to be good, right? Located in South Lake Tahoe spanning the California/Nevada border this resort has the scenic views to match its name. It's the region's largest resort with the highest elevation and largest vertical drop. You can stay on either the California or Nevada side and you'll be able to truthfully claim you once skied from one state to another!
Borovets, Bulgaria
Bulgaria might seem an unusual location to make this list but it's a country with a long and proud history as a ski destination. Borovets is the original, opening in 1896. Its quality is evident in its hosting of two World Cup events. It has a modern town center with great accommodation, restaurant and nightlife options and remains superb value for money compared to a lot of destinations in the Alps.
Snowbird, Utah, USA
We couldn't ignore the western side of the Rocky Mountains for our final American resort to make this list. Especially when the resorts of Utah make the bold claim that they have "the best snow on earth". Situated in the Little Cottonwood Canyon, conveniently close to a major transport hub in Salt Lake City, Snowbird is for powder fanatics, it gets over 500 inches of ultra-light snow every winter meaning it has a very long season. It's a full-service resort so you won't go without creature comforts as well as great skiing conditions.
Val d'Anniviers, Switzerland
You didn't think we'd forgotten Switzerland, did you? Probably the most iconic ski destination in Europe and home to legendary resorts like St Moritz, Davos-Klosters and Gstaad. We've chosen to avoid the celebrities and the hyper-rich and include a more traditional Swiss resort. Val d'Anniviers is an offshoot of the Rhone valley, which is overshadowed by more famous neighbours in Zermatt and Verbier. But it shouldn't be, there are five small resorts here which offer a fantastic choice of activities for both skiers and snowboarders.
Wherever you choose to spend the ski season you can share your experiences anywhere in the world in real-time by using a Tep portable wifi device. The device is only $8.95 per day for unlimited data usage, plus, you and your friends or family can all share one device (up to 5 gadgets can connect at a time). Tep's portable device is amazingly travel-friendly too, it will slip into a handbag, pocket or rucksack. Find out more or buy/rent a device here.