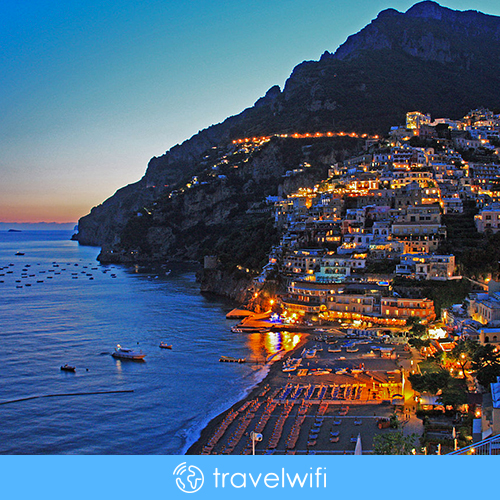 Positano
I wouldn't be surprised if somebody tells me that Sorrento was built specially for the romantic breaks. Whether it's the skyline or narrow streets you will live your Italian dream here with the special one.
Prague
Everybody knows Prague from its nightlife, historical sights and bridges but not so many it is one of Europe's most romantic cities. Once you are there you will want to kiss your valentine under the moonlit in Stare Mesta.
Sintra
Or how about escaping all the hustle and bustle? Spending the Valentine's Day at the foothills of the Sintra Mountains promises you a historical romantic stay only 45-minutes away from Lisbon.
Aix-les-Bains
Perhaps you would prefer relaxing at a spa? Aix (rhymes with relax) proposes you a wide range of spa resorts and as and a lake promenade.
Insider Tip from Léo: A tremendous restaurant option would be La Chambotte. What's better for Valentine's Day that dining with a view?
Bergen
Chosen as
one of Europe's most romantic destinations
in 2015, Norway's small town Berhen makes time travelling possible.  If you are into sports you and your loved one can paddle around the historical sights of Bergen.
Udaipur
Head to Udaipur, India where a sunset is worth a thousand words. Sail on the Lake Pichola or ride a camel through the deserts and admire the magnificent scenery with your sweety.
Cafayate
How about spending the Valentine's Day on the
sexiest
of all continents? Camp in Cafayate, Argentina for a romantic getaway promising great food, amazing wine exceptional views all surrounded by Latino sparkles.
Havana
Lose yourselves in narrow streets of Havana, ramble across the Old Town late in the evening and discover the peculiar architecture when no one else is around.
Kyoto
Take your sweetheart to Kiyomizudera, Kyoto's most famous temple. There you will find Jishu Shine famed as THE spot for successful relationships and matchmakings. Close your eyes and walk on the Love Stones, if you pass this test it means that your love is eternal. Then take a romantic walk around the Kamo River and end your night at a spa with a view!
Marrakech
Stay in a former palace and treat yourselves with luxury.  Discover the ruins of Badi Palace and dazzled by the Menara and Majorelle Gardens.