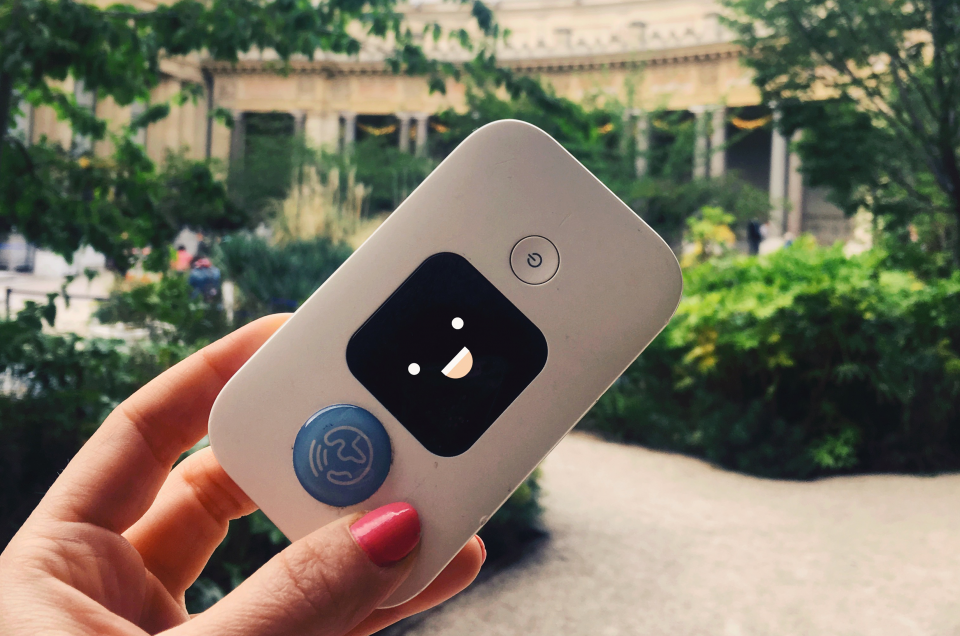 Everything is ready for your upcoming Europe trip but you are still not sure about finding internet and staying connected in Europe? Here is all you need to know about travelers' new best friend Mobile WiFi Hotspots!
Mobile Wifi hotspot is a palm sized gadget creating WiFi network around itself using 4G LTE (almost everywhere – and 3G in remote places) once turned on. This wireless modem can also be called mobile hotspot, pocket wifi, mifi, wifi egg and dongle – you name it!
The WiFi network is generated through a sim card in the mini 4G router and activated with a simple button. A mobile wifi hotspot could be useful for travellers, businesspeople who are usually on-the-go  aswell as for houses lacking decent internet connection.
Where Can You Use a Mobile WiFi Hotspot?
In June 2017, the roaming charges in Europe were abolished, meaning a European sim card bought in France can be used also in Germany as well as anywhere else in Europe. Same rules applies for mobile wifi hotspots. If you have a European mobile wifi hotspot (device with a European sim), this gadget can be used everywhere in Europe.
How Does a Mobile WiFi Hotspot Work?
The mobile wifi hotspot is easily turned on from its on/off button. The user can connect to the mobile wifi hotspot just like connecting to any other modem by choosing the network's name from the list and typing the password. In general up to five different devices could be connected simultaneously to the same mobile wifi hotspot.
What Is the Best Mobile WiFi Hotspot for Europe?
If you are looking for the best mobile hotspot for Europe, check out Travel Wifi. Travel Wifi dongles are the only ones in the market offering truly unlimited data in France and very generous 5 GB per day data plan in Europe. If you are looking for a secure way of having 4G Internet in France, Europe or in non-European destinations you can book online and have your mobile wifi hotspot delivered to you pre-departure or to your holiday accommodation pre-arrival. Alternatively you can pickup your Travel Wifi from Tourism Information Desks in Paris airports.
>>> Find the BEST Mobile WiFI Hotspot here!!