Considering a move to Mexico City as a digital nomad? While no city is perfect, Mexico City certainly offers a lot of benefits for digital nomads. From the low cost of living to a no-questions-asked 6 month Visa, to numerous co-working spaces, and of course, tacos — Mexico City needs to be on more best places for digital nomads lists! Here are six reasons to consider moving to Mexico City as a digital nomad, and three reasons this city might not work for you.
1. It's Mexico City!
Known as the "tropical New York," Mexico City is just plain exciting. There's no shortage of amazing things to do in CDMX, as it's known. It is also a great introduction to latin culture, for those who haven't been anywhere so vibrant and festive before. You'll also enjoy all the perks of a world-class big city, like tons of culture and history, you don't need (or likely even want) a car, abundant and inexpensive public transportation, outdoor green spaces, and urban parks, interesting people, fast and reliable WiFi, etc. From Mexico City's international airport, you can travel on a direct flight to many other places in the world. If you want to explore other parts of the country, you can use one of Mexico's low-cost carriers (VivaAerobus, Volaris, Interjet, AeroMexico) to get to any of the other 100 or so airports in Mexico. There's also the ADO busses, which go everywhere.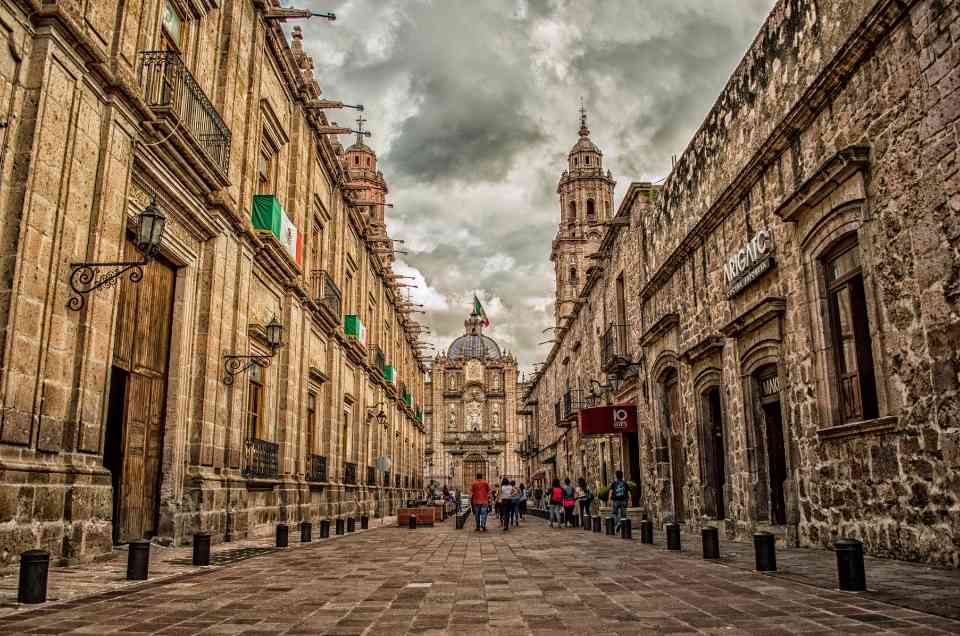 Speaking of history, CDMX and Estado de Mexico (Mexico State), rival many European cities with their five UNESCO World Heritage Sites. Within the city limits, there's Xochimilco and its colorful boats, the Templo Mayor (Main Temple of the Aztecs), and the UNAM college campus. Though the internet says there's debate over what city in the world has the most museums, Mexico City certainly has a lot. With 150 or so museums to explore, you won't run out of history or art to explore. There's also amazing street art in some of the more fun neighborhoods, like Roma Norte and Condesa.
2. It's affordable to live and eat
Speaking of Roma and Condesa, these are two of the best neighborhoods to live in as a digital nomad. In these neighborhoods, and a few others located right next to them, you'll find the most co-working spaces and coffee shops, the cutest apartments, a bunch of nightlife options and late-night taquerias, and a lot of fellow digital nomads and ex-pats. With Mexico City, though it is considered safe for the most part, it's still a big city. This means some areas are good and some, frankly, aren't.
Best Neighborhoods in Mexico City and average apartment costs
Here's a quick rundown of the five best neighborhoods in Mexico City, and the only ones you'd want to consider… at least as a place to start with an apartment in. As you get more acclimated to the city, your options for housing will of course broaden. However, for a first time in CDMX, these are all safe, great choices.
Roma Norte/Roma Sur
These two are both great, safe, fun choices. Roma Sur (South Roma) has a little more of a locals vibe to it, and overall, better mercados (markets) to shop in and better cheap eats/street tacos. It will also be a bit cheaper than Roma Norte (North Roma). Roma Norte is located north of Roma Sur, which puts it closer to some other great areas like Reforma and Centro Historico. It is also prettier and quieter — side note: Mexico City can be noisy overall. One of the best streets in CDMX, Avenida Alvaro Obregon, is also in Roma Norte. During the day, you can work here in a number of cafes, do some shopping, sit on a bench and people-watch, grab some tacos, etc. At night, it also has some of the best bars in the city.
Average rent/bills for a nice 1-bedroom apartment in Roma Norte on Airbnb: $800USD/€675
Average rent/bills for a nice 1-bedroom apartment in Roma Sur on Airbnb: $700USD/€590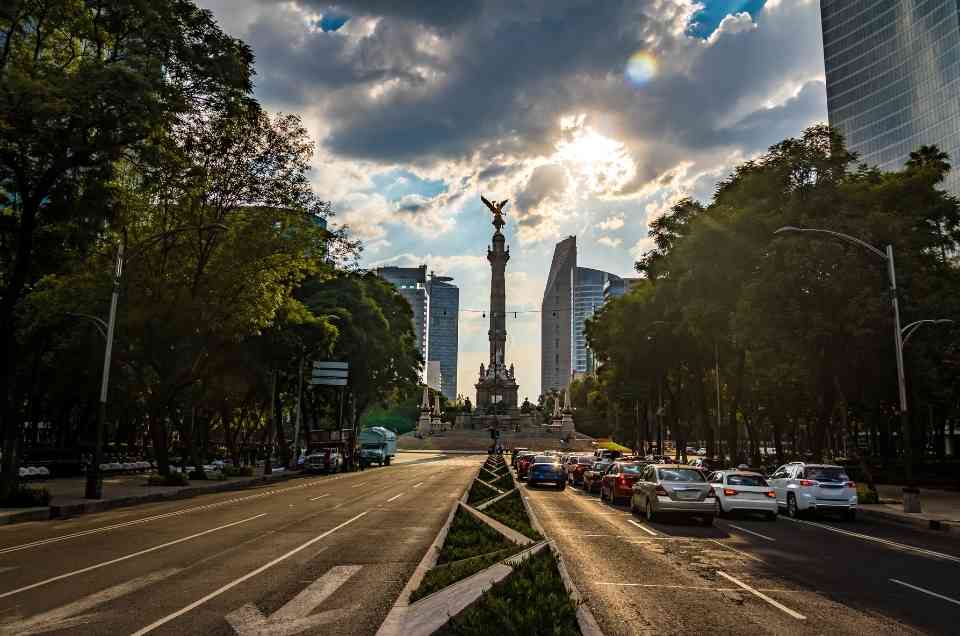 Condesa
Located right next to Roma, La Condesa (or just Condesa) is another great choice. Condesa has the nicer parks of the two neighborhoods, with Parque España and Parque Mexico. It also borders Chapultepec Park, one of the largest urban parks in the world. Condesa also has more of a party atmosphere. As mentioned, Mexico City itself can be on the loud side, but some streets of Condesa (Avenida Tamaulipas & others) become all-night parties on the weekends.
Average rent/bills for a nice 1-bedroom apartment in Condesa on Airbnb: $800USD/€675
Reforma
This is where all Mexico City's high-rise office buildings are, its 5-star hotels, international embassies and consulates, and a good amount of co-working spaces. The tree-lined Avenida Reforma is always a beautiful place to walk, and on Sunday mornings, the street shuts down for cars for the fun Muévete en Bici (Move On Bike/bike ride). This street takes you right to the largest park in Mexico City, Chapultepec Park. Reforma's newer buildings have nice amenities, like rooftop gardens, gyms, pools, doormen, etc., of course, higher price tags!
Average rent/bills for a nice 1-bedroom apartment in Reforms on Airbnb: $900USD/€750
Zona Rosa
Located right next to Reforma, Zona Rosa (Pink Zone) is the LGBTQ+ epicenter of Mexico City. While the city is known as very gay friendly, Zona Rosa is the most so, and the areas where all the Pride events take place. Much like Condesa, several streets (Calle Londres & others) often turn into weekend-long block parties on Fridays and Saturdays.
Average rent/bills for a nice 1-bedroom apartment in Zona Rosa on Airbnb: $800USD/€675  
Other areas to consider (and some to avoid)
Some other areas to look at include Polanco, Juarez, Del Valle, Narvarte, and San Miguel Chapultepec. The one you really want to avoid is Doctores, located just west of Roma. Unless you speak Spanish, you might want to avoid looking in Centro Historico as well. If you're considering this area, which is generally safe, though does have fewer ex-pats, make sure you avoid Tepito. Tepito is actually considered one of the most dangerous parts of CDMX.
How to find an apartment in Mexico City
The easiest way is Airbnb, especially if you're looking to live solo and don't know how long you'll stay in Mexico City. If you look in any of the areas just mentioned, there's a good change you'll get an English-speaking host. For those who want other options, Mexico City housing Facebook groups (Mexico City Housing, Rooms, Apartments, Sublets and others) and ex-pat Facebook groups (Foreigners & Expats in Mexico City) work well. The website inmuebles24.com is another option and even Craig's List.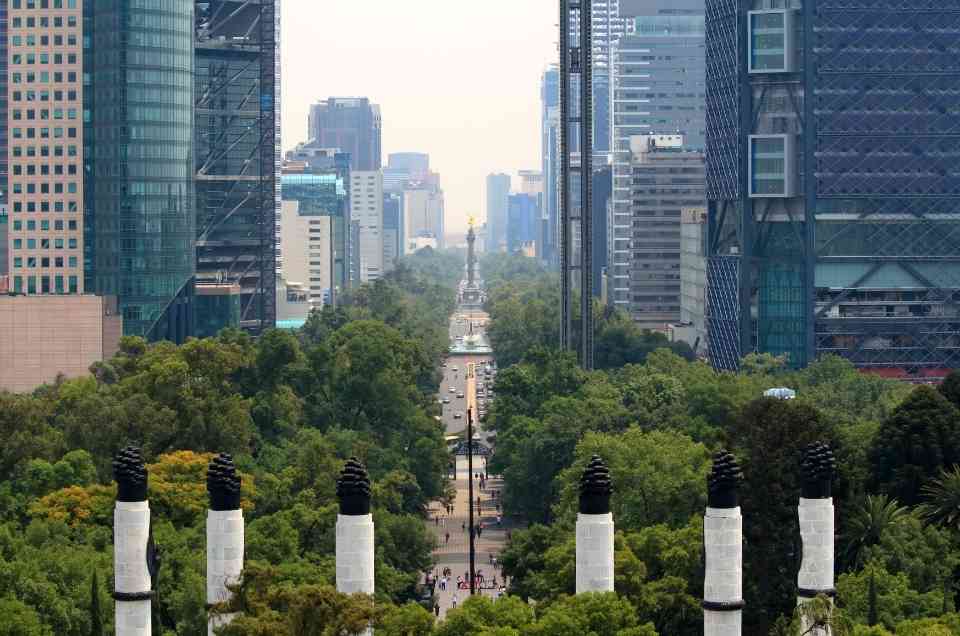 Mexico City food budget
If you're doing a combo of street tacos and shopping at only mercados (small markets), you can realistically get by on $250USD/€210 per month. For those who eat out a lot or buy a latte everyday, you might spend closer to $600USD/€505 per month.
Mexico City transportation budget
The Mexico City metro is incredibly cheap — as in $5 pesos ($0.25USD/€0.20) per ride cheap. It's also incredibly walkable, with nice weather nearly year round, so if you live and work in the same area, you'd barely even use public transport. The city also has the EcoBici bicycle-sharing/rental program, and a few scooter sharing/rental apps. You'll find scooters all over the neighborhoods mentioned above. Uber in Mexico City tends to be on the cheap side, at least when compared to Uber in the U.S. For example, a 30-minute ride will cost about $100 pesos ($5USD/€4).
3. It's easy to get a visa.
One of the best parts about Mexico City, and Mexico in general, has a digital nomad visa program. In all actuality, there's no process at all. As you're coming through Customs/Immigration, you're given a 180 day (six months) FMM tourist visa. Yes, that's right. Everyone gets a free six-month visa, with no paperwork required. For those who fall in love with Mexico, when your six-months are up, you can leave the country and then return and get another six-months. While this is definitely a grey area of legality, it's also a grey area people so take advantage of. There is a chance of being denied the six-months, as they only legally have to give you one week, though that is very rare. However, if you are doing a quick border crossing, consider staying a week somewhere else before returning to Mexico.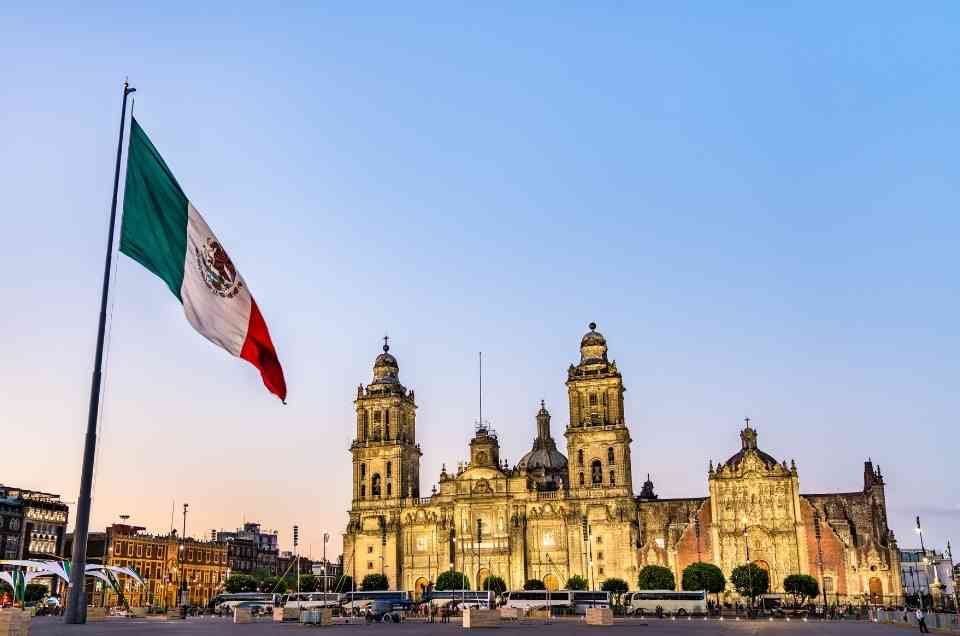 4. There's an abundance of co-working spaces
Mexico City has about 15 We Work, in addition to several other co-working spaces. The We Works tend to be huge, some having 25 or so floors, with many of said floors occupied by bigger corporations like Uber. Overall, Mexico City's We Works have a very corporate feel. They also generally always have openings, so if any of the "boutique" co-works don't have openings when you're looking, you can always opt for a temporary spot in a We Work.
5. Easy to meet people/Lots of expats
As you might imagine, Mexico City attracts a younger, artsy, international crowd. Just like with most big cities, CDMX has a lot of transplants and expats who have made it their chosen home. Some areas of the city have higher concentrations of ex-pats and English-speakers than others, like Roma and Condesa, but even most Mexicans who live in those areas tend to speak English. In general, Mexicans are incredibly friendly and curious about people from other countries. It's super easy to strike up a conversation in a coffee shop or bar, as the big city dwellers tend to be quite social. If you prefer starting by "meeting" online, Facebook groups are big in Mexico City for digital networking.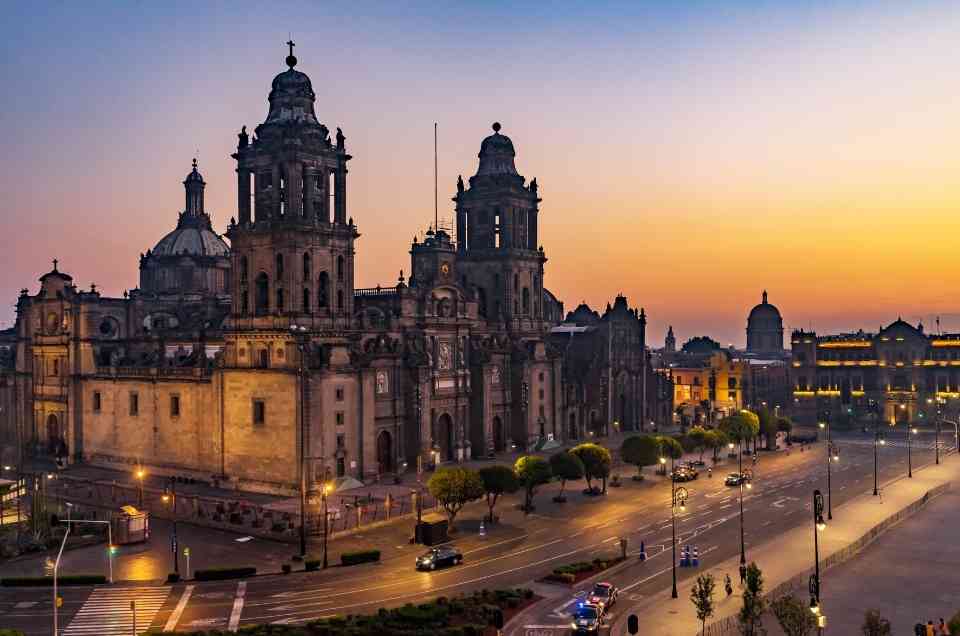 6. So much to see & do within 4 hours of Mexico City
When it's time to take an often-needed city break, there are almost too many options within a few hours by plane or bus of CDMX. Though not super close to any beaches by car or bus, Acapulco is always an option, as long as you stick to the resort area. Some other beautiful watery nature within a few hours of the city include Las Grutas de Tolantongo, a thermal hot spring paradise, Las Estacas. There's amazing hiking at the two volcanoes surrounding the city, Popocatépetl and Iztaccíhuatl, and Parque Nacional Grutas de Cacahuamilpa, with miles of underground caves to explore. Besides the world-famous Teotihuacan archeological site just outside of Mexico City, you can head to Tula in Hidalgo state to see the Toltec ruins. In the pueblo magico (magic town) of Tepoztlan, you can climb up to the ancient Tepozteco temple, high atop a hill overlooking the town. Fun fact: The largest pyramid on Earth isn't in Egypt! It's in the pueblo magico of Cholula, a few hours from Mexico City… and it's actually buried underground.
Choula is right next to Puebla, another great weekend trip, and the country's fourth-largest city. There's also the wine region around San Miguel de Allende, Guanajuato, and Queretaro, located just a few hours away. All three of those towns make great trips, even if you don't like wine, though this is the country's second-biggest wine-producing region. All places listed were road trip/bus trip options! There is also a seemingly unlimited number of places to see that you can get to within two hours by plane.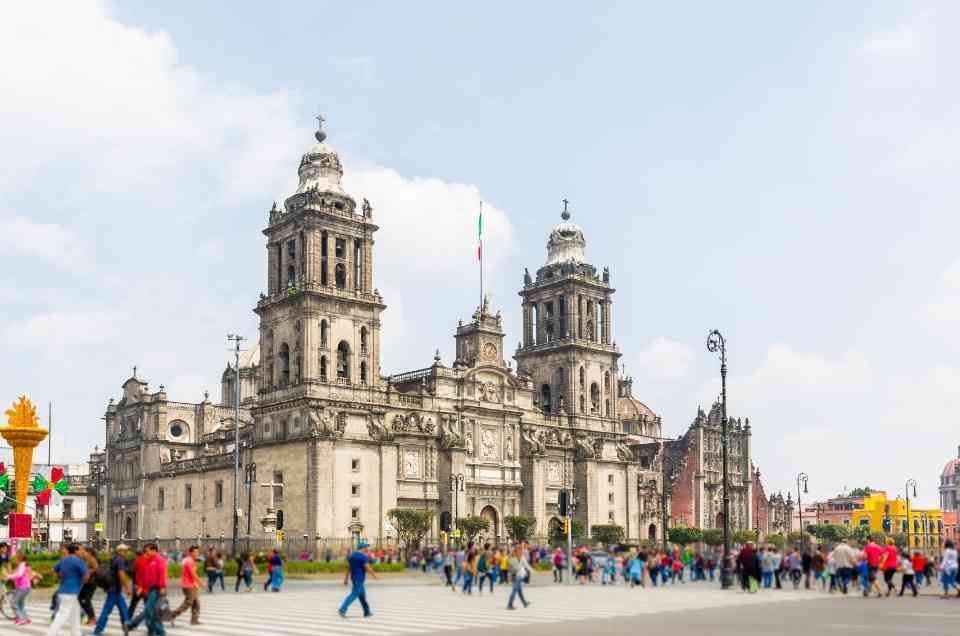 Mexico City "cons" to consider
Now, that was certainly a lot of pros for Mexico City, though, there are of course some "cons" that come with them:
Traffic. With a population nearing nine million, Mexico City's traffic is the stuff of legend. If you're considering a move here, you really must consider a car-less life. For some, that alone is a deal-breaker, though Mexico City has great public transportations and inexpensive Uber service. The real way to enjoy this city is to live and work in the same area. If you have a commute, even if that's on public transportation during peak hours, this city could get old real fast. Mexico City, like many big cities, is a stick-to-your-neighborhood kind of place. The good thing is there's quite a few great neighborhoods to choose from, that also happen to have amazing co-working spaces.
Air pollution. Sadly, the air quality in Mexico City is far from great. It's not so bad it makes the news like Hong Kong, but it's also not pleasant. A lot of people rely on weather apps (Air Visual Air Quality, Weather Channel, and others) to check the air pollution levels that day, and sometimes elect to stay indoors when it gets bad. For the most part, the air quality is good, though it's rarely great. For this reason, anyone with lung issues or bad allergies might want to consider another city. Unrelated to the air pollution, but Mexico City is about 7,400 feet/2.250m above sea level. This means that if you're not used to high altitudes, you also might be in for altitude sickness until you acclimate. For many, this also affects your breathing for a while. Most people affected by altitude sickness tend to acclimate in about a week, though some take longer.
Crime. Mexico City has both good parts and bad parts. If you stick to the good parts, you should usually be perfectly fine. The bad parts, two of which are mentioned in this article, Tepito, and Doctores, need to be avoided. Besides those, most areas are safe. Of course, you'll want to take general big-city safety measures like not walking home alone at night, not leaving your phone and wallet unattended, etc. The places in Mexico City considered the least safe are the metro and public buses. Again, as with most big cities, metro pickpockets are a problem in CDMX. When you're using public transportation, pay extra attention to your belongings. Though it has cons, Mexico City is an amazing place that many people love. It is a big, world-class city that also offers a high quality of life for digital nomads because it's so affordable.
If you're considering it, you can always take advantage of that free 180-day FMM visa and see how you like it. If Mexico City's not for you, there are other well-known digital nomad hubs you can look into, like Oaxaca City, Guadalajara, Playa del Carmen, Puerto Vallarta, and Merida.