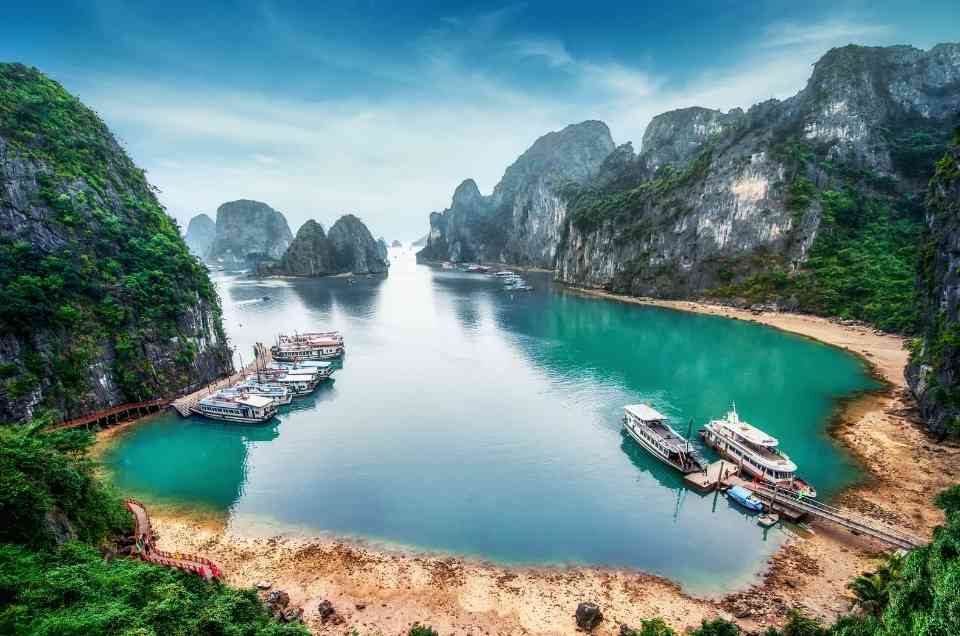 We're Antoine and Marielle of Offbeat Escapades, digital nomads and van lifers, originally from Belgium and the Philippines. We've been traveling all over the world since 2018 but are absolutely in love with Asia and its endless tropical islands and megacities.
Our favorite and most recommended country in the continent for digital nomads has to be Vietnam. Often considered as one of the top digital nomad hubs for a variety of reasons, it can be tempting to see all of the country and hard to figure out which Vietnamese city to put down your suitcase in.
From quiet coastal towns to lush countryside and bustling cities, we've narrowed down the best cities in Vietnam for digital nomads, from south to north.
Our personal experience as digital nomads in Vietnam
Our journey to becoming digital nomads in Vietnam started with a trip to Saigon. Seeing the way people lived and how different that was from what we knew, was a culture shock but in a good way.
We immediately fell in love with everything the country had to offer. We knew we had to return and "base" ourselves there for a month or two. Simple things, like eating Pho in a local restaurant or buying Ca Phe Sua Da in a street-side stall, somehow felt satisfying. We loved how these small experiences of seeing the way people lived and being a part of their way of life could feel extra special.
Not to mention, everything was so affordable! We could live in Vietnam for as low as $500 a month – with $200 going to rent and the rest for leisure activities. It was easy to find monthly rentals because as surprising as it may be, you could find these low rates in Airbnb or Facebook groups.
The internet situation was also a breeze given the country's affordable internet plans and fast free wifi everywhere. For us, Vietnam has it all from friendly locals, delicious signature food, unique culture, great WIFI, and varied sceneries that range from relaxed beaches to megacities.
So where are the best cities in Vietnam for digital nomads? Let's go through them below.
#1: Ho Chi Minh City
Known as the capital of the south, it is the most populated (8.5 million people) and exciting place to be. Ho Chi Minh city is an organized chaos of some sort, with millions of motorbikes flocking through the streets. There are a unique party and street food culture, as well as a fair share of western convenience. We see it as a great starting point for digital nomads embarking on their journey.
Saigon, as it used to be called, also reminds you of the past with its preserved colonial architecture and scars of the Vietnam war. It also makes it the perfect base to explore the Mekong Delta region.
Best suitable for: Digital nomads craving the big city experience, nightlife, cosmopolitan vibes, and unique street food.
#2: Vung Tau
Further down the coast, Vung Tau is a mid-sized coastal city. It's perfect for nomads who are after a more laid-back environment than the bustling Saigon. You'll find fresh seafood (do try the Banh Khot, their signature shrimp pancakes!), but also plenty of cafés, the convenience, and connectivity modern travelers can expect.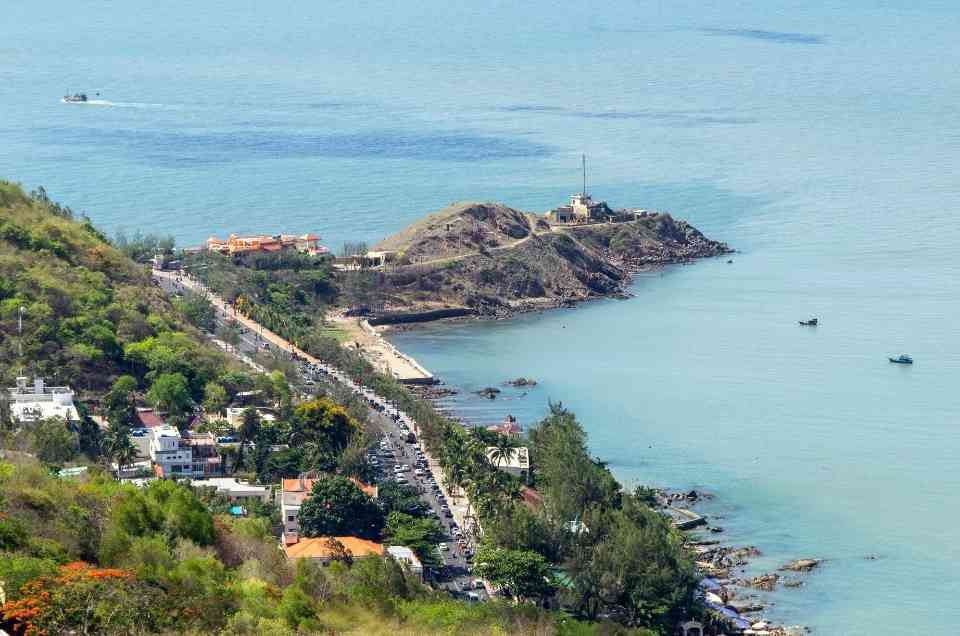 Best suitable for: Digital nomads who are beach lovers and prefer a laid-back atmosphere. Perfect for couples.
#3: Nha Trang
Another beach city that has become quickly popular amongst expats over the past years is Nha Trang. And it's not hard to figure out why: it offers all the convenience of modern beach resorts at a fraction of the cost.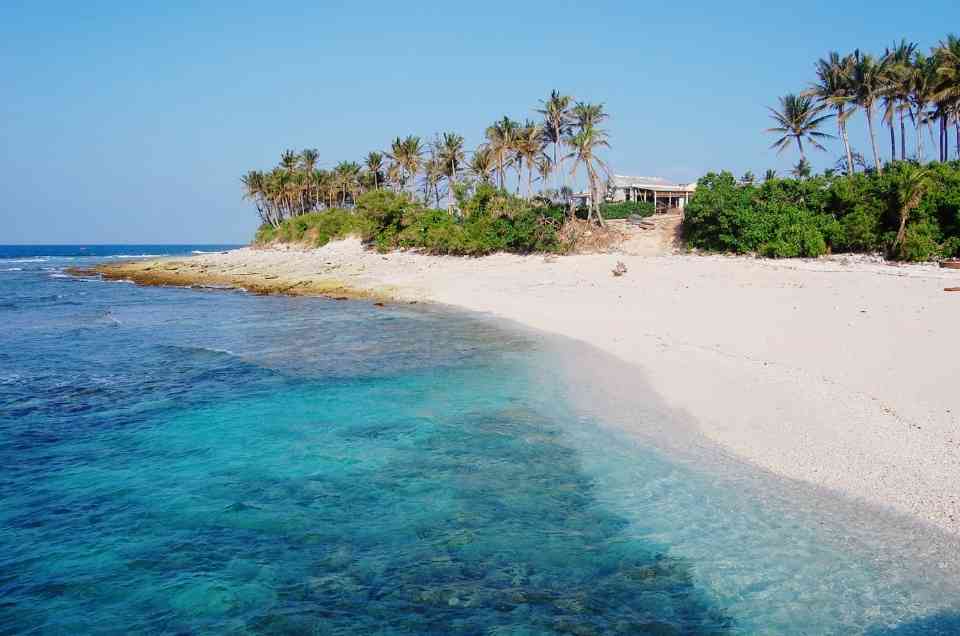 As it is quite commercialized, you won't have a shortage of foreign food and fun activities to do there. Beware though as it has become quite touristy. While we're not totally against the tourist trail, this was definitely not something that was appealing to us.
Best suitable for: Digital nomads who want to have the convenience of a modern coastal city.
#4: Da Lat
At 1500 high, Da Lat is a relief from the warm tropical weather you'll find in the rest of the country. It has lush tea farms, hills, and visible remnants of the colonial era. While it is quite small, it offers unique restaurants where you'll want to come back to, such as hot rocks barbecue.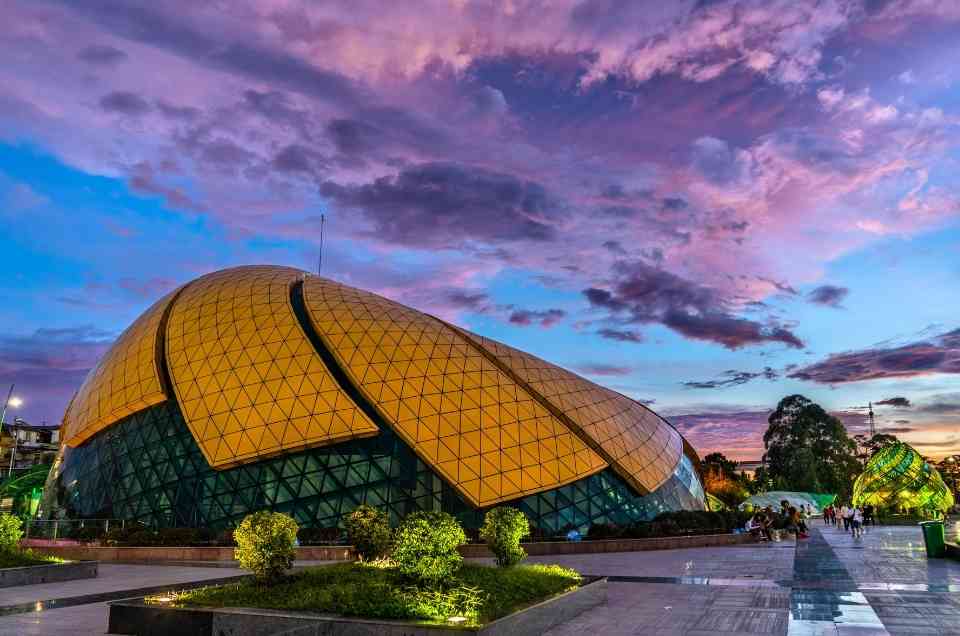 Cafés and supermarkets aren't scarce either, and we'd totally recommend renting a bike during your time here. Camping trips in the forest are also an excellent idea while staying in Da Lat.
Best suitable for: Digital nomads looking for milder temperatures and small-sized places to live. Perfect for nature lovers.
#5: Hoi An
If you are after authenticity and a peaceful atmosphere, Hoi An might just be where you'll end up for the rest of your journey. Located in the center of the country, it has beach fronts, a cultural old town, lush rice terraces with aurochs, and small fishing villages. Its old town with iconic yellow houses has been classified as a UNESCO Heritage Site. Anywhere else is simply amazing to cruise on your motorbike.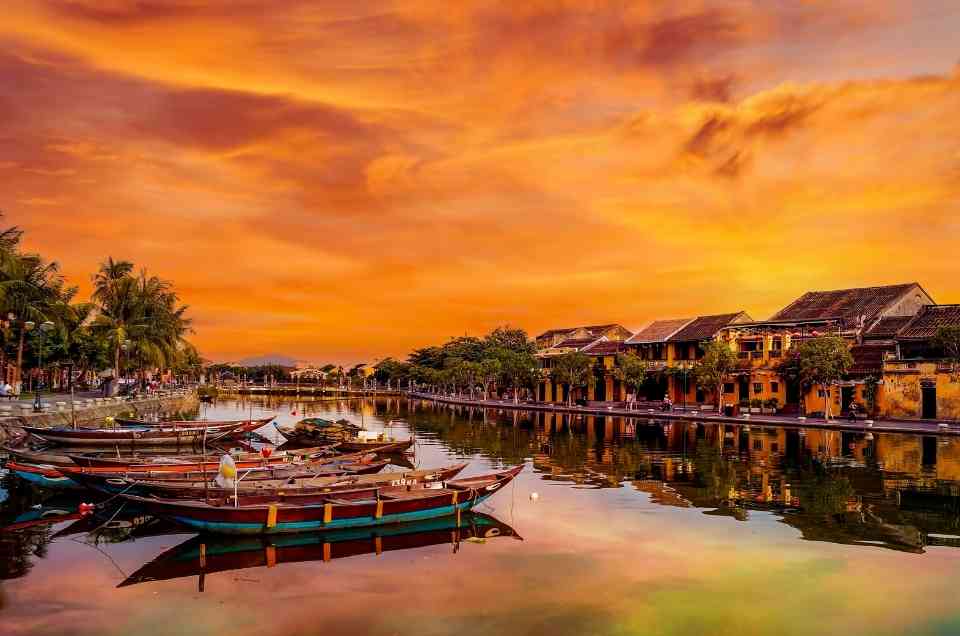 While it is a peaceful place, most rentals you'll find in Hoi An offer a steady wifi connection. Perfect for the nomads who want some peace and quiet. Did we say it has amazing signature dishes such as the Com Gà (shredded chicken rice) or the Cao Lau (cold noodles dish)? Hoi An is also home of the best Banh Mi (Vietnamese sandwiches).
Best suitable for: Foodies, beach lovers, hippies, and digital nomads looking to go off the beaten track.
#6: Da Nang
A 30-minute drive from the aforementioned Hoi An, it is the third-largest city in the country and has an international airport. It's great for those who want access to the beach, mountains and have the hustle and bustle of a big city at the same time. It is also more affordable than Ho Chi Minh City for instance. There are options for quick getaways such as Hoi An, the Marble Mountains (Ngu Han Son) or the Imperial City of Hue.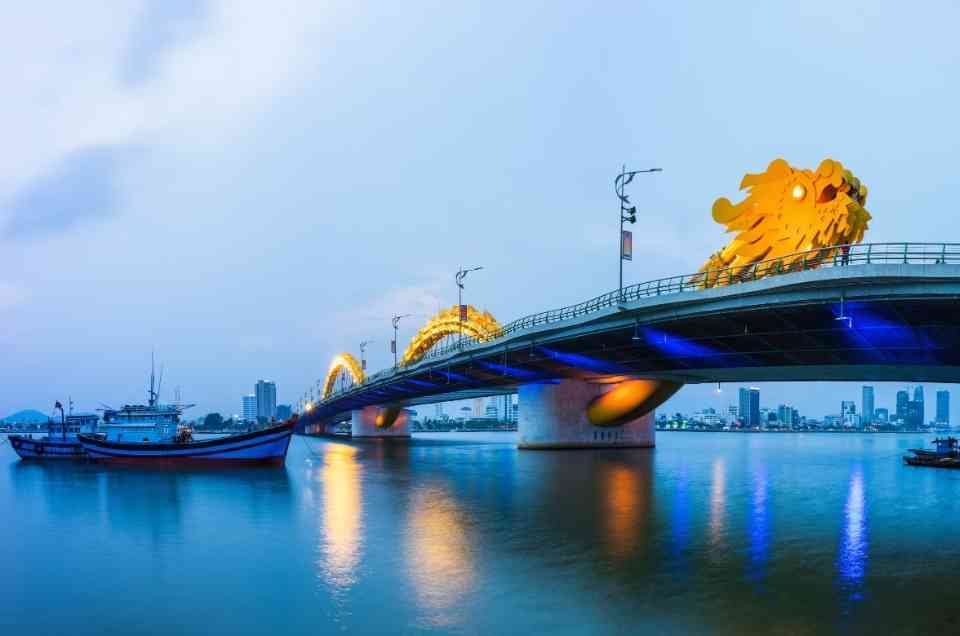 Best suitable for: Beach and mountain lovers who still want a city big enough to socialize and be entertained as a digital nomad.
#7: Hanoi
Finally, the capital of Vietnam has much more to offer than we could expect! It's the second most populated city after Ho Chi Minh City and has many cultural and architectural wonders, such as St. Joseph's Cathedral and Hanoi Opera House.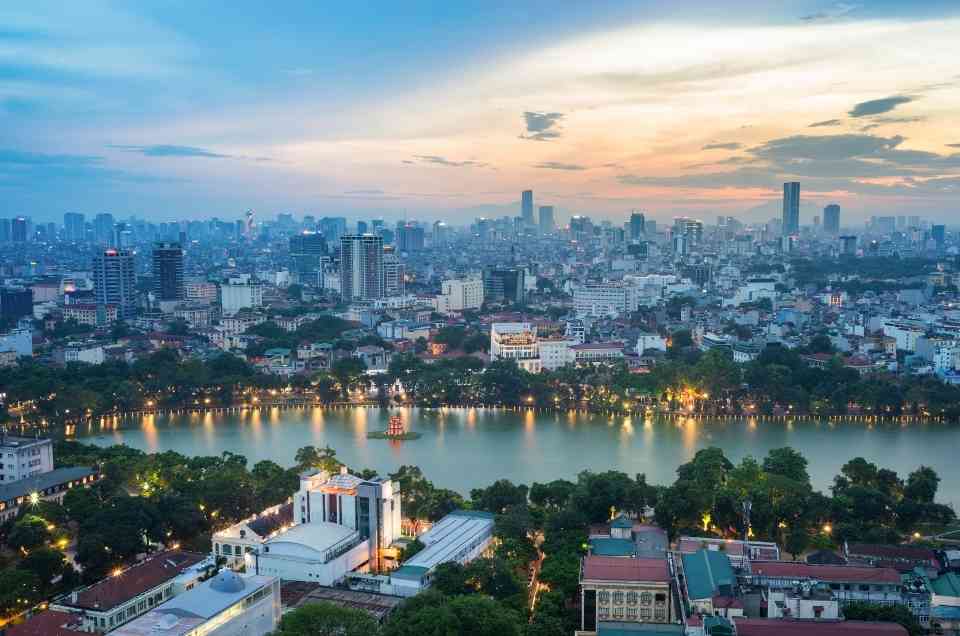 The mild weather and the number of green spaces make it somehow more breathable than its southern counterpart. Action can be found near Hoan Kiem Lake and the French quarter if you have the backpacker spirit. Hanoi is also a great base to explore the northern provinces such as Sapa or Ha Long for instance.
Best suitable for: Digital nomads who are history enthusiasts and prefer milder temperatures.
Vietnam Digital Nomad Visa
As we're an interracial couple, there's always the concern of the differences of our passports, given that one of us coming from a "first world country" and the other a "third world country."
But actually, in this situation, it was much easier for Marielle, the Filipina, to enter Vietnam. Filipinos can stay in Vietnam for a duration of 21 days visa-free (pre-covid). Given that Vietnam is neighbored by countries like Laos, Cambodia, and Thailand, it was easy to go on border runs and discover other destinations while keeping Saigon as our base.
For Europeans, one could either apply for a visa at the local embassy or a visa on arrival. We recommend the visa on arrival method as it's easier. You simply need an invitation letter from an approved travel agency (easily searchable online), which costs around $10. Then once you land in Vietnam, you present this invitation letter to the Immigration officers, pay around $35, and in turn, receive a visa for 1-3 months (extendable).
If you're looking for a formalized Digital Nomad Visa to Vietnam, we have not seen the existence of this type of residency for remote workers. However, for Americans, we have heard that there is a very straightforward 1-year business visa to apply for. There's a big American expat community in the country, mostly English teachers, who follow this route.
So there you have it, these are the best cities in Vietnam for digital nomads! Whichever city you choose, you truly can't go wrong in this country. What about you? Have you ever been to Vietnam as a digital nomad? What was the experience like for you?
About the Author
Antoine and Mariella, Offbeat Escapades
Antoine and Marielle of Offbeat Escapades are digital nomads and van lifers, from Belgium and the Philippines. Their blog features the best offbeat destinations, extensive budget guides, and essential van life tips that will convince you to pursue a life of mindful travel – from vibrant cities in Asia to deep within the architectural sights and natural wonders of Europe.