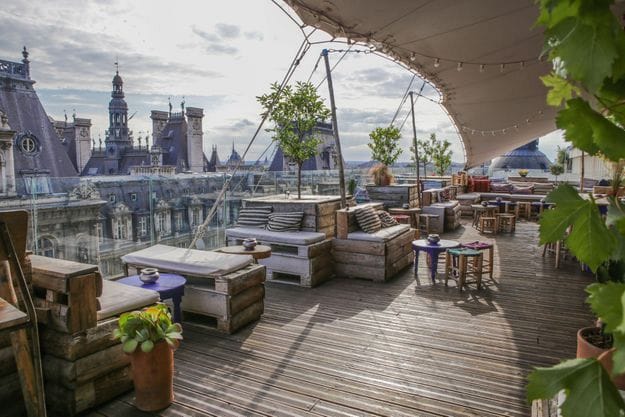 HO HO HO – It's (almost) Christmas!
It's time for… Christmas markets!!!
You are visiting France this festive season and have been wondering about the best cities to feel the Christmas Vibes? Think no more, our team has gathered the top five Christmas Markets in France for you:
Paris: L'Arche de Noël à la Défense 23 November –28 December)
The biggest Christmas Market in Ile-de-France region & the main Christmas Market of Paris in 2017 is celebrating its 23-years. For the 23rd edition the village offers a virtual reality area featuring chairlift and Santa's sled immersion, Santa's phone booth and a mobile miniature of the Christmas village.
The visitors will enjoy the Christmas spirit with decorations, more than 300 chalets and plenty of Christmas tastes in over 10,000 m2 land.
Check out everything you need to know about L'Arche de Noël here.
Mulhouse (24 November – 27 December)
Mulhouse Christmas Market, in Alsace region, is worldwide famous with étoffes de Noël – the traditional fabric designed annually for each Christmas period. What's magical in Mulhouse is, from Hotel de Ville, to its chalets, streets, and Christmas trees, all the city is decorated with étoffes de Noël during the festive season.
Don't miss out on the city's two Christmas markets and Christmas themed evening events.
Click here to download Mulhouse Christmas flyer in English.
Metz (18 November – 30 December)
Metz hosting the second largest Christmas market in France, has been taking the Christmas market notion to another level since 2016 year by spreading them around six main sites.
This year Metz keeps the same spirit without slowing down; strolls around the magical forest, Christmas tastes, and St-Etienne ice-rink are all there for Christmas lovers.
Are those not enough for you? The famous ice sculptures Frozen Fairyland will be back in the city as on November 18th.
Check out for Facebook Live views, events and much more about Metz Christmas market here.
Colmar (24 November – 30 December)
Colmar, the most picturesque village of Alsace region vas voted the 3rd Best Christmas Market in Europe in 2016.
This year Colmar hosts five Christmas markets and promises a fairytale experience to its visitors. There are also guided tours for those who would like to discover Colmar & the Magic of Arts. Gastronomic specialties & Alsatian crafts are few of the many reasons why you should visit Colmar in this festive season.
Get the sneak peak of Colmar Christmas market here.
Strasbourg (24 November – 30 December)
Strasbourg Christmas market remarks the difference by being the oldest Christmas market in France & one of the first in Europe.
This year the city's famous magical tree is inspired by the theme Christmas of Yesteryear and decorated with apples, candles and bredele motifs. Walk around Place Klaber to see the enormous tree glittering in gold and red.
Are you ready to wander around Strasbourg Christmas market enjoying a cup of mulled wine and some Vanilla Kipferl? Check out everything about Strasbourh Christmas Market here.
 Are you travelling in Europe this season? Check out the Best Christmas Markets in Europe here.