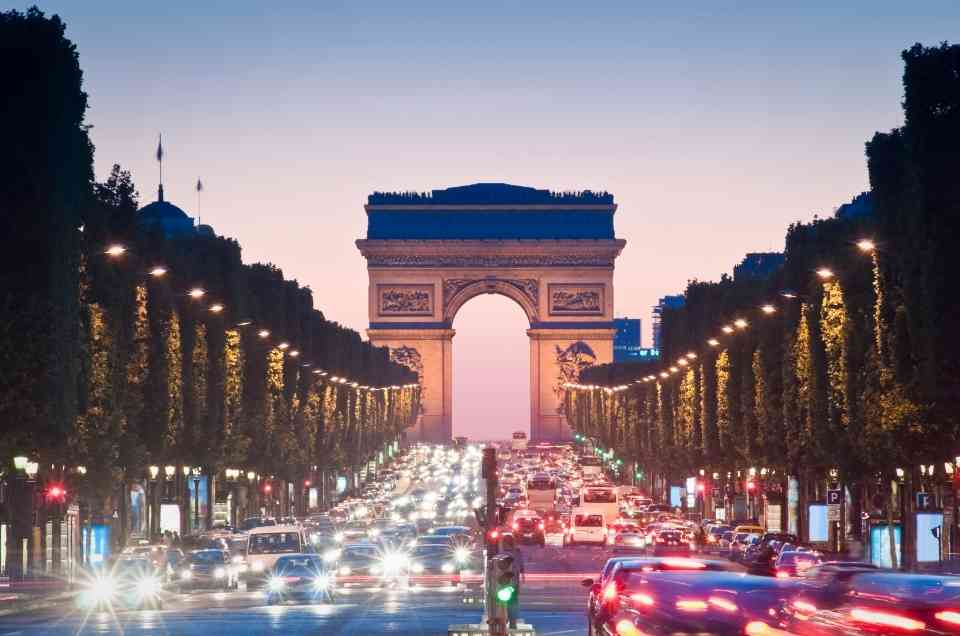 Whether it's your first time or you're a returning visitor, a long weekend in Paris is always better than no weekend in Paris! Remember that we have a local team in France and you can always ask them questions if for your long weekend in Paris. Feel free to swing by our all-new Travelwifi store, opened in March 2021. – our crew can also give you some local tips! Here's a quick guide for spending 3 days in the city of lights.
Weekend in Paris day 1
Start your trip from Ile de la Cité, a small island at the heart of the city which is connected to the mainland by five bridges.
Sainte Chapelle
One of the Gothic masterpieces Sainte Chapelle was built by Louis IX in the 13th century. Back in time, it was used for keeping the religious relics that Louis IX had brought from Istanbul. The relics were originally 22 pieces, however, only three (the crown of thrones, a fragment of the cross, and a nail) could survive up until today. The holy relics costed Louis IX three times more than the entire construction of Sainte Chapelle. There are two different chapels in Sainte Chapelle: the ground floor was being used by royal officers the second floor was frequented by the king himself and his family.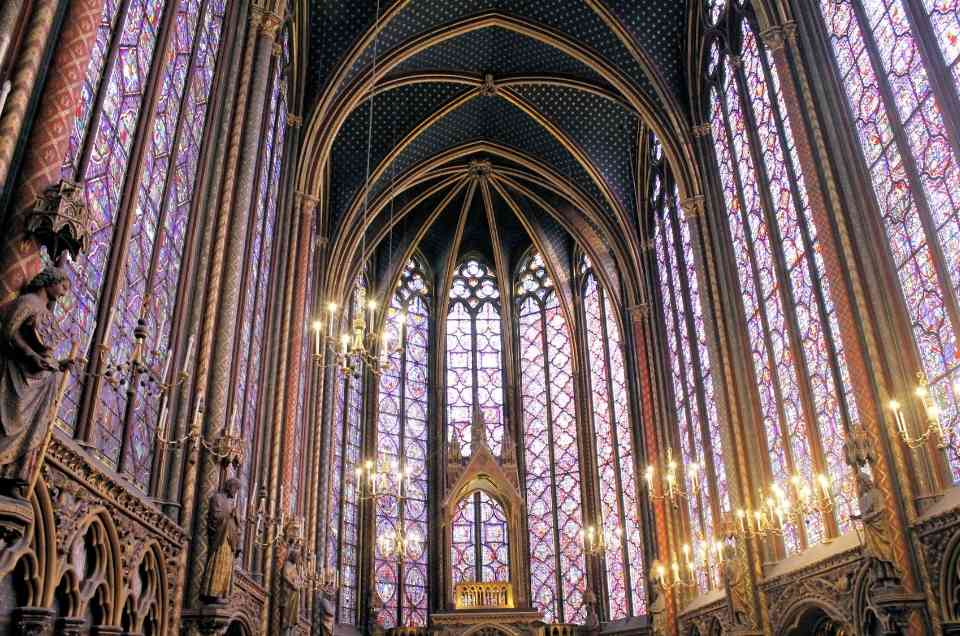 Sainte Chapelle is considered one of the most beautiful churches in the city with its stained glass windows of the higher chapel. Even though Saint Chapelle was damaged during the French revolution, it was restored in the 19th century. The religious relics, however, are not in Sainte Chapelle anymore but they're in your next destination, Notre Dame.
Click here for directions to Sainte Chapelle »
Notre Dame de Paris
You will find Notre Dame Cathedral only 500 m from Sainte Chapelle. Notre Dame was completed 170 years and today, it's one of the most beautiful Gothic landmarks. One may also know this cathedral from the blockbuster Notre Dame de Paris musical. The cathedral completes Paris' skyline with asymmetrical towers, a massive front pillar with enriched details, and a rear façade with a completely different design from the front and the back.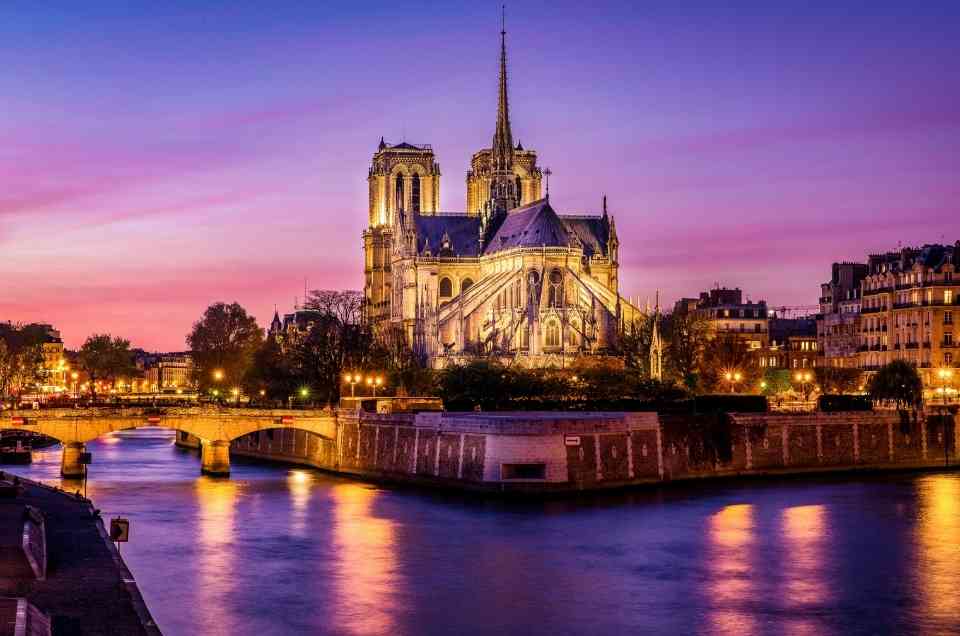 The cathedral is visited by 13 million visitors per year, making it staying one of the places you need to see no matter how short you'd be staying.
Click here for directions to the Notre Dame »
Musée d'Orsay
Orsay Museum is the third most visited museum in France and the 17th of the world. In past, the building served as a railway station communicating Paris to the south of France. Today, millions of dollars' worth of paintings, sculptures, furniture, and photographs are being exhibited in Orsay Museum. There are works of painters such as Monet, Degas, Renoir, Cezanne representing impressionism and post-impressionism movements.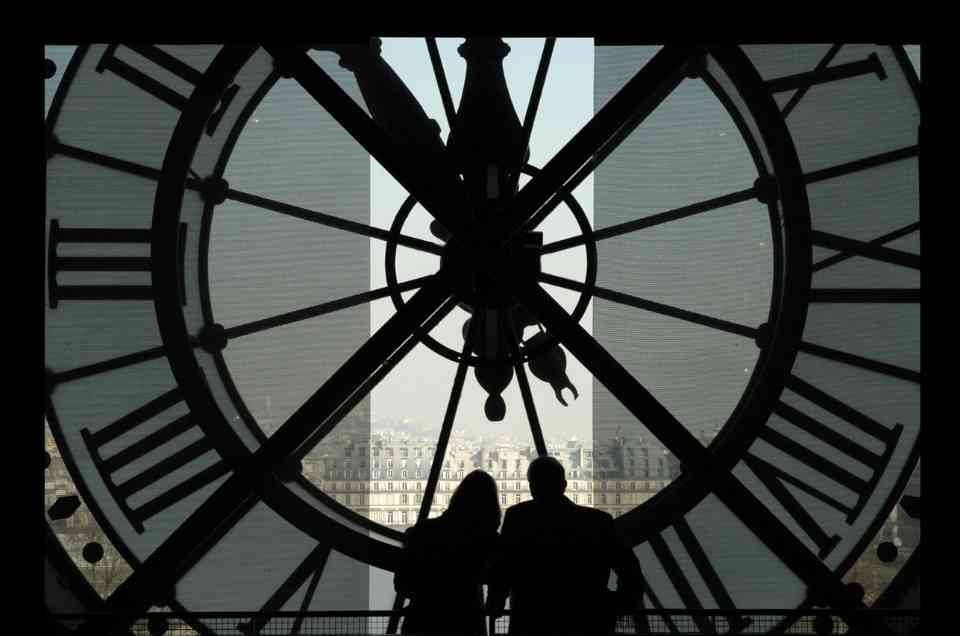 Musée d'Orsay also has a lovely café right behind the famous clock. Grab a coffee/lunch here before heading out to your next destination.
Click here for directions to Musée d'Orsay »
Cross Pont Alexandre III and stroll in Champs Elysées
After a cultivated trip in Musée d'Orsay take few steps towards the Seine river banks and start walking to the left. It's impossible to miss Pont Alexandre III, Paris' most beautiful and elegant bridge. The bridge connecting Invalides and Champs Elysées was built to honor the French – Russian alliance created in 1892 and its construction started in 1896. Pont Alexandre III is famous for its golden statues, ornaments, masterpiece sculptures.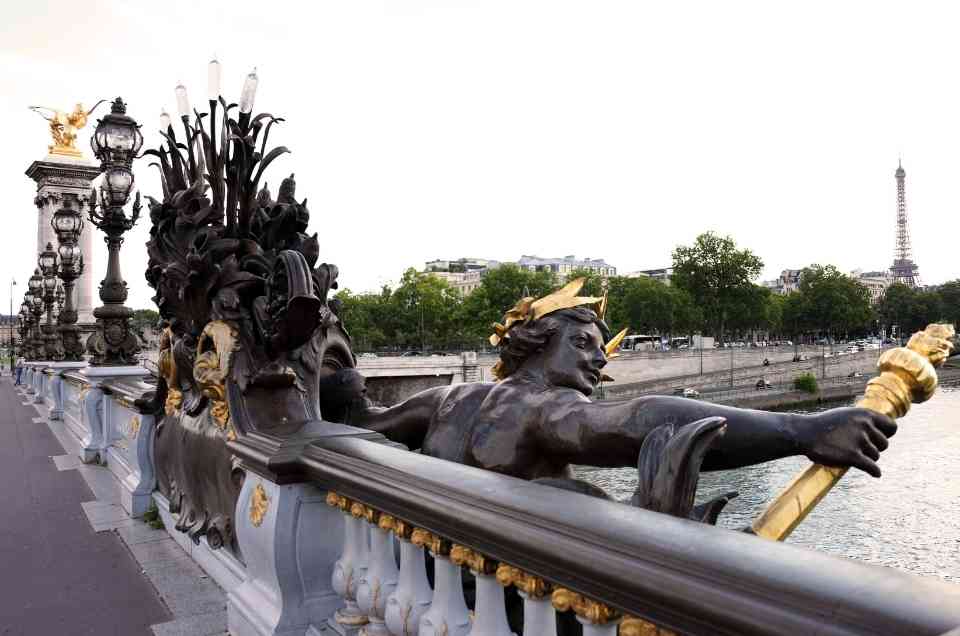 Crossing this masterpiece will take you to Champs Elysées or in other words the world's most beautiful avenue and the most famous fashion street. Walking up to Champs Elysées will take you to Arc de Triomphe. This iconic landmark which was built in honor of those who died during the French Revolution and Napoleonic Wars is a good place to end the first day in Paris. Arc de Triomphe is open until 11 pm for those who'd like to get a panoramic view of the city.
Wekend in Paris day 2
Before starting your day don't forget to go to the nearest boulangerie and grab some croissants, pains au chocolate, brioches…
Boat trip on the Seine
There is nothing better than -literally- going with the flow and watching famous landmarks, gorgeous bridges, and the city life pass by. Taking a cruise ride along the Seine River is one of the best ideas to see most of the things Paris has to offer in a quick and elegant way especially when you don't have that much time in Paris. Plus, packing your patisseries and having breakfast onboard is highly recommended.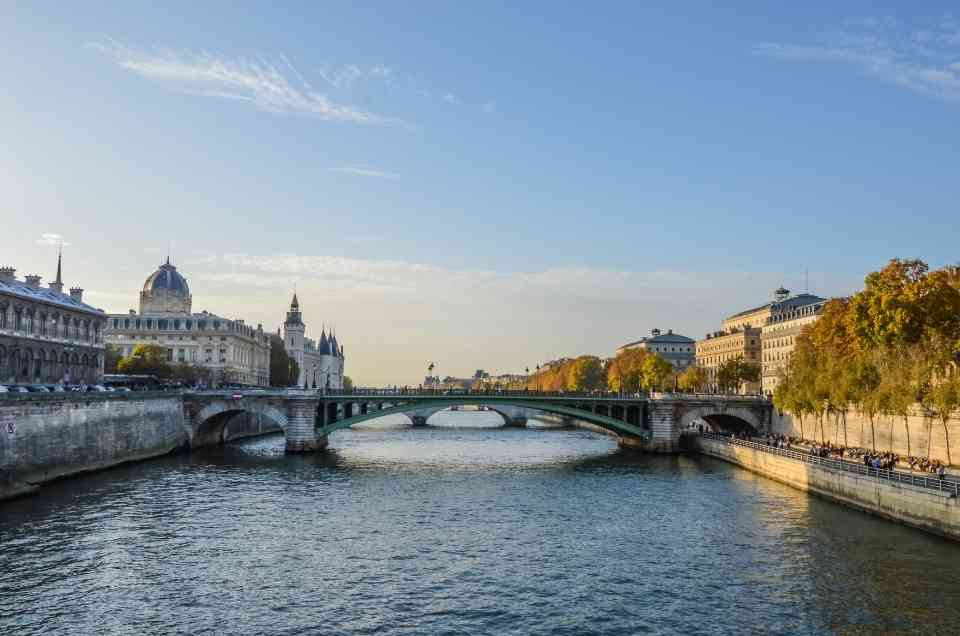 Don't waste your time on a hop-on hop-off bus tour and choose the nicer and traffic-free way with a Seine River Cruise.
Saint Germain
Saint Germain is one of the most beautiful, lively, joyous neighborhoods in Paris. There are high-end boutiques, shops, bars, churches along the 3.5 kilometers boulevard stretching from Assemblée Nationale (National Assembly) to Institut du Monde Arabe (Arab World Institute). Side streets of Saint Germain are also worth visiting with more than many art galleries and hidden cafés.
Click here for directions to Saint Germain »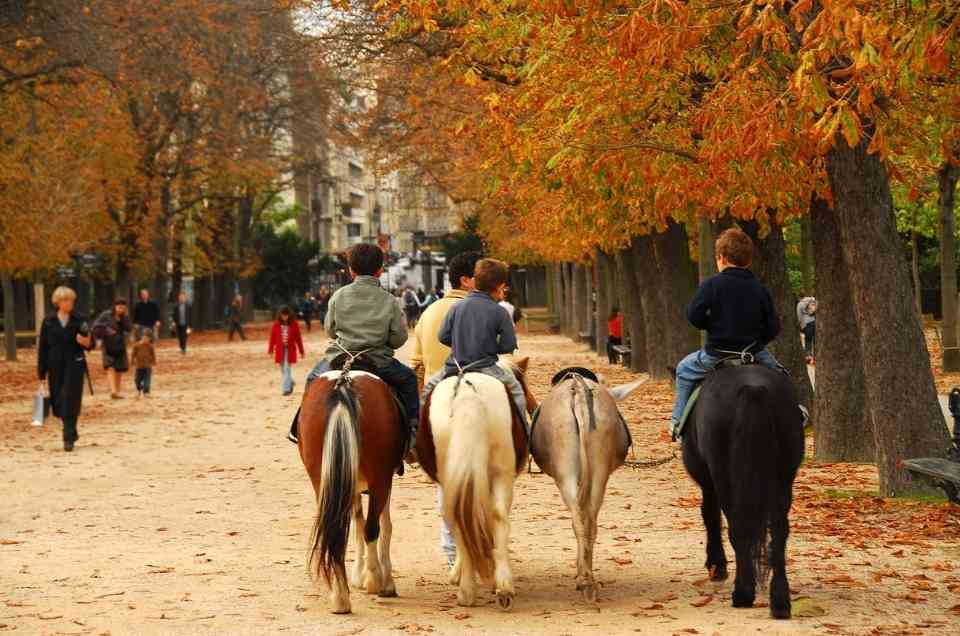 Jardin du Luxembourg
If you feel like having a break, taking a right turn from Odéon – Saint Germain will take you to Luxembourg Gardens. This garden is spread around 25 hectars, some styled as English gardens and some are in the French way, and covered in orchids & roses if you are visiting in the right season. If flowers are not your thing you can still go there to admire the 106 statues located in the garden. Oh, before we forget, Luxembourg Gardens is one of our favorite picnic spots in Paris. Leave the park by the south-eastern exit (leading to Luxembourg RER C) to discover the famous Quartier Latin (Latin Quarter) district.
Click here for directions to Jardin du Luxembourg »
Latin Quarter and the Pantheon
Latin Quarter is a lively district with enjoying sights and narrow streets. Paris' first university, Sorbonne was founded in this neighborhood in the 12th century. It's not by coincidence that the quarter was called Latin District: Latin was the official language of education in the Sorbonne University and the area was frequented by students & intellectuals who would speak Latin with each other. In the end, their conversations have named the district.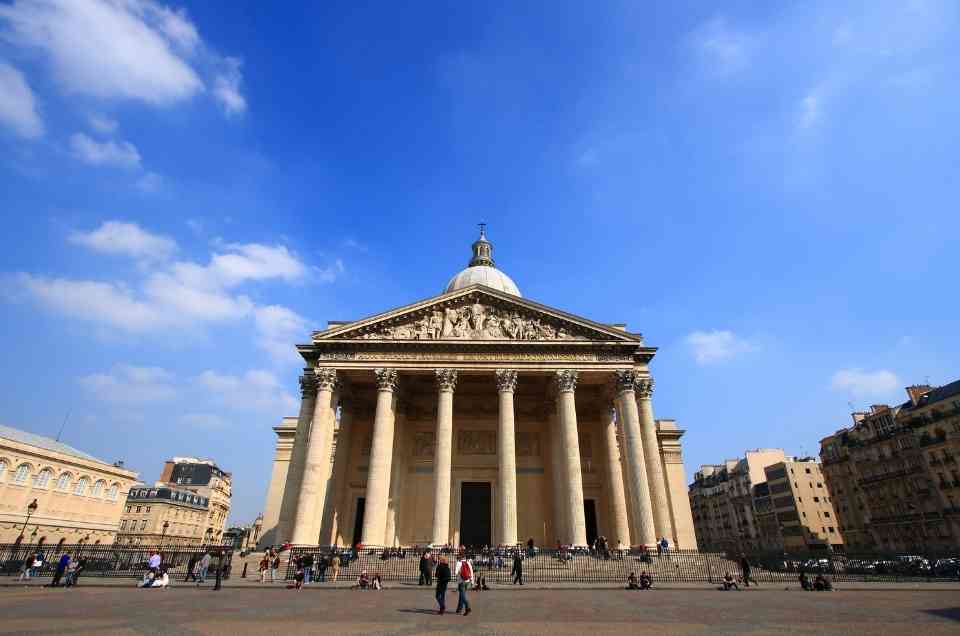 The glamorous Panthéon stands at the heart of the Latin Quarter. Originally meant as a church, the building today serves as a crypt for famous French people; Victor Hugo, Marie Curie, Voltaire.. The dome of Panthéon offers a breathtaking view of Paris and watching sunsets here is strongly recommended.
Click here for directions to the Pantheon »
Montmartre and Sacré Coeur
Located on the hills of the 18th district Montmartre is all you need; shops, culture, history, architecture… The Parisian red light district Pigalle, the small square once been frequented by artists Place du Tertre and the cathedral with gigantic dome & cloudy facade Sacré Coeur are some places to see in the are. Montmartre district is easily accessible by the metro line 12 – Pigalle station. We advise you to take the funicular to Sacré Coeur and walk down the artsy streets to feel the atmosphere fully.
Weekend in Paris day 3
Jardin des Tuileries
Start your day with a joyful stroll in Tuileries Garden. Tuileries Garden was landscaped by Henri IV's Italian wife Catherine de Médicis. Feeling homesick, she designed the whole garden Italian style so she would have Italy in France. It's been created as the garden of Tuileries Palace which was destroyed during the French Revolution.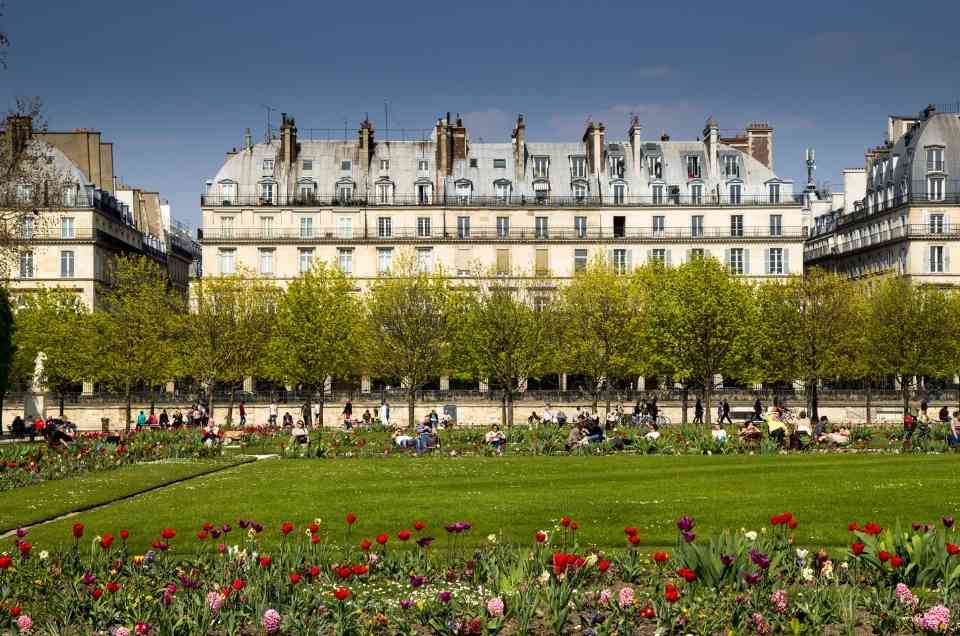 Today Tuileries Garden is a popular spot for locals and tourists to relax on the chairs around the artificial pond, to read a book on the benches, or even just to walk around. You may enter the garden from the Concorde entrance and wander until you reach Louvre Museum.
Musée de l'Orangerie
Orangerie Museum often falls on the stony ground since first time Paris visitors tend to skip it. Big mistake! This small museum often referred to as a gallery, offers Monet's masterpiece the Nymphéas (Water Lilies) as well as paintings by Paul Cézanne, Picasso, Modigliani, Rousseau… and temporary exhibitions. Musée de l'Orangerie is THE beautiful oasis for impressionism lovers.
Opera Garnier
Located north of the Tuileries Garden, Opéra Garnier can easily be reached by foot. The opera house was designed by no one but Charles Garnier himself. Even though the building is magnificent from the outside you should visit the classy inside. You can have a short visit (around 1 hour) and visit the famous department stores Printemps and Galleries Lafayette.
La Tour Eiffel
Bravo, you resisted your urge and saved the Eiffel Tower to the last! Honestly speaking you don't really have to go on top of the Eiffel to enjoy a view of Paris. There are better places for this: Dome of Panthéon, Dome of Sacré Coeur, Montmartre hill. Instead, you can go to Champs de Mars to watch the sunset and then watch the light show of the Eiffel Tower which happens every hour for 5 minutes after it gets dark.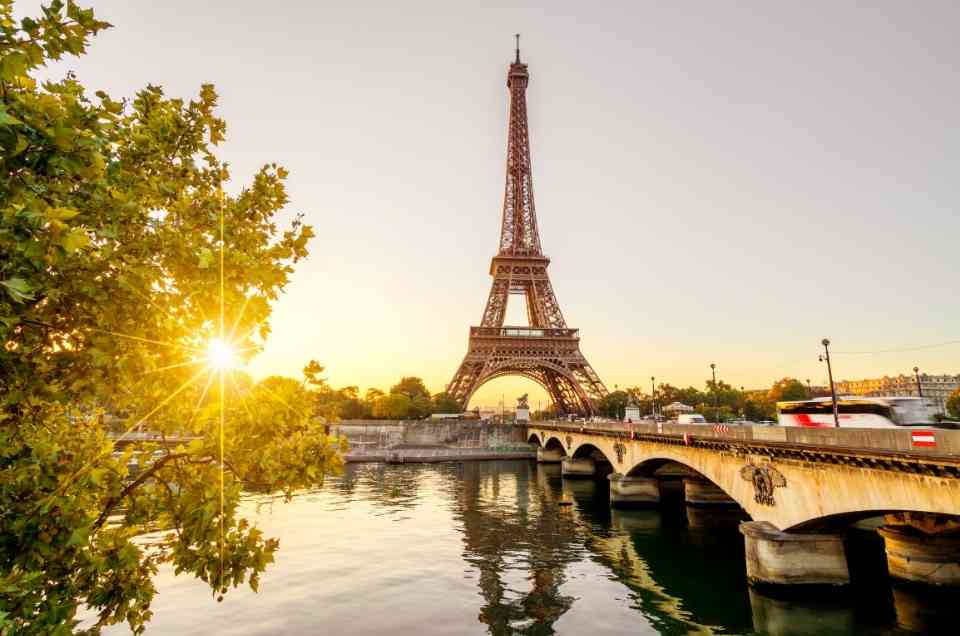 However, if you really want to go on top of the tower, you can do so by taking the stairs or the elevator. The elevator ride to the second-floor costs €16 whereas the fee for the highest floor is €25. The prices are significantly cheaper if you prefer climbing up the stairs.
More tips on spending a weekend in Paris
If you are into museums and pinched for a time skip the lines with Paris Museum Pass.
Rent a personal MiFi. Use Travel Wifi and overcome the language barrier, navigate Paris, etc.
Seriously, skip the Louvre! Whilst it's a great museum Louvre is also the largest art museum – meaning most likely you'll spend more time than you've actually planned. Visit smaller but as cool museums such as Musée d'Orsay, Centre Pompidou, Petit Palais… instead.
Stay in an apartment rather than a hotel. Why stay in an uninteresting neighborhood just because hotels are more affordable there if you can find a budget-friendly apartment anywhere? Check out Paris Perfect rentals before booking your accommodation.