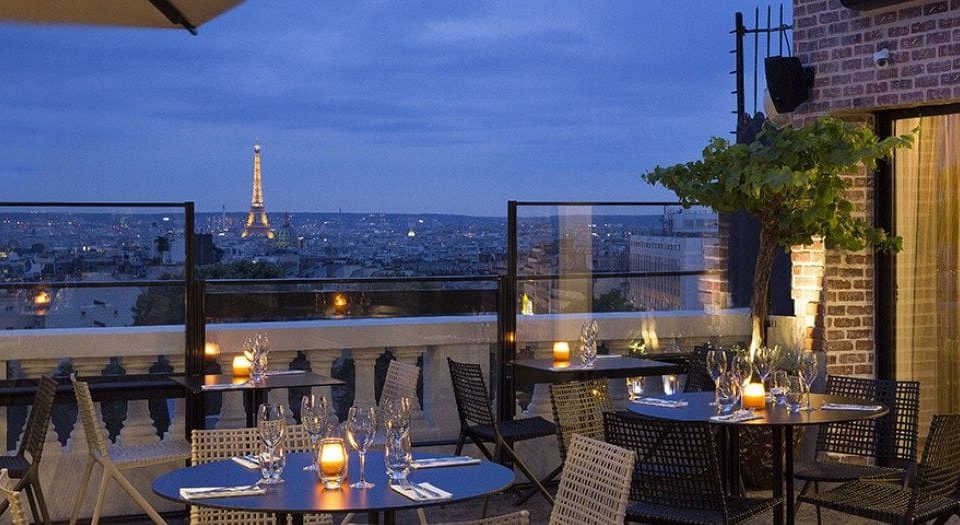 Paris, like so many European capital cities, has some amazing views to offer. What better way to take in these views than by climbing as high as possible? But you don't want to queue up for the Eiffel Tower every time you fancy a panoramic view. You'd much rather sit back and relax with a drink in your hand, right?
Luckily, there are plenty of great places for this. Rooftop bars are stylish, relaxing, and atmospheric, so check out these popular rooftop bars the next time you're in Paris.
1. Le Perchoir
Supposedly the first rooftop bar to open in Paris, Le Perchoir offers 360-degree views of Paris among green, floral surroundings. It's one of those bars you won't discover by accident with an almost hidden entrance, but the big queue outside the door should give it away. There are lots of sofas and tables where you can enjoy some beer, wine, or one of Le Perchoir's many cocktails along with a view over the Sacré-Coeur.
This place also hosts a variety of events like outdoor screenings, so it's a good spot for entertainment as well as drinks with a view. It's open year-round from Tuesday to Sunday and until 2am. Try to get there early or later in the evening to avoid the worst of the queues.
2. The Terrass Hotel
The Terrass Hotel in Montmartre houses a wonderful rooftop bar on its seventh floor. It's a colourful and comfortable spot to enjoy a drink or two, with a snack menu if you get peckish, too. The sights are spectacular, with the Eiffel Tower and Sacré-Coeur both in full view. Beneath the rooftop, you can also see the Cimetière de Montmartre.
The bar and terrace of the Terrass Hotel are open every day from 3.30pm for the public as well as hotel guests. Earlier in the day, you can visit the restaurant on the same floor for breakfast or brunch with an incredible view.
3. 43 Up On the Roof
Saint-Michel, the Latin Quarter. What better place to enjoy a cocktail above the city of Paris? You can sit here in the summer evenings to bask in views of the Eiffel Tower, Sacré-Coeur, and Notre Dame (which still looks impressive even under construction). It's a great place for cocktail lovers with an eclectic menu to choose from, but plenty of other drinks on offer.
The 43 Rooftop Bar is only open during the summer months from 5pm, so time your trip right to enjoy this ninth-floor, panoramic terrace. I'd recommend booking a couple of weeks in advance to make sure you get a spot.
4. La Terrasse at Hôtel Raphael
This rooftop cocktail bar offers great views over the river Seine with the Eiffel Tower in the background, and the Arc de Triomphe and Champs-Élysées in the other direction. Atop a five-star hotel, you can expect high prices in the bar and restaurant, but it's worth enjoying at least one drink from this amazing vantage point.
The rooftop bar is open between May and September all week round. The perfect place for a spring or summer evening in Paris.
With so many great spots in Paris, it can be hard to choose where to go, but hopefully, this has given you a taste of what the city has to offer. Make sure you can always find your way and make reservations online with fast, reliable, and secure Wi-Fi in your pocket with TravelWifi.