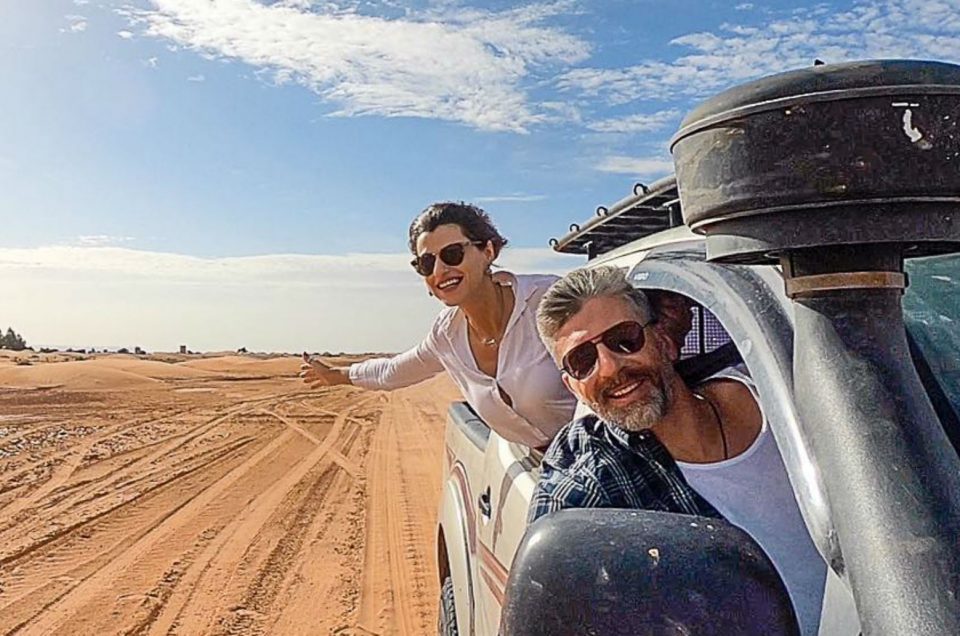 Today, we sat down with Nat and Rob Cadore of Love and Road, a travel blog of a couple who are adventuring all over the world. They've been together for about nine years and have been through a lot of things: travels, parties, family problems, job problems, parties, more travels, dreams, realizations, more parties — so many things that made their partnership stronger and stronger. At the beginning of 2014, they decided to quit their jobs, sell their stuff, pack their bags and hit the road again!
Nat and Rob are full-time digital nomads and today, they will be sharing their life while working on the road! If you have questions for them, feel free to leave a comment below!
What was your life like before being a digital nomad?
View this post on Instagram

We used to have a pretty normal and good life in Brazil. Rob worked for 15 years in big corporations on foreign trade and logistics, and I used to run my own business. Life was on track, we built our house, we got married, Rob got promoted… but something was missing. To make a long story short, back in 2007 we moved to Ireland to study and work, during those 2 years we traveled around Europe and fall in love with a life on the road. When we got back to Brazil life was good, but our feet kept itching, and the only solution we found was to sell everything and hit the road. But this time we planed an adventure without a fixed destination neither time to stop.
When did you start being a Digital Nomad? 
Our nomadic life started on April 24th, 2014. It has been 5 years that we created a new lifestyle and a new business for us. We wanted the freedom to travel, be able to work on our own pace and projects, that's how Love and Road was born. I'm a journalist who loves to tell stories, Rob is a super business orientated and avid planner, we joined our best assets to become digital nomads.
It wasn't an easy decision. The first step was hard, but soon things started falling into place. Before hitting the road we sold everything we had to build up our saving so we could have money for one year of travels. During the first year, we had to make our business profitable, to be able to keep traveling. With ups and downs, we made it, and when I look back I'm sure this was the best decision ever.
Describe your typical 'work day' as a Digital Nomad
Our nomad life is usually divided in two scenarios: when we are based in a place for more than a month, and when we are full time traveling.
When we are traveling our routine is a mess. During the day we are out exploring the destinations, collecting information and taking photos. At night we stay awake until late posting on Social Media, answering emails and planning the next day itinerary. Usually, we do a maximum of 3 months of intensive traveling, then we need to stop and have a proper base to rest and create content.
After all the traveling we settle for a while, we need a place to call home and to sit in front of the computer for endless hours. But that's the time when we can have a proper routine. Gym every morning, healthy food and tons of content to produce for the blog, photos to edit and more social media posts to share.
Tell us the top 5 things you can't live without as a digital nomad?
Our computers, our hard drives, Tep wireless, phone, and camera. As content creators, we can't live without our equipment. Rob has a huge bag of electronics, photo equipment, and hard drives and I need my computer to publish our stories.
We also need internet on a 24/7 basis so we can keep the blog running. When we started it was way harder to buy SIM cards or to have wireless internet everywhere. Thank God things have changed, sometimes the connection is not that strong or fast, but now we can find internet almost everywhere.
What's your favorite part of being a digital nomad?
The freedom to work from anywhere. I believe we do work more hours now than back in Brazil, but the freedom to do what we love, to be able to discover the world and meet awesome people on the way is priceless.
What's the hardest part of being a digital nomad?
Is to keep a routine, especially towards exercising and eating well. Every time we change destinations we have to adapt our bodies and routine to new weather, new cuisine, costumes, new place… The freedom of travel is what motivates us, but it's also a physical challenge.
On the entrepreneur side, as we work for ourselves and I tend to be a bit workaholic, sometimes it's hard to find the balance between life, work, fun.
Where are you currently based and what are your future travel plans?
Right now we are living in Bangkok, Thailand ( we love this country). For the past years, we have been spending 6 months in Europe (summer time) and six months in Southeast Asia, using Thailand as our base. But things are about to change, for the first time we are thinking to stay in Europe for longer. End of May we are flying to Europe and this time we don't have plans to leave, so we'll probably stick around for summer and winter.
What are your tips for Digital Nomads if ever they are in a city without reliable WiFi?
Get a Tep Wireless! If you need internet 24/7 you must have pocket wifi with you. Second, is to buy a local SIM card, sometimes is hard to get the correct information because of the language barrier, but you can find reasonable data packages almost everywhere.
Another tip is to be part of digital nomad communities or apps where you can find cafes or coworking spaces. I like Workfrom and Flexpackrz, we have used them to find places with wifi in Europe and Asia.
How does Tep Wireless help you as a Digital Nomad?
Tep Wireless has saved our lives a couple of times. We always have it on our backpack even if we have local SIM cards or if we are staying in a hotel with good wifi. Because of it's portable and easy to connect we used it a couple of time to do live videos on Facebook and Instagram while exploring a destination. I remember in Taiwan, we were cycling the island east coast and Tep was the only device that had wifi signal during the whole trip and as we could connect up to 5 people we could share it with other cyclists.
Also, every time we arrive in a new destination, we know we can have internet before arriving at a hotel or buying a local SIM card, no more stress about how to get around, call a Uber or use Google maps offline.
—-
Get your Tep Wireless portable wifi device today! It works in over 100+ countries with unlimited Internet!