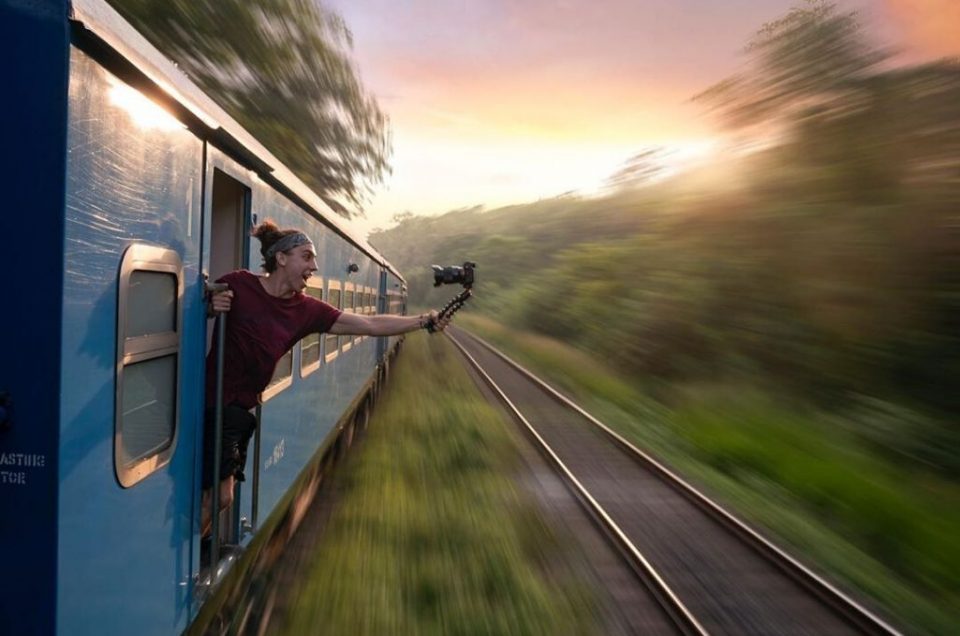 Hello, February! Welcome to another series of Digital Nomad Interviews by Travelwifi. In this month's series, we sat down with Steven Yalo, a full-time traveler and digital nomad galloping around the world for work and play!
What was your life like before being a digital nomad?
Before being a digital nomad I was living in Orlando, Florida. I studied advertising at the University of Central Florida and was pursuing a career in marketing. During my senior year at UCF I found an internship opportunity for an influencer marketing company which eventually led to a full-time job. At this time, something really interesting happened that changed my perspective about the way I was living my life.
This was back in 2016 and as I mentioned, I was in my last year of college. I heard about this crazy travel challenge hosted by Red Bull called "Can You Make It?" where they send teams of college students to travel across Europe for one week with NO MONEY. I applied for this challenge by making a video with two friends and it went to a voting process so we worked our butts off trying to secure our team a spot in the competition.
Eventually, our hard work paid off and we were selected to participate. They flew us to Florence, Italy and we had one week to make it to Paris with no money. We traveled through six countries in seven days relying on the kindness of strangers to help us reach checkpoints along the way. It was the most difficult yet most rewarding experience of my life. We made it all the way to Paris without spending any money. It was insane!
After this travel challenge, I returned to Florida where the company I was interning for offered me a full-time job. Everything was going great for me! But after a few months of working in the same office every day, I was craving more adventure. I just traveled across Europe with no money, so I had this new mindset that I could achieve anything if I worked hard enough. So, I set my sights on a new goal.
I love making videos and I really wanted to travel more, so I decided to leave my job, sell most of my stuff, and I bought a one-way ticket to Thailand. I saved up enough money to travel with no income for about one year. I figured within that year I could learn how to sustain a digital nomad lifestyle, and I was right.
Now, I travel full-time and make money online in a few different ways. Life is what you make it. Why not make it exciting, right?
When did you start being a Digital Nomad?
In April 2017 I left Orlando with a one-way ticket to Thailand and I've been living the digital nomad life since. It's been an incredible journey. I've learned so much and I know there's still so much more to learn so that excites me.
Describe your typical 'work day' as a Digital Nomad.
My typical workday is never really "typical". At the core of what I do is make travel videos for my Youtube channel, but there's a lot that goes into that. I'm usually in one of two work modes – 'Travel and Film' or 'Stop and Edit/Plan'. I usually alternate these, so I'll travel intensely for one month filming videos, then I'll stop for one month to edit these videos and plan my next trip. There's a lot of work that goes on behind the scenes as I'm taking on the roles of videographer, host, editor, social media manager, travel agent and even more.
Tell us the top 5 things you can't live without as a digital nomad?
As a digital nomad, there are definitely some things that I can't live without. First, a laptop. I need to have a computer with me to handle all of this editing and admin work. Of course, there's my camera. I need to have a camera to make videos and take photos. Another necessary thing is wifi. It's nice to disconnect and visit places with no service, but eventually I'll need some internet connection. Thinking a little less materialistic, I also can't live without fun people. I'm a pretty social person and I enjoy spending time with others. I know that's only four things, but I can't actually think of anything else I absolutely need. I guess my final answer would be positivity. I strive to remain positive in all situations and I'm always facing challenges that test this, but I always try to think positively.
What's your favorite part of being a digital nomad?
My favorite part of being a digital nomad is the freedom. I have the flexibility to work from anywhere and this really excites me.
What's the hardest part of being a digital nomad?
The hardest part of being a digital nomad is the lack of consistent community. Since I'm always traveling to a new place, sometimes it's hard to feel part of a bigger community. There have been times where just as I'm starting to develop a sense of community, I leave to a new place. I make up for this by joining online communities of people (like Facebook groups or Discord chats) that are interested in similar things so I can still feel connected to like-minded people.
Where are you currently based and what are your future travel plans?
I plan on spending the next few months traveling around Southeast Asia but my goal is to spend the summer living in NYC. I love traveling to different places, but something about New York has been pulling me in. As I travel, I've been meeting incredible people, but a lot of people I meet are either on vacation or just not in a working mindset. I'm curious to see what it will be like to be surrounded by the busy city and the networking opportunities that will come from it.
What are your tips for Digital Nomads if ever they are in a city without reliable WiFi?
If you ever end up in a city without reliable wifi, I would suggest to just try to enjoy it. Most likely you'll find some good wifi soon, so just make the best of the situation and don't stress. Also try to plan ahead if you rely on wifi for work and make sure where you're going has connection.
How does Travelwifi help you as a Digital Nomad?
Travelwifi
is super helpful when I'm on the go. Usually I'll connect to wifi wherever I'm staying, but for the in between and daily use, I need to stay connected for plenty of things like GPS, messages, and social media apps. As I mentioned, wifi connection is something I need as a digital nomad, so having my own travel wifi device is super helpful!