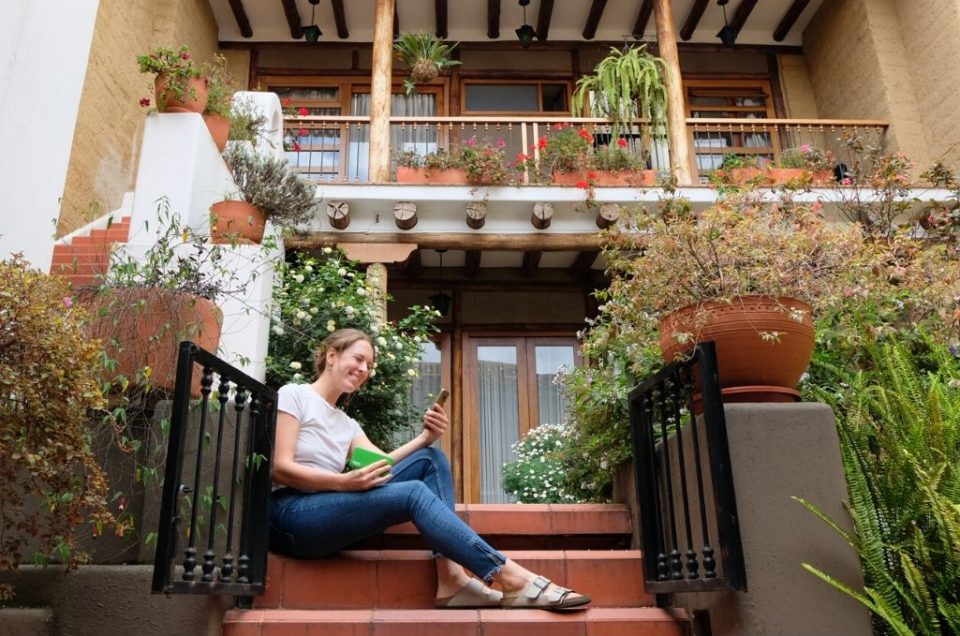 Hello, April! Welcome to another series of Digital Nomad Interviews by Travelwifi. In this month's series, we sat down with Charlie of Charlie on Travel, a full-time traveler and digital nomad galloping around the world for work and play!
What was your life like before being a digital nomad?
Before I was a digital nomad, I was an English teacher living and working in Taiwan. I lived a small town called LuoDong, about 2 hours by bus from Taipei. It was a beautiful place, sandwiches between mountains and the sea. My school was a 5-minute walk from my apartment, and I worked long days starting at 8AM and often finishing at 6PM or 9PM, with a 2.5 hour gap for lunch in the middle of the day. I spent weekends exploring the countryside and other cities in Taiwan.


When did you start being a Digital Nomad?
After a year teaching in Taiwan, I changed careers and began looking for online work in 2013. I started working freelance managing social media content and writing blog posts. I'd been writing my travel blog, charlieontravel.com, for some time before this – which I used as my writing portfolio for other jobs. As I picked up a more stable amount of work online, I moved to Costa Rica where I became a house sitter, looking after houses for expats there whilst they went on their holidays or returned home to visit family.


 

 

View this post on Instagram

 
Describe your typical 'work day' as a Digital Nomad.
I work full-time for a UK-based digital marketing agency, and also run my travel blog independently of this work. I wake up early, at 6AM every day, to start work. My work start time varies depending where I'm travelling, but I always prefer to work earlier in the day. I'll break for coffee and breakfast around 7AM for 20 minutes. I work solidly until lunchtime and take a break to eat some local food, then continue working until 3PM. After that I'll go off exploring, usually for a long walk, to visit a museum, take a Spanish class or stop by a local cafe. In the evenings, I work on my blog. On weekends, that's when I really get to adventure! I spend most of my weekends hiking mountains or in national parks and eating out at local restaurants.


Tell us the top 5 things you can't live without as a digital nomad?

1.Good wifi
2. My laptop
3. Fresh coffee
4. My Kindle
5. A good night's sleep


 

 

View this post on Instagram

 
What's your favorite part of being a digital nomad?
Travelling! I just get such an energy rush from waking up in different places and having new people to meet, landscapes to see, and cities to explore. I love being able to move around, stay in different places for a while and get to know different ways of life and cultures.


What's the hardest part of being a digital nomad?
Trying to fit everything in! It can be a lot considering you're working full-time and also travelling. I travel slowly, which I like, to make sure I don't feel overwhelmed or exhausted. It's just not possible for me to travel as fast as a backpacker on a 3-week trip, hopping between places every few days, as it'd interfere with my work and I'd be too tired out to really enjoy where I am. It can mean long bus journeys on weekends though, and little rest time when I do move to a new place. Finding a balance is key.


 

 

View this post on Instagram

 
Where are you currently based and what are your future travel plans?
I'm currently based in Brighton, UK, and have no future travel plans! I was repatriated to the UK last weekend following the coronavirus situation. I had planned to spend 3 months in Peru and 3 months in Bolivia now, but both countries have imposed strict quarantines and closed all of their land, sea and air borders to prevent the spread of the virus. I spent 2 weeks in quarantine in Peru before the UK government repatriated me. I'm very grateful for their assistance. As the coronavirus situation is so unpredictable at the moment, I'm currently not making any travel plans, although I hope to return to Peru to finish my trip there in the future.


What are your tips for Digital Nomads if ever they are in a city without reliable WiFi?
I would recommend having a back-up wifi source available. I have both a Travelwifi and often also have a local SIM topped up with mobile data wherever I am. It's really important for me to have back-up options because when you book into Airbnbs and change places, you can't be sure the wifi will be reliable enough, especially when it comes to video calls and similar. I don't like to get caught out or find myself scrambling around to try and find a cafe with a decent wifi connection! I usually do some research ahead of time, ask Airbnb hosts for the upload/download speeds, and bookmark a few local cafes where reviewers say the wifi works well too.


 

 

View this post on Instagram

 
How does Travelwifi help you as a Digital Nomad?
When my wifi is unreliable and the Travelwifi signal is good, it's really helpful to have on me. I really appreciate having a back-up wifi like Travelwifi that works globally too. It's especially useful when first arriving in a new country when you don't yet have a local SIM card.


Can you give our readers your top tip on how to efficiently work from home?
Set yourself a routine. Have set start and finish times for your work and schedule your work tasks in Google Calendar at the start of each week, including any calls you might need to take. I always find that planning ahead is very helpful in keeping you productive, but also sane!