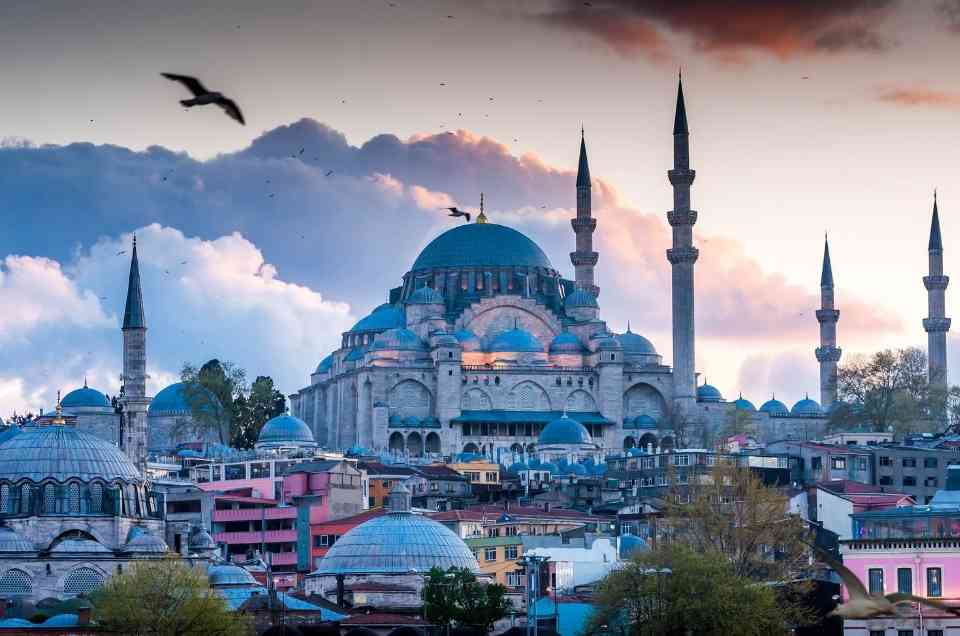 If someone told me in the past that I was going to become a digital nomad in Istanbul, I would laugh in his face. Why would I ever want to move to a country like Turkey that constantly faces economic challenges, security issues, and political instability? Right? Wrong! Moving to Istanbul was actually one of the best decisions in my life. It taught me many things, helped me grow as a person and broaden my horizon.
This city happened in my life by accident. When in 2018 my husband and I were moving from Spain to Tbilisi, Georgia, we had a one-day layover in Istanbul. But instead of spending a day, we decided to change the date of our next flight and spend a week there. It was our first visit which completely made us fall in love with the city and sowed the seed of desire to return later as digital nomads. So we did. In December of 2019, we came back, found a flat in the best Istanbul neighborhood Moda, and started a new phase of life.
Since then we are living between two cities, between Istanbul and Lviv in Ukraine. I am originally from Ukraine and my husband is Russian-American, so choosing a base in Turkey was the right decision for both of us. In fact, I am absolutely convinced that Istanbul is a wonderful city for anyone who works online.
Istanbul digital nomad: my personal experience
Before moving, I was in Istanbul only once and perceived the city as a tourist. After we moved and settled in, I immediately started to get this homey feel. Istanbul felt like home and I didn't even want to travel anymore. It had so much to offer that I could easily spend a few years in Istanbul and still have many more things to discover.
From the first day and until this very moment, Istanbul stays vibrant, always interesting and diverse. It has decent wifi (although not the best), a huge choice of food and drink, incredible nature (with hikes and beaches around the city), historical places, stunning hotels with swimming pools, and welcoming people. Even if you don't get to meet other digital nomads, you will not be alone. Living here and working online is a very enjoyable experience, at least for me. Yet I understand that the fast pace of life and the crowded city may not be for everyone.
The Digital Nomad Scene in Istanbul
That's an interesting question and the answer depends on two things – first of all where you live (the city is huge) and whom you ask. I personally have met only 2 people who were digital nomads in Istanbul. At the same time, I also met dozens of expats and immigrants who came to work or invest money in this destination. You see, Istanbul is great in the way that it attracts people from all over the world what in turn makes it a culturally rich city. Even if you don't find other nomads living next door, you'll still get to know many foreigners who are based in Istanbul for other reasons.
For me personally, the best way to get in touch with other digital nomads is through Facebook groups. My husband and I are not very social and don't feel comfortable going to events with hopes to meet people there and make friends. What works best for us is getting in touch with others online and only then meeting in person. My favorite FB groups are foreigners living in Istanbul and Istanbul expats.
When it comes to cafes and co-working spaces, oh my gosh I don't even know where to start. There are just so many of them. Some cafes have a separate co-working space, others look and feel so homey that working in them is very enjoyable. The only downside is the Internet. Unfortunately, it is pretty average (often below average), yet we manage to work outside our home just fine.
Cost of living in Istanbul
A lot of foreigners who are living in Istanbul will say that the cost of living is low. And I will not agree with it. However, it all depends on what you compare it to and what your priorities are. For a lifestyle that includes a beautiful furnished flat in a neighborhood near the Bosphorus Strait or Marmara Sea, frequent trips to cafes/restaurants, occasional travel, transportation usage, tours around Istanbul, basic health check-ups, and a monthly beauty routine (like haircuts, nails, buying clothes), you need to have at least $1500 per month for two. Or at least $1100 for one person.
The price of an average apartment rental with furniture in popular neighborhoods among expats and digital nomads like Karakoy, Moda, Nisantasi, and parts of Besiktas go for about $700-$1000 per month. We paid for our flat in Moda $700 and it was one of the cheapest in that area. Of course, you can always find something for $300-$500 but the quality is going to be very basic or the flat will be farther away from the sea, transportation, and popular cafe scene.
WiFi, Sim Cards, Internet Connection, Etc.
When it comes to sim cards and mobile Internet, Turkey is somewhat an interesting country. Turkish mobile services have its own characteristics that every digital nomad should know about in advance.
The thing is that by law every mobile phone purchased outside Turkey must be registered in Turkey within 120 days if/when using a Turkish sim card. Although some of my friends were saying that their phone was blocked within a month. The price of registration is around $270, however, every year it increases. If you don't register it and put a sim card, it should work 30-90 days but then will be blocked until you pay the registration and the fee for violating this rule.
If you use a SIM card or mobile internet of another country, there will be no blocking. Until this day, neither my husband nor I use any sim cards. It works better for us this way. We have good wifi in our rented apartment, always can connect to wifi in one of the multiple cafes, and when we travel we download offline maps.
If you plan to rent a flat on Airbnb, discuss with the host the quality and speed of the Internet. He/she will take care of it. If renting on your own through a broker, be ready to invest and pay for high-speed wifi on your own. Usually, owners rent out their accommodation with the cheapest (slowest) wifi package.
Turkey visa for digital nomads
My husband and I decided to make a long-term base in Turkey for the reason that we didn't need a visa and could apply for a temporary residency providing just a few basic documents. So overall, settling in Istanbul for a long time as a digital nomad is a very easy thing to do. Even if you don't want to apply for a residency, there is a way to spend 90 days in the country on e-visa or visa-exempt status. A lot of countries have an e-visa agreement with Turkey when you need to pay $50 to get in. We have passports from countries where we are visa-exempt.
Recommended Cafes With Good Wifi in Istanbul
I have been already to hundreds of cafes in Istanbul (no kidding) but there are many more cafes are left to discover. Among all those places I visited here are some of my favorite ones:
Kava Coffee – a small two-story cafe with limited tables but an excellent vibe that helps to concentrate and work. I love this place for a quiet atmosphere and empty space. People mainly come here to buy coffee to go, so the place even though small is often empty.
Each table has access to a plug and table lamps what is convenient if working in the evening. Since this is the coffee shop, there is nothing to eat but the nearest restaurant and street food stall is directly across the street.
Salt Galata. Salt is a library and art space that is often used for conferences, workshops, study and laptop work. All resources in Salt are free and do not require registration. The only thing – you need to have a local phone number to connect to wifi. I asked a worker to use his number to help me connect. I love this establishment for its incredible quietness. It has a real working atmosphere. All people who come here, do it with a goal to work, not to jabber or eat. Although on the ground, there is a small cafe where visitors can have a quick lunch without leaving work.
Journey. Very trendy two-story cafe in Beyoglu district. It is very popular and often crowded but on weekdays from noon to evening it is completely empty. Well, okay, there will be a couple of freelancers but for the most part, it is the best time to go and work. I love this spot for an interior and a long wooden table for 10 people and multiple plugs.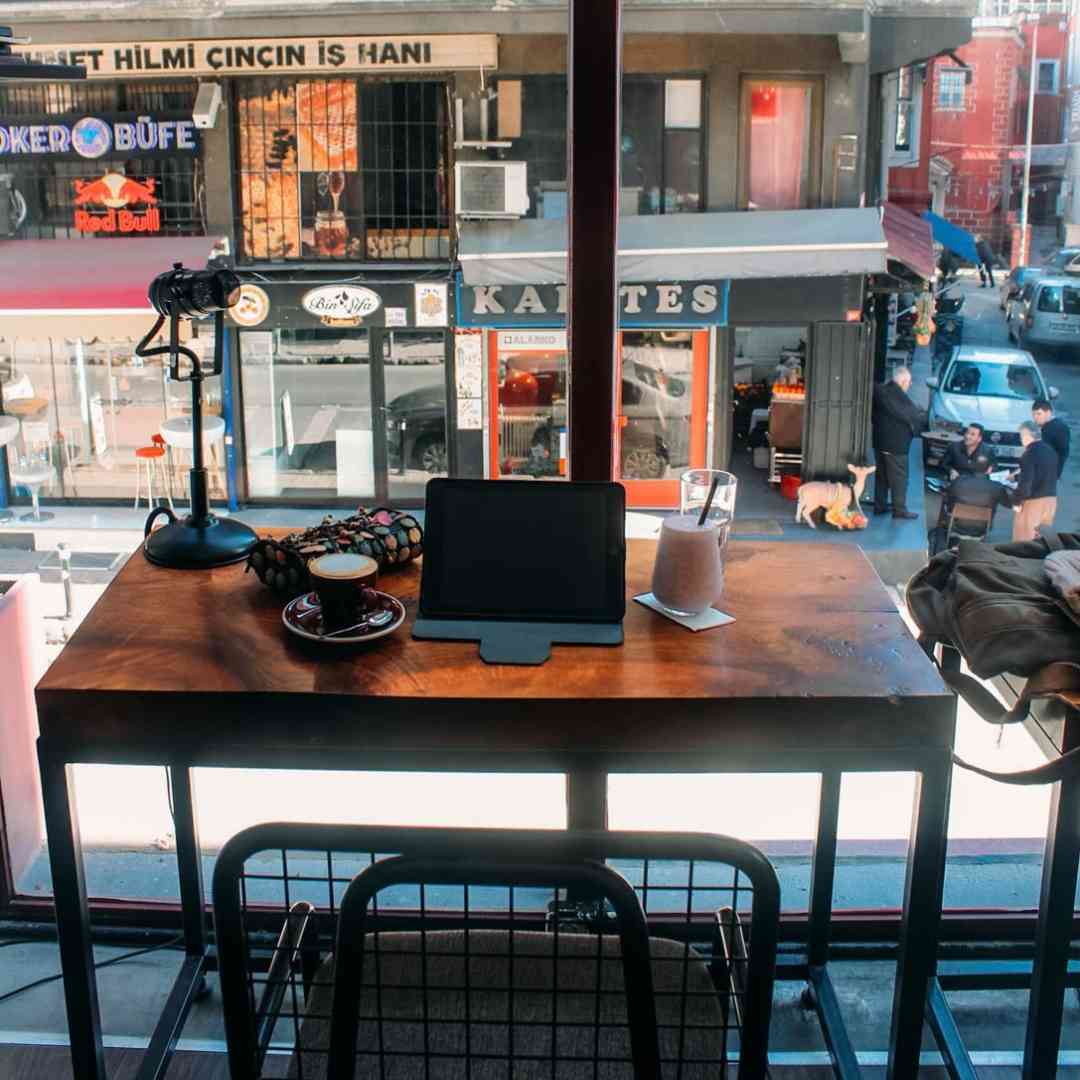 Recommended Co-working spaces in Istanbul
To be honest, I can't recommend any particular co-working space since I haven't been to any. Istanbul is full of countless amazing cafes that are perfect to work in, so we never felt an urge to go to office space. However, some of my friends-freelancers said good words about DAIRE Coworking in Besiktas and IDEA Kadikoy in Moda.
Stay connected in Antalya and rent a portable wifi device.
Originally from Ukraine, Anya has lived in 14 countries on 3 continents while slowly traveling around. She has never had a goal to visit all countries in the world but instead travel slowly and live abroad as a digital nomad and expat. Anya created a blog Road is Calling to share her knowledge of online entrepreneurship and life in different countries around the world. When she is not working, she is spending time in nature, learning investing or a new language.