Due to the fact that my husband and I are from different countries, we tend to spend a few months of the year on either side of the world. When it's time for our "US" living stint, we always opt for mountain towns, outdoor access, and a city filled with things to do. That's inevitably why we keep ending up in Boulder, Colorado.
We first stayed here over the winter of 2018/19 for 4 months to take advantage of the skiable terrain and sunshine-filled winter weather. We decided to head back to Boulder again for the summer of 2020 for 4 months to experience everything that summer has to offer. 
As both Nick and I are able to work remotely full-time, we are able to travel and move around wherever we please throughout the year. In a nutshell, we are true Digital Nomads. During the day, Nick works as a software engineer for a fully remote company, while I am a freelance copywriter and editor. During the evenings and weekends, we work on our blog.
My personal experience as a digital nomad in Boulder
Since we are both lovers of mountains, trails, live music, and good coffee, we've naturally gravitated towards the Rocky Mountains of Colorado – in particular, the small city of Boulder. While cities tend to be "too big" for us, Boulder is just small enough for us to walk to the local grocery store, coffee shop, or main street in town without the use of a car. With over 155 miles of trails around Boulder, a running trail is always accessible no matter which area of town you live in – which is perfect since we are avid trail runners.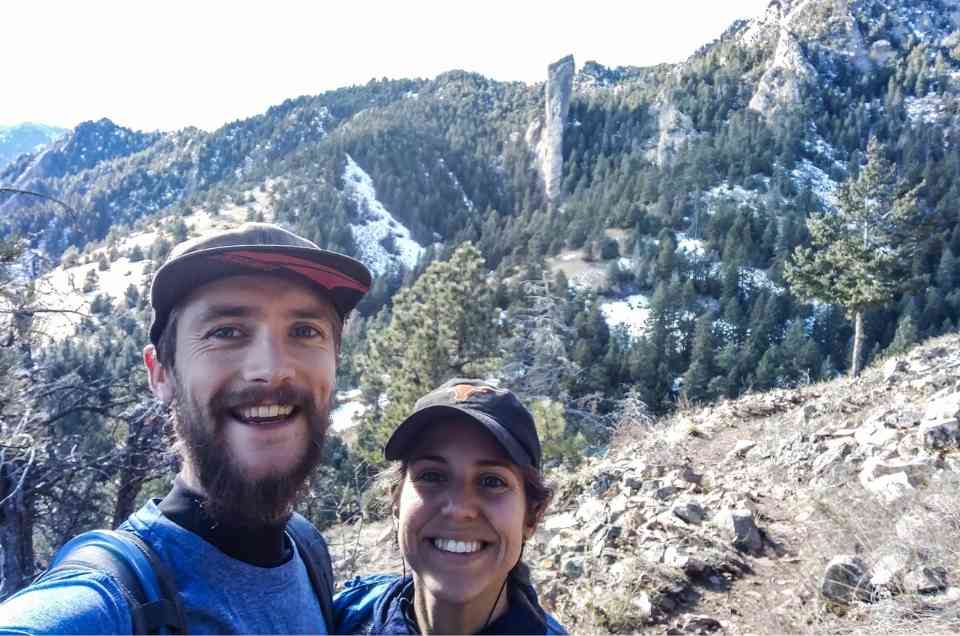 If you have access to a car (which we do), there are a plethora of incredible trails that cover the foothills and flatirons around the city. We often spend our free afternoons and weekends circumnavigating the local peaks and canyons. 
Another reason to love Boulder is the thriving tech scene (more for Nick, less for me). With Google, IBM, Apple, and Twitter all having headquarters here, there are plenty of opportunities to mingle within the tech space.
The digital nomad scene in Boulder
As a digital nomad in Boulder, we've found it to be almost too perfectly set up to accommodate our type of crowd. With over 25+ coffee shops (and good ones, too), there is an unlimited supply of daytime office opportunities. Most of them offer excellent WiFi connections. The only problem is trying to compete for tablespace. 
Since Boulder is also home to Colorado University, this means there are over 35,000 students who also head to these same coffee shops to study or work. So space within these cafes can sometimes be obsolete. We suggest heading out early to grab a table – and if you ever see someone walk in looking for space to work, offer to share your table!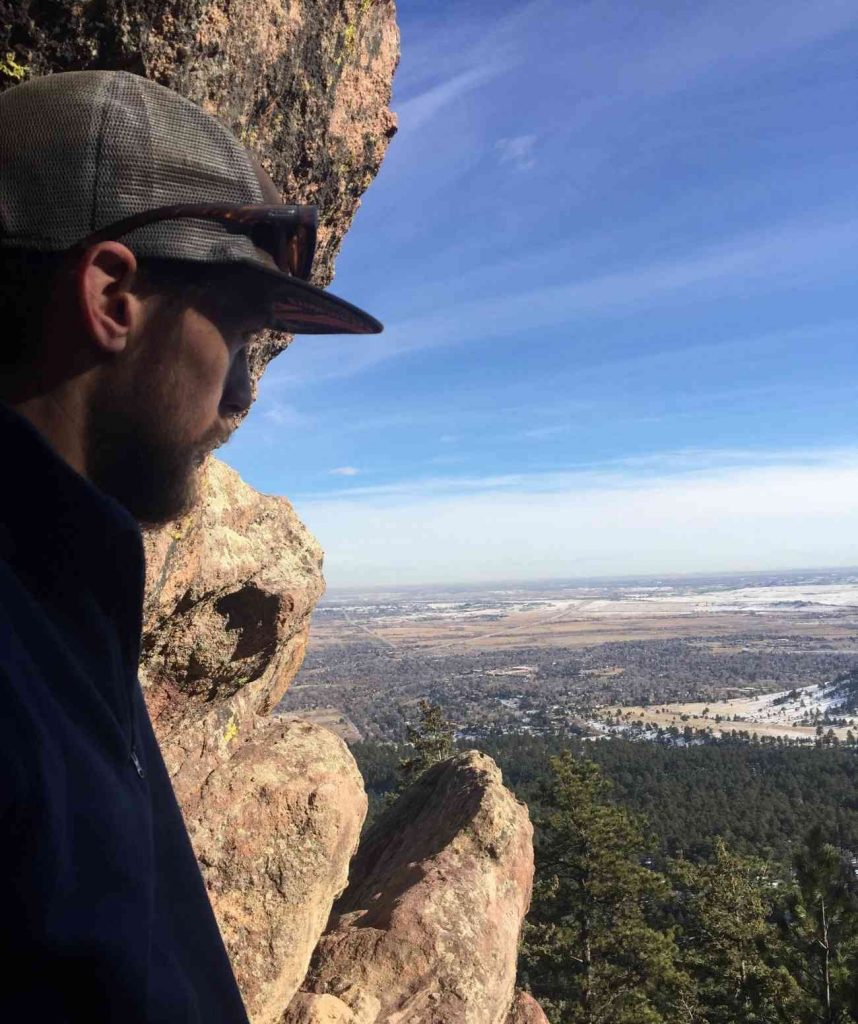 If you prefer coworking spaces, there are a lot of great options in Boulder (and I'll recommend a few further down in the post). Whether you need cheap and simple or fancy with all the bells and whistles, there is a coworking space for everyone.
If you want to mingle and meet people that have common interests, we've found great resources for connecting with locals in the community. We've even been on a few group trail runs with locals who knew the area much better than we did.
Some great groups that we've come across for meeting other Digital Nomads are:
Coliving with people and meeting others through them.
Coworking space: this can be an excellent way to meet others who work remotely like you.
– Digital Nomad events if they are happening in your area, 
Facebook Groups dedicated to Digital Nomads. I've posted a few times in groups and scheduled a meet up in coffee shops for a "workday".
Meetup is an awesome resource for finding groups and people that have the same interest as you with scheduled meetups planned throughout the month.
Wifi and sim cards
Given that Boulder sits at the foothills of some pretty big mountains, occasionally service can get a little spotty – especially as you meander further west. Most working spaces within the city provide exceptional WiFi speed. I would recommend getting a US sim card since you might need it for navigation, local calls and texts, and just general usage when walking around town. But as for working, there are plenty of opportunities to connect up to WiFI (even the local grocery stores have it).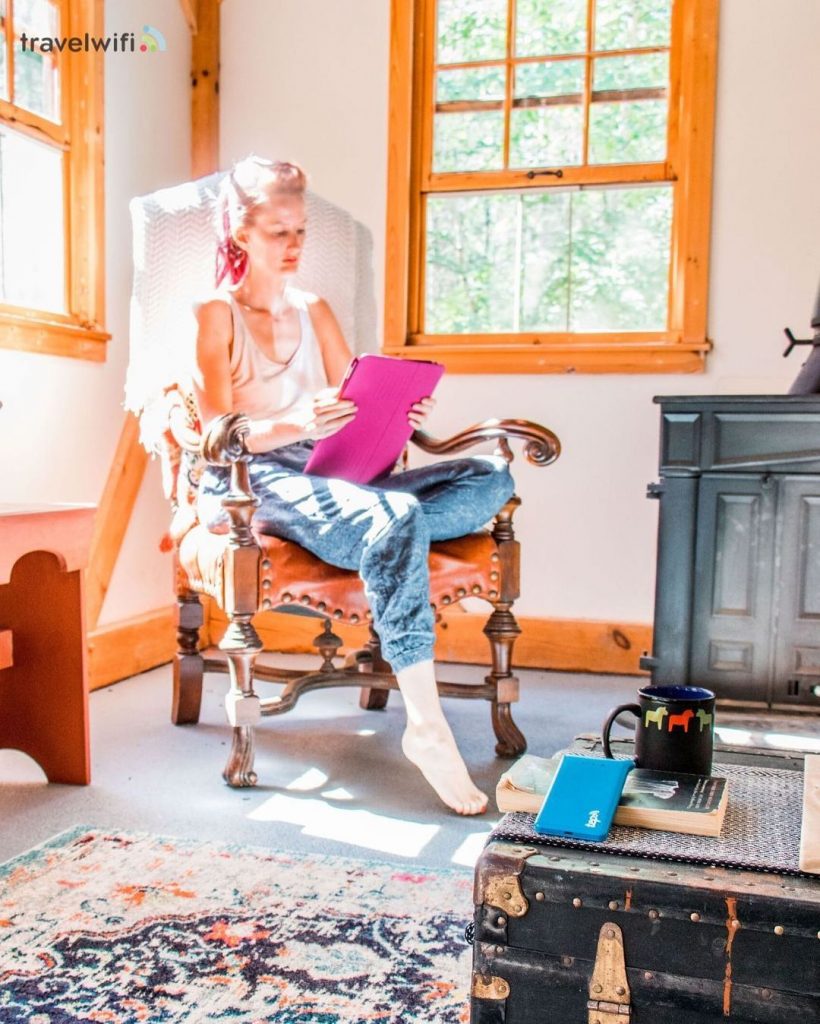 Since we usually sublease or rent an apartment or flat for a few months, we usually have access to a router in our accommodation. But when we leave to work in coffee shops (since we both work better in these environments) we always pick cafes that have an excellent WiFi connection. Nick especially needs fast WiFi since he often is downloading and uploading large files. Boulder is really well set up for providing its citizens with ample internet access no matter where you are – except on the mountain trails. Service is definitely not great there, but then again you probably won't be working on the trails either.
While Sim cards are definitely recommended for general use, I would suggest relying on WiFi for your digital needs. There are plenty of WiFi access points across the city.
Cost of living in Boulder
So, Boulder itself is definitely not the cheapest city to live in for a Digital Nomad. However, given that we live and travel on a pretty tight (and small) budget, we've managed to make it work! Now, we choose not to drink much (once in a blue moon), we don't eat out (we both have a lot of food intolerances), and we like to cook at home – our only bigger "extra" cost is our coffees. We love unique, third-wave coffee houses and enjoy a well-made cup of Joe.
Our biggest expense from being a Digital Nomad in Boulder is the living cost. Slightly higher than the national average, we have paid anywhere from $1,100 to 1,300 a month for rent. This cost is for a one-bedroom apartment both right in town, and a little further out. This by FAR the most we've ever paid for rent since we started traveling full-time in 2016. But we've cut our costs elsewhere in order to pay the extra cost of living in a place that's almost worth the rent!
In general, living conditions are pretty decent. It's a bit of a mixture, with new builds next to old apartments, but all in all, places are well cared for and most importantly, no home is far away from the local parks, trails, and foothills. So nature is easily accessible no matter where in Boulder you decide to live. Oh and there are plenty of coffee shops around, too.
As for finding places, there are plenty of Airbnb options around town. In our experience – while I do recommend being wary and keeping an eye for scams (because they are there!) – we've found all three of the places we lived via Craigslist. Craigslist is classified advertising space for pretty much every category you can think of. Since I mentioned that Boulder is a university town, it's not hard to find subleases for a few months during the summer months when students tend to leave town for internships or home visits.
Boulder does have a few buses that can get you around town and will cost you at least $2.60 one way depending on which bus you use. If you are able to walk a good distance, I would say that Boulder is a decently walkable city. We do most of our grocery shopping, cafe sitting, and other shopping all on foot with no problems. 
Boulder is also a great city to have a bike in if you prefer getting to your destinations a little faster. Boulder Valley has more than 300 miles of bikeway, including 96 miles of bike lanes, 84 miles of multi-use paths, and 50 miles of designated bike routes.  
I should also note that Boulder County has a higher sales tax rate than the rest of Colorado. Right now the sales tax rate is 4.99% in Boulder County while the state of Colorado is 2.9%. Knowing this has helped us plan ahead and buy cheaper gas (and other items) when we are traveling around outside of the county.
Visas
I am actually an American, so I don't require a visa to live here. However, Nick – who is from the UK – has a Green Card Visa in order to live and work in the United States.
An individual with no ties to the US will find it fairly hard to get a working visa, especially as a digital nomad, therefore you're most likely going to need an in of some type. As I said, Nick has a green card because we are married, but there are some more family connections that could help, like your immediate family. I'd recommend checking the US government website for this information because it's changing by the day currently. 
Another option is to gain a working visa from a US company. The H-1B and H2B are temporary work visas that allow you to stay in the country whilst being employed by the company listed on the visa.
Cafes in Boulder with good Wifi
Trident 
This is one of my favorite cafes here, probably because it's connected to a fun little independent bookshop next door. They have quite a few big tables in the main room and a patio out back with a few more tables to sit at if the weather is nice.
Most of the tables around the walls have plug access. There are a few tables in the middle that don't, but most people are accommodating if you need to reach over them to access a plug. #remoteworklife. I specifically like this space because it's filled with thick wood (tables, cabinets, paneling, floor). I feel like these features help the noise reverberating too much around the room – but I could be making that up.
Boxcar Coffee Roasters
Boxcar is another great option but this place is ALWAYS full. This is actually a shame because the coffee is AWESOME – they also roast their own beans, too. If you happen to catch it on a less busy day, it's a fun place to sit and work for a while (plugs are semi available here and WiFi is perfect). There is also a gourmet cheese and artisan meat shop setups right inside the coffee shop. And if you miss out on an open table in Boxcar, the Rapha bike shop/cafe next door sells Boxcar coffee and has tables to work at. Nick particularly likes drooling at the bike gear. 
Alpine Coffee
Alpine actually has two locations in Boulder (with a third in the works). So whether you are staying on the south side near the university or if you want to visit their Pearl Street location (Alpine Modern), this cafe is a great option for working. I would say to be prepared for not finding a spot some days – especially at the location near the uni. A lot of students like to hang out there during their breaks.
OZO Coffee Company
I am only putting Ozo on the list because they have a few locations across Boulder and you can usually find space there no matter what time of day. It's really well set up for a workspace for customers. Plenty of tables, plenty of plug access. The only downside is the coffee is sub-par. If you prefer adding milk and sugar to your coffees, then you may not find any problem setting up office here!
In general, the coffee prices across Boulder are all pretty equal plus or minus a $0.50. On average, coffee will be costing you around $3-4 dollars for an Americano. We usually tip $1+ or so as well for each purchase. Depending on how long you end up camping at the coffee shops, try and leave a tip accordingly. If you spend 7 hours at the cafe and only order one espresso, leave a generous tip! 
As I mentioned, we are a little more particular about our food and coffee shop pastries aren't exactly on our list of things to eat. We tend to bring snacks to get us through the few hours we spend there or we arrive just after breakfast or lunch to hold us over until we head home.
**All of these cafe's that I've recommended have excellent WiFi speeds.
Co-working spaces in Boulder
Tatooine
Tatooine is the more pricey option but it provides it's community with a few perks like showers, free on-street parking, high-tech conference rooms, foosball tables, and an awesome central location right on Broadway. 
You're looking at $285 a month for a shared desk at Tatooine. 
Office Evolution
Office Evolution is your more affordable co-working space here in Boulder. This cool space offers you everything you might need for a "real office" including phone booths, conference rooms, and all-day refreshments. The management has also been noted as being one of the friendliest. 
You're looking at $99+ per month for shared working space or $349 for a dedicated space at Office Evolution. They also offer you a business address, conference rooms, and phone answering for additional costs.
Regus
Regus is a trendy little coworking space in a cool, historic building on Spruce Street. With a receptionist always there to greet you, Regus also provides outdoor seating space – which is a great option for the fantastic weather that Boulder can have. Regus also has offices in a lot of locations across the US, so having a membership here might make a little more sense as a Digital Nomad.
You're looking at $112+ per month for a coworking space and $207+ per month for a private office at Regus.
Ashley is one half of the two bloggers behind Impact Winder, an unconventional lifestyle blog that highlights slow travel, financial independence, and environmental impact. She's been traveling the world with her husband, Nick since 2016, with the purpose of impacting and encouraging others to push beyond the boundaries of a 'normal' life. You can find her at the nearest third-wave coffee house, writing away at the computer as a freelance writer, or researching their next destination. More realistically you can find her on Instagram, @impact.winder.
Take the Internet with you! Rent a portable wifi when you travel to the USA!
Stay connected in the USA with unlimited internet and your choice of portable pocket Wi-Fi and SIM cards. Click here to check our affordable digital nomad data plans in the United States.