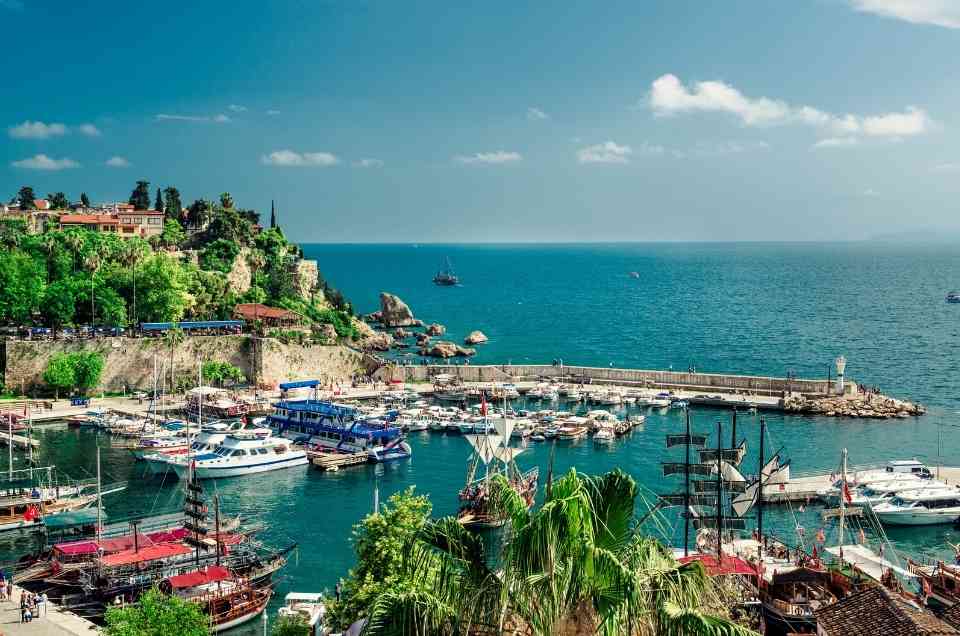 I spent five unplanned weeks living in Antalya in 2020. My inadvertent stop in Turkey led to finding one of my favorite Nomad stops in a city that doesn't get much attention from Digital Nomads.
After five years of leveraging geo arbitrage, my real estate, and passive investment income streams finally ticked over the $1,000,000 mark. My original plans for 2020 revolved around retiring to Europe with Spain's Non-Lucrative Visa. I already had a home base picked out in Valencia's Ruzafa neighborhood and prepaid for an apartment.
One week after I submitted my visa application to the Spanish Consulate, the pandemic rolled in, and borders around the world shut. Instead of getting ready to move into a new flat in Spain, I spent five months isolated in-home quarantine in the Philippines as borders everywhere shut off to US passport holders.
Personal experience as a digital nomad in Antalya
I resigned myself to riding out the pandemic on an island in the Philippines until my travel insurance company abruptly invalidated my health insurance due to COVID. While I felt safe in the Philippines, being uninsured in a developing country during a global health crisis didn't seem like a bright idea.
I had to hunt for a country that would accept both a US citizen (me) and an Austrian citizen (my girlfriend), had a long-term visa option, and where I could get insured. My research sent us to Turkey. The Turkish government offered COVID-19 insurance for people visiting Turkey. For roughly $20 per month, I picked up full coverage for COVID-19 costs, including any intensive care and hospital stays.
While my arrival in Antalya was not planned, after five weeks of exploring the Byzantine streets of Kaleici, the city's Old Quarter became my pandemic refuge. The city has everything a Digital Nomad needs to live comfortably and work productively: fast Wi-Fi, affordable cost of living, sunny beaches, and long-term visa options.
The digital nomad scene in Antalya, Turkey
If you are a Digital Nomad looking for a place to live, work, and hunker down for a coding sprint or power through a project, Antalya, Turkey, might be the perfect place for you. The city's biggest drawback, and the reason I'm writing this guide, is there are not enough Digital Nomads in Antalya. I cannot throw a rock in Chiang Mai without hitting five remote workers, yet in Antalya, Digital Nomads are scarce.
It baffles me. My monthly budget in Antalya is as low as DN hotspots Chiang Mai, Medellin, or Da Nang, yet the city remains off most Digital Nomad maps. The Antalya Digital Nomad Facebook group is inactive. The only co-working space left open post COVID, Tur-an Ofis is more Regis than Selina, more temporary office than co-working community. My hope is after reading this guide, you will consider this low-cost, historic beach city as your next potential destination.
Wifi, sim cards, etc.
The Good: Data Speeds and Price
When looking for Airbnb flats, we always explained to the host that my girlfriend takes University classes and works online, so Wi-Fi speeds were critical. Hosts were usually sincere if their internet setups would not fit our needs. The Wi-Fi at the Airbnb we stayed at was fast and consistent. Speeds averaged between 17-21 Mbps download and 5-7 Mbps upload. I don't recall a single outage.
4G SIM cards are cheap, and the data speeds in the city are reliable. If you plan on significant mobile data use, every mobile carrier (there are three majors) has a Tourist SIM available for about $20 for 20 GB for 30 days. Since we had stable Wi-Fi in the apartment, we opted for a standard prepaid data plan of 4GB for $5.
The Bad
Blocked Websites- Occasionally and without warning, the Turkish government will censor access to websites they consider "offensive." These blocks tend to be erratic and sometimes illogical (one site is blocked, but a similar site is not). Censorship, especially to social media, steps up during any civil unrest. While not quite the Great Firewall of China, it is Orwellian. We had no problems with access in the five weeks we were there. But if you work as a Social Media Manager or in Content Marketing, it is worth having a backup plan. A proper VPN should get around any of these issues.
The Ugly
IMEI Cell Locking- If you are only staying a few days or a few weeks, IMEI locking is moot. However, if you stay more than 120 days, Turkey will lock any imported cell phone's IMEI number until you register the phone with the tax office. Registering a phone requires both a residence permit and paying $275 to the tax office. There is no workaround (that I could find). Most expats here buy a cheap mobile phone locally and use their imported phones only for Wi-Fi.
Cost of living in Antalya, Turkey
I provide a full breakdown of my cost of living in Antalya on Nomadic FIRE. In summary, it's cheap. My costs living in Antalya are in line with my spending in renowned low-cost DN hotspots, Medellin and Da Nang. Subjectively, the food is better in Turkey than in Colombia, and the infrastructure here better than in Vietnam. My expenses for a month were roughly $975 in total.
Housing ($500)
This was my most significant expense and where you will have the biggest opportunity to reduce cost. Like many of Turkey's Mediterranean neighbors along the coasts, rental prices spike in the summer months. Antalya is no exception. I paid $500 for a large, fully equipped 1-bedroom located in Kaleici (Antalya's Old Quarter). If it were the offseason or if you signed a long-term lease, a similar apartment would run about $200-$300 per month. For one month in July, I paid double.
However, the location was prime. It was a ten-minute walk from the beach and 250 meters away from Hadrian's Gate, Antalya's most iconic attraction. My large windows faced a park and had daily views of the sun setting behind the mountains. I have no regrets about paying the extra rent. Because of the pandemic, I used Airbnb to get my housing situated before I arrived. However, to get the best rates, stay off Airbnb and use the local listing services. Load up Google Translate and check out https://www.sahibinden.com.
Food Budget ($270) – No alcohol but eating out once per day
If you have never had Turkish food in Turkey, you will be in for a treat. If you are from the US, you are likely familiar with the Greek gyro or Arabic shawarma; the doner durum is their Turkish cousin. Doner kebabs with their vertical rotating grilled meat are ubiquitous everywhere in Antalya. Follow your nose on any street to find seasoned charred meats wrapped in flatbread with tomatoes, lettuce, onions, cucumbers, and a squirt of yogurt sauce. A filling portion will cost you about $2.50.
It's hard to beat the value of a simit (0.25 cents) for an afternoon snack after some beach time. Basically, a skinny Turkish bagel topped with sesame seeds. Street vendors hawk these snacks everywhere in the city.
One of my favorite meals leverages Antalya's proximity to the sea. A seafood meze platter ($12) is as much a Turkish experience as it is a meal. Meze, or appetizers, is traditionally a social affair, where round after round of sharable dishes is left on a table for the group to share family style. Think of it as a Turkish version of Spanish tapas. Cold starters are served first: charred eggplant, stuffed mussels, seabass fillets, and a dozen tasty others. Hot starters came next: grilled prawns, fried calamari, crab legs, and kofte. The mains were a selection of 4 dishes made from fish caught that morning. All in all, we had over 30 items and rolled out of the restaurant full.
Transportation ($57)
Living in the Old Quarter meant I could walk to 95% of everything I needed. But if we wanted to see a different beach or do some sightseeing, not in Kaleici, Antalya is well serviced with a tram and public bus system. One ride, no matter the distance, is 0.40 cents. You can even use an NFC credit or debit card to pay directly on the bus, no need to carry change.
Visas in Turkey
As I mentioned, I ended up in Turkey, as I needed an option to stay long-term if the pandemic worsened and I was grounded for several months again. My girlfriend (EU citizen) was visa-exempt for 90 days. As a Philippines and US passport holder, I had to pay ~$50 to get a Tourist Visa to enter. If either of us needed to stay longer than 90-days, Turkey has a straightforward Temporary Residence Visa available for 1-year.
Antalya Cafes with good wifi
Çankaya Simitçisi. Traditional Turkish Bakery where I would start most mornings with a coffee and simit (~$1). No plugs, but adequate Wi-Fi for emails, browsing, and light work.
Mira Coffee. Bistro-style café with a beautiful view of the harbor. Wi-Fi with purchase. Lunch and coffee ($4). Food is fantastic here.
Mado Dessert café with fast Wi-Fi. Three slices of Turkish Ice cream "cake" ($3). Some tables along the wall with plugs and Wi-Fi is fast enough for large file transfers.
Coworking spaces in Antalya
There is still one co-working space that has survived the pandemic. As I mentioned, it caters more toward shared offices for business than toward visiting Digital Nomads. Tur-an Ofis has dedicated desks for $95 per month or a private office for $135 per month.
The best time to visit is before summer. As I mentioned, the prices go up in the peak season. Plus, there will be days when there is too much summer sun to do anything but stay inside and work. If you come in spring, around April to June, the weather mellows along with the crowds and prices. Taking work breaks to lounge on the beach or walk the Old Quarter are more comfortable to enjoy.
Low cost of living, tasty doner kebabs, consistent internet, solid infrastructure, beaches, sun, and did I already mention the doner? Even the best things to do in the city are free: relaxing on the beach, swimming in the sea, or strolling historical ruins don't cost anything.
The big downside is the lack of a Digital Nomad community. There are not enough Digital Nomads in Antalya. For now, developers who need to pound out a coding sprint or any DNs with a major project to finish, Antalya is a great place to focus on work. With time, I'm sure Antalya will pop harder on the Digital Nomad radars.
About the Author: Marco Sison, Nomadic FIRE
Marco is a Financial Coach for Nomadic FIRE, a trusted source for living abroad and personal finance. He has been featured in USA Today, US News and World Reports, MSN Money, Yahoo Finance, Huffington Post, PBS, ABC, and many others. On Nomadic FIRE, Marco details simple, low-cost strategies to save and invest for early retirement overseas. Nomadic FIRE combines Digital Nomads' geoarbitrage lifestyle and the Financial Independence Retire Early (FIRE) movement's investing principles. Retired at 41 years old, Marco has traveled the last six years to over 40 countries to bring you the best ways to save, invest, and live in amazing countries for 70% less cost than the US.