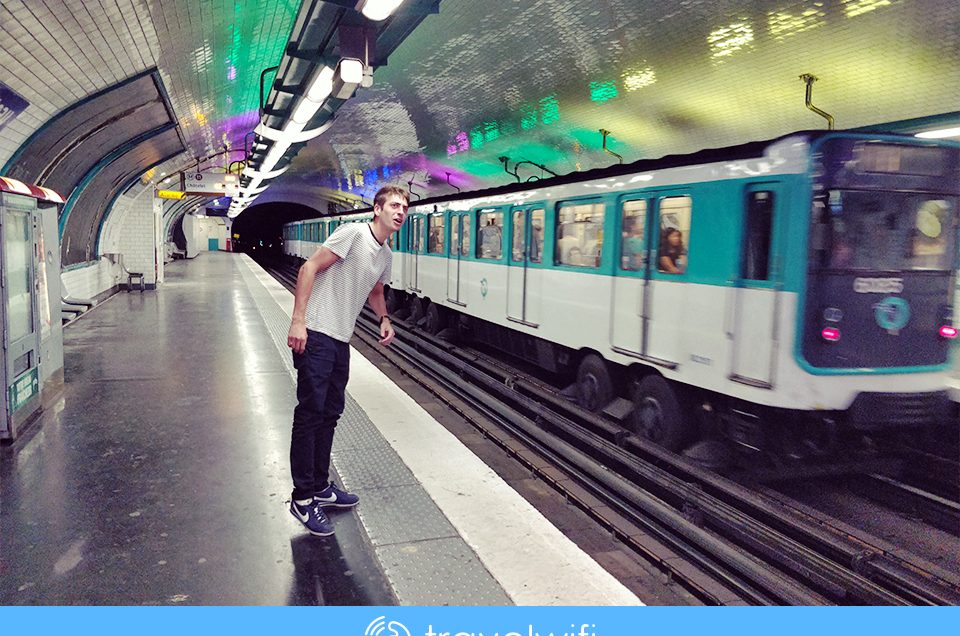 Bonjour à tous,
I am Jonathan, co-founder of Travel Wifi. Our mission has been to make travelers' lives easier and entirely hassle-free since the beginning of our journey at the end of 2013. Hence, we provide the best solutions for solo travelers and groups so that they stay connected at any time with their Pocket Wi-Fis. If you haven't already done so, check out our website and read our blog to find out more!
Wi-Fi isn't the only key to make your trip a success. After all, it doesn't prepare coffee for you, does it? You are always welcomed in our office for a cup of coffee. In this article, I will try to answer some of the frequently asked questions about public transportation in Paris, or Transport en commun, as we call it, with an insider point of view.
Transportation in Paris seems complicated even for Parisians! However, I guarantee that the tips I will share with you in this article will bring you to the same level as your average Parisian, if not better!
Let's start with the different public transportation options in Paris, and ways of getting to the city centre from the airport.
In a few words…
The public transportation system in Paris area is operated by the state company called RATP.
You should download RATP's free application, which is available on App store and Play store in French and English. If you're not an app person, you can check RATP's website to find out more about service disruptions and strikes in place (less common than you think :))
Tip: Almost every metro and bus in Paris stop at Châtelet-les-Halles, which is located in the heart of the city. Nonetheless this station is HUGE thus be prepared to spend some additional time in the station trying to find the right exit.
First things first: The Metro Network
Let's start with the king of public transportation in Paris: Did you know that Paris is home to the densest metro network, with 14 lines and 302 stations ?!
The first metro line opened in 1900 for the Exposition Universelle, previously known as Metropolitain (you can still see the famous Metro entrance with Art Nouveau style by Hervé Guimard).
Pros:
Quite fast and reliable
Approximate 2-5 minutes waiting time between trains
Stations are ubiquitous (average 1 station in every 500 meters)
Cons:
A lot of time is spent under-ground, except on Line 6, which provides you with a very nice view of the Eiffel Tower
Tremendous amount of hills and stairs (but hey that's a good thing, how else would you burn all the croissants you had?.)
Just like in any other big city, you should beware of pickpockets.
Ticket prices:
1.90€ for a single trip
14.50€ if you buy a « carnet » of 10 tickets.
Open from 5:30am to 1:15am the next day & even longer on the weekends!
Please refer to the footnotes to find out more about the type of tickets available for purchase
Fun Fact: There are a dozen of abandoned stations that are referred to as Station Fantômes, or ghost stations. Click this link to see a few pictures!
The Infamous R.E.R:
RER stands for Réseau Express Régional: it is a regional train that accommodates longer journeys, i.e.: Destinations can be Roissy-CDG, Disneyland, or the Palace of Versailles. There are 5 lines – from A to E – that help approximately 1 million Parisians commute to La Défense (the business district) on the RER A, and 600 thousand Parisians on the RER B daily. Crazy, isn't it?
Pros:
Fast for long journeys or to cross Paris from South to North (Cité Universitaire to Gare du Nord, about 20 minutes versus 45 minutes for metro)
Cons:
Difficult to understand for non-frequent users, be careful about the stations deserved by your train
Long transfers between metro and RER, and easy to get lost in some stations… I always get lost in Chatelet-Les-Halles to tell you the truth!
The smell could be quite bad at some stations. Perhaps the nose clip or pince-nez as we say in French was invented to be used in metros? The smell could be quite bad at some stations…Also could it be because of the same reason, perfumeries are never too far away from the metro stations.
Tips: when you are inside Paris (zone 1-2), you can use a simple metro ticket, and transfer from metro to RER with the same ticket, no need to get a new one. However, to go outside the city, you will need to buy a ticket which will cost from 5 to 10€ depending on how far you go (10€ one way for CDG airport, adult price for instance). Also never ever throw your RER ticket before you actually leave the station, as you need to present it to at the end of your journey.
My opinion: Unless you don't have a choice, you should always choose the metro over the RER, keep it simple!
Note: Beware that as of July 1st, 2017 the word <<RER>> will be replaced by <<Train>>.
The Bus
In 1906, Paris decided to replace horse powered buses by bus, and 11,500 horses were retired! Today, 64 lines operate from 6 am to 11:30 pm. Don't panic, some lines, called "Noctilien", run at night. You can check on RATP website or on the app to find out more.
My opinion: Because of the heavy traffic in the city especially during peak hours, I believe that buses are only convenient for very short trips or night trips with the Noctilien. However, you would get to enjoy a very nice Paris view. Take it easy, take your time after all you're on holidays. Sit back, turn on your wifi and enjoy your journey. Do not ride a bus to cross Paris, it might take about twice the time than it would be by metro!
The Tramway
The T3 line takes you to an exhibition at Porte de Versailles if you are in Paris for business purposes.
Ok, now you know how to move around Paris! How about the airport transfer? Keep on reading!
Arrival from CDG Airport to Paris, you have three options:
My favorite solution is taking the RER B, about 40-minute ride to Gare du Nord, 45-minute to Chatelet-les-Halles aka the heart of Paris, or 55 minutes to Denfert Rochereau, South of Paris. Denfert Rochereau is also convenient for reaching the RER as this station has direct access to the platform (and you would avoid A LOT of people). The journey costs 10€ for adults and 7€ for kids.
The second solution could be Roissy Bus which I am not a big fan. A single ticket costs 11.50 €, the journey takes more than an hour and ends at Opéra. Might be a good choice if you're staying around this district.
Alternatively, you can take a taxi (or Uber, convenient with a Travel Wifi in the pocket), over a 40-50 minute journey
Prices are fixed at 55€ from CDG airport to Paris South (Rive gauche) and 50€ for Paris North (Rive Droite).
Arrival from Orly Airport to Paris, you also have three options:
My favorite solution is taking the Orlybus, which goes to Denfert-Rochereau (South of Paris), in about 20 – 25 minutes. While Orlybus doesn't cross the city but takes the highway, it usually requires a 20-minute wait and is often crowded. One-way ticket costs 8 €.
Orlyval is another good option, especially if you are going to Rive Droite. It will take you to Antony RER B station in few minutes. From here, you need to get the RER B to go to Paris. However, this option is more expensive as you would have to pay 8 € to go to Antony and 3 € for the
If you're willing to travel by cab or Uber, fix prices are applied. Your journey would cost 30 € if you are going to Rive Gauche and 35 € for Rive Droite.
And now, how to go to the famous sites outside of Paris? 
Disneyland Paris from the city center:
You should head to an RER A station, could be Chatelet-les-Halles, Gare de Lyon, or Charles de Gaulle – Etoile (located next to the Arc de Triomphe on the top of the Champs Elysées) and take a train in the direction of Marne la Vallée – Chessy.
To go to Marne la Vallée Village, the famous outlet, you can stop one stop earlier at Val d'Europe!
Palace of Versailles from the city center:
Surely, your Paris trip wouldn't be complete without a trip to the famous Chateau de Versailles aka Palace of Versailles located 30 kilometers away from the city center. To do so, you should get an RER C train (yellow line), direction Versailles-Rive Gauche. In this case, you would be travelling to Zone 4 and your ticket will cost 3.55 €. A round-trip approximates to 7.10 €. The most reliving part of it all is that you don't have to worry about sleeping through your stop, as the final station is Versailles-Rive Gauche.
Should I get a transportation card?
It is wise to get a transportation card if you stay for a week or more. You can learn about various fares here.
No, it isn't worth it if you're only in town for few days. In that case, I'd advise you to purchase a lot (carnet) of 10 tickets for 14.50 € adult price and 7.25 € reduced fare for the kids.
The Vélib' Bikes
You may also choose to discover Paris by the state bike rental service, Vélib'. Vélib' is very convenient as there are stations on every corner; you can pick and drop your bike at any station for 1.70 €/day, or for 8 €/week. The first 30 minutes of the journey is free, 1 € for the next 30 minutes, and 2 € for the next one.
Tip: To easily avoid extra charges, I suggest you leave your bike in a Vélib' station after 30 minutes and pick up a new one – that's what I always do! You may download the Vélib' application to find the nearest station.
Before you go, don't let this information get to you! You can always enter your departure & arrival points on application such as Google Maps, City Mapper, or Moovit to be presented with a myriad of routes, price options, and duration approximations. Now, I can hear you complaining about expensive roaming prices – this is where we step in: book through Travel Wifi hotspot and stay connected with our high-speed Internet and no unexpected fees. With our superwifi don't waste any money or time while enjoying Paris, ride a bike, have a bus ride with a view and stop at the right places!
Bon voyage!